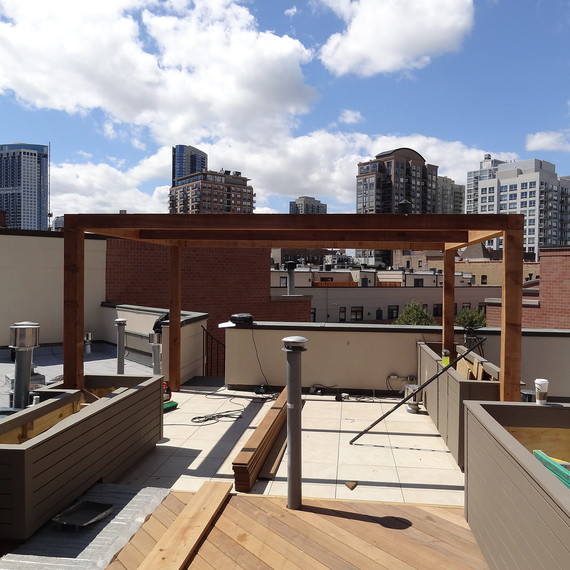 Before
Because the apartment complex was getting the whole roof redone, we were able to design this project from scratch, which allowed us to really transform the space into a dream rooftop garden. There were some obstacles -- there were some vents to work around and the roof was only accessible by a spiral staircase, and using a crane was not possible. Basically, product choice and construction had to be considered. However, we're happy to say that the stunning finished product made it well worth the struggle!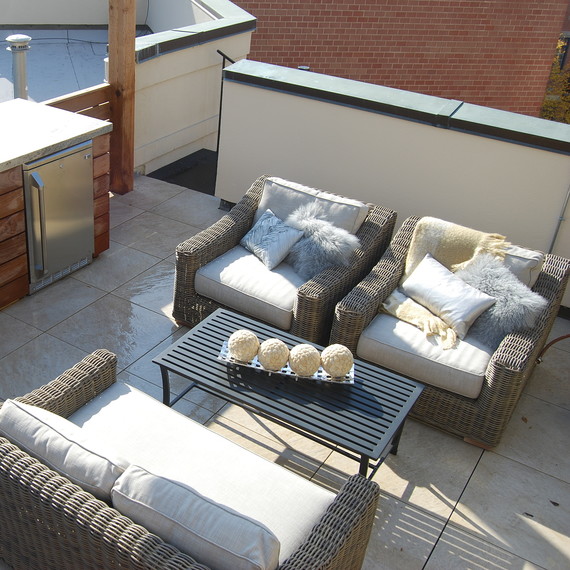 After
Our client's goal was to "go all out," with a weathered restoration feel in a neutral palette. She desired a space that would be both comfortable for intimate gatherings and for larger group parties. Additionally, she wanted to use high-end materials that did not need too much maintenance. With that in mind, we chose to use Ipe decking, porcelain pavers, and granite counters for a modern and earthy design.
Multi-home residences provide great creative opportunities, especially when it comes to establishing privacy on an open area roof top. Being able to start from scratch allowed us to really bring together a cool and cohesive look that met all of our client's goals.
The entire scope of the project included two areas: a smaller lower area (165 square feet) and the spacious upper roof top area (almost 600 square feet). Because the upper roof is on the 5th floor (3 floors from the indoor kitchen), it was important to have an outdoor kitchenette complete with a wine fridge for easier entertaining, with a grill housed on the lower area. Privacy from neighbors, protection from weather and preserving views of the city were also important, because who wants nosey neighbors or a sunburn ruining your party? On the upper roof there is perimeter screening using different materials; from opaque panels for heavy screening around the pergola, Ipe slats for partial screening, and a birch grove planting for light/airy screening. The pergola with retractable shades provides protection from hot summer sun with the option to catch some rays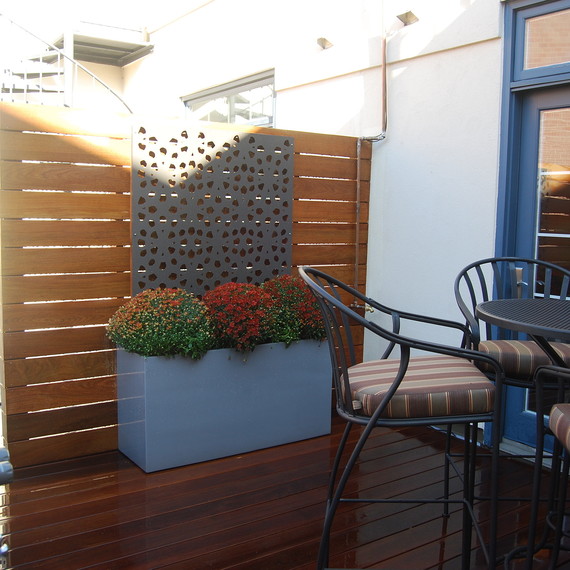 To add a bit of character to the lower area, there are two screens that are horizontal Ipe with a powder-coated CNC metal panel that is back lit. On the upper roof, dividing the narrow space into 2 distinct areas encourages a sense of intimacy. One area is defined by porcelain pavers, the second area is Ipe decking installed on a diagonal.
Together the two spaces create a great environment for residence to enjoy urban living to the fullest. The downtown oasis is perfect for any city dweller, whether you're looking to take in city views, host a cocktail party, or just want to read a book under the sun. And I mean, who wouldn't want to live here?