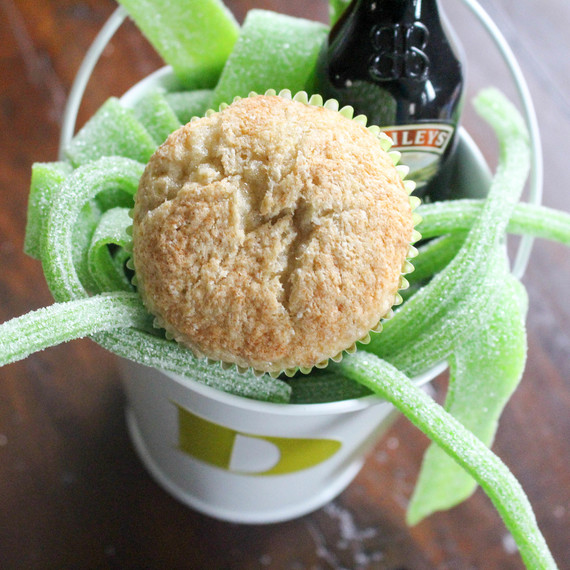 I confess: My favorite thing about a party are the favors. I know that sounds sort of crazy, but I think leaving an event with a creative take-away gift is such a thoughtful touch. I really appreciate the care that goes into making a small, handmade gift, and love to do the same for anyone who comes to a gathering I'm hosting. So whether I'm hosting during the day or in the evening, I love giving my guests something to take home and enjoy the next morning. 
That's where this fun Saint Patrick's Day bucket comes in!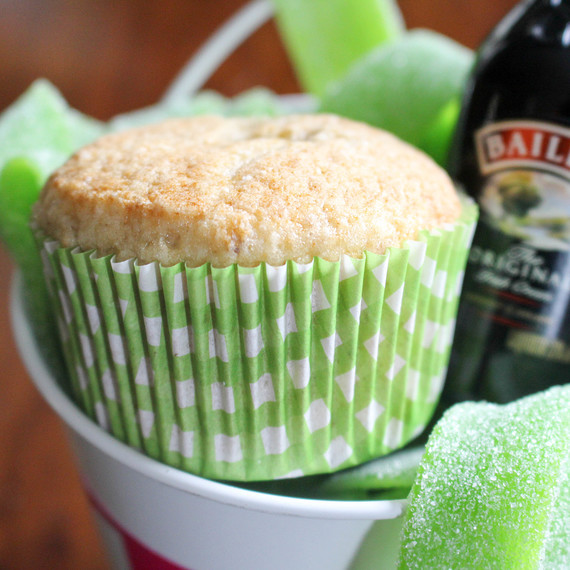 For Adults
I paired a tasty banana muffin alongside a tiny bottle of Bailey's Irish Cream, nestled in a decorative bucket overflowing with grass-like sour candy. (The candy can be swapped for decorative fake grass or shredded paper, just make sure it's green!) 
I was drawn to this banana muffin recipe because Martha provides a great recipe for homemade baking mix, meaning you can make the mix ahead of time and these muffins will be ready in a flash! Bake them in festive cupcake liners and they instantly become an adorable addition to the bucket. 
Whether you make coffee at home or purchase in a store, I find it pairs really well with banana. Initially, you may think that sounds strange, but the acidity of the coffee is nicely balanced by the mild banana flavor. Add the Bailey's into the mix (Irish coffee anyone?) and you've got yourself a winning combination.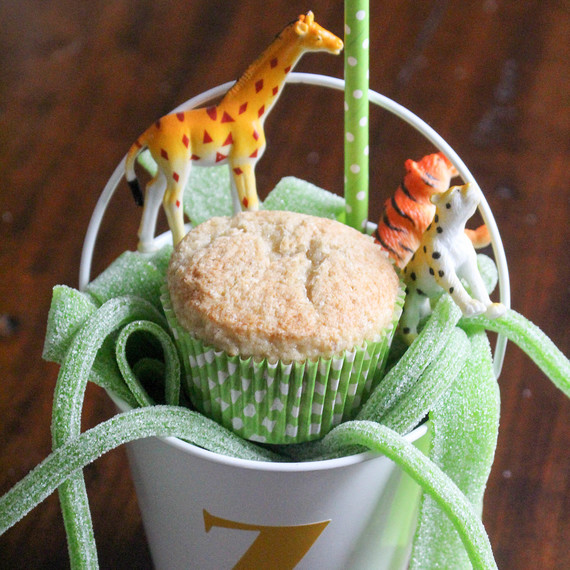 For Kids
If you're throwing a kids party, simply swap out the Bailey's for some small toys! Be sure they are age-appropriate, and take care to avoid choking hazards for very small children.
If you want to personalize each bucket for your individual guests, place your guest's initials or first name letter on the front of the pail with decals! If you have a steady hand, a hand painted name would look beautiful. I personally like the way a clean white bucket looks with the green candy, but feel free to experiment with other fun spring-time colors. Or, go for a rustic-chic look with a metal bucket. The options are truly endless!