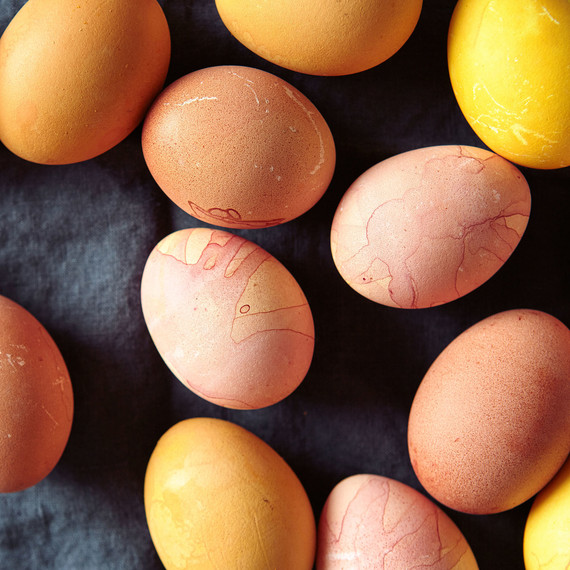 Growing up, dyeing Easter eggs was a real event: glitter was purchased, color kits were procured, tables were covered in newspaper, and that little egg-drying rack was assembled. Don't get me wrong -- I loved every minute of it -- but I put a stop to my annual tradition of dyeing Easter eggs as soon as my mom was no longer the one responsible for wrangling all of the necessary accoutrements.
Until this year! When I learned that some of the most basic produce trimmings (miraculously) double as natural Easter egg dye, my Easter egg hiatus is finally over. Here in northern California, spring produce is coming back, which means I'll never be without my fair share of vegetables to cook -- or produce trimmings to compost. You can use everything from carrot tops to onion skins to create a natural dye bath for eggs. Knowing this, if you have a little vinegar and some water, it turns out that you're never that far from a festive Easter spread.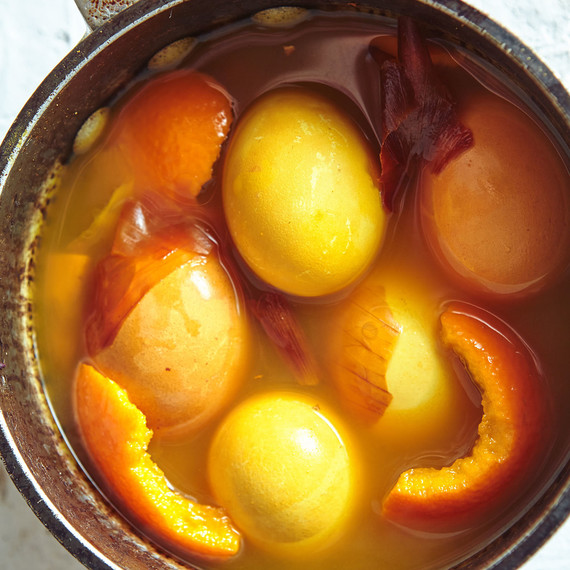 What You Need for Different Colors
For yellow: Use onion skins, citrus peels, and a tablespoon or two of turmeric powder. (If you're not already hooked, this Golden Elixir will convert you to a regular turmeric buyer in no time.)
For pink or red: Use two raw beets (If you're trying to avoid dyeing your countertops or cutting boards in the process, be sure to cover them appropriately: beet and turmeric are known to leave their mark.)
For blue or purple: Use the outer leaves of purple cabbage, and some crushed blueberries.
To maximize the gradient of colors in my final batch, I also used brown and white eggs to get two different colored eggs from the same dye!
Get More Natural Egg Dyeing Techniques
How to Make Naturally Dyed Easter Eggs
1. Place your chosen dye ingredients in a small pot with 3 cups of water.
2. Bring to a boil, then turn heat down to medium.
3. Simmer ingredients in a covered pot for 15 minutes. When the water has turned a deep shade of the color you're going for, remove the pot from heat and add 2 tablespoons of distilled white vinegar.
4. Carefully submerge the eggs in the pot and let sit for about 10 minutes. If you're going for a textured effect like we were -- leave the stuff in the pot, which patterns the surface of the eggs. If you're aiming for a more even color, strain the dye first before adding the eggs.
5. Remove the eggs with a slotted spoon or spider strain and let them dry on a paper towel. To create more pattern on the egg shell, dab the surface with a crumpled paper towel as it's drying, or messily spoon extra dye over the eggs to unleash your inner Jackson Pollock (as we did).
What to do with these jewel-like decorations? Well, I'm planning tucking them in between some simple greenery (like olive branches or eucalyptus from an obliging tree in my neighborhood) laid in the center of my table, which is my favorite low-key flower arrangment.