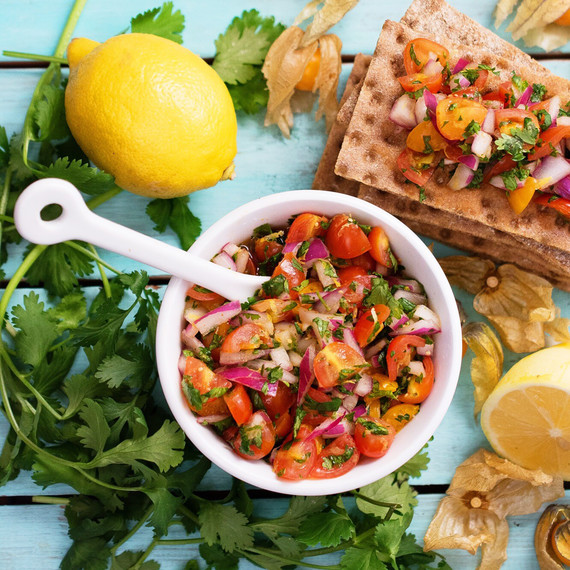 The first time we tasted cape gooseberries (sometimes referred to as ground cherries), we honestly didn't like them all that much. Eaten raw, they can be a little bland, and we didn't feel they were anything to get too excited about. After we played around with them in the kitchen and learned a little more about them, we soon realized that by pairing them up with flavor profiles like citrus and acid, they come alive.
Cape gooseberries are a night-shade fruit, which means they're related to tomatoes. They're often mistaken for a tomatillo due to their very similar appearance but are much sweeter in taste and higher in acidity. Here we've paired them with classic pico de gallo ingredients, tomatoes and red onion, to make in a brightly colored salsa.
Enjoy this salsa on salmon, with grilled chicken, or just by itself with some tortilla chips. It's refreshing and zingy, and adds glorious color to any plate. We swapped out the traditional jalapeno for sriracha, which allows you to control how spicy you like things. If you prefer your dip to be more on the mild side, hold backon the hot sauce. We were pretty generous with lemon flavor; our recipe includes both the zest and juice of one lemon. If you like things less acidic, feel free to cut that amount by up to half.
If you've ever been curious about cape gooseberries, give this one recipe a try and we think you'll agree -- they're definitely not just for decoration.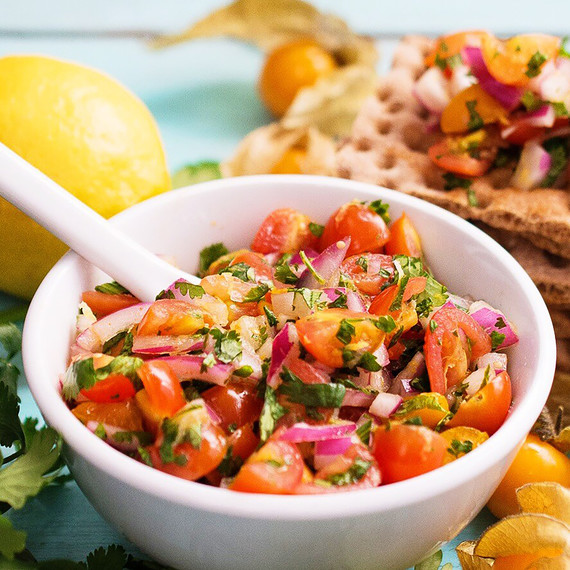 Makes about 1½ cups
Ingredients
1 cup baby tomatoes, halved
½ cup cape gooseberries, quartered
½ finely diced red onion, 
¾ cup cilantro, chopped
¾ cup parsley, chopped
1 lemon or lime, zest and juice
1 tbsp sriracha (or chili sauce)
Salt and pepper, to taste
Directions
Drain tomatoes in a colander for about 30 minutes.
Combine tomatoes, cape gooseberries, red onion, cilantro, and parsley in a bowl.
Add the zest and juice of the lemon and the Sriracha. Season to taste with salt and pepper.
Keep refrigerated in an airtight container for up to 1 week.