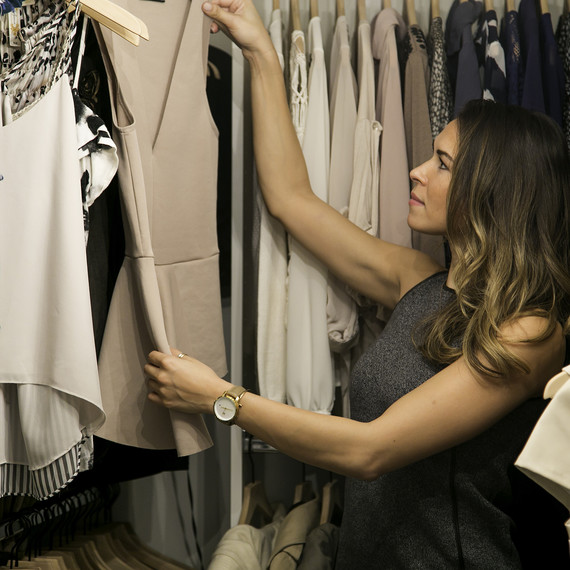 When you've spent a lot of time and energy acquiring a beautiful wardrobe, smart closet design is a must. Sure, identical wooden hangers, a spacious dresser, and stylish jewelry displays work wonders, but getting rid of all those items you haven't worn in ages is often the least glamorous, yet most influential part of revamping your closet. With the help of her Laurel & Wolf Designer, Jessica Today, Lexi got a closet to accommodate her fabulous wardrobe in a way that's as stylish as she is.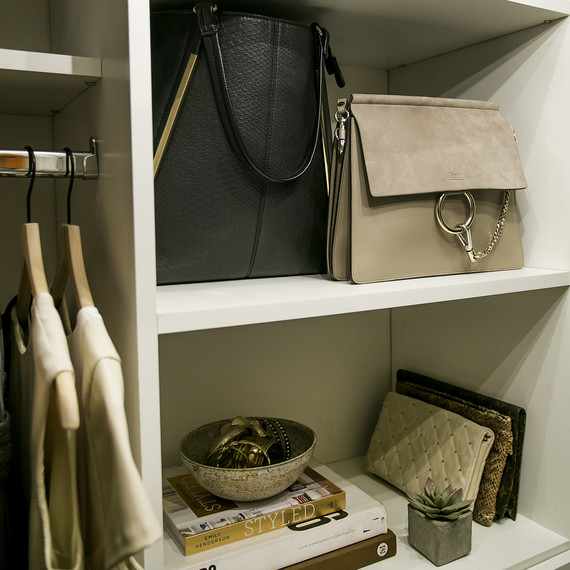 Before coming across Laurel & Wolf and being introduced to her designer, Jessica, Lexi was "overwhelmed with [her] closet because things were hard to find, it was dark and not exciting to look at. Now it feels bright, spacious and everything is so organized!" The transformation was fantastic, read on to see the whole space!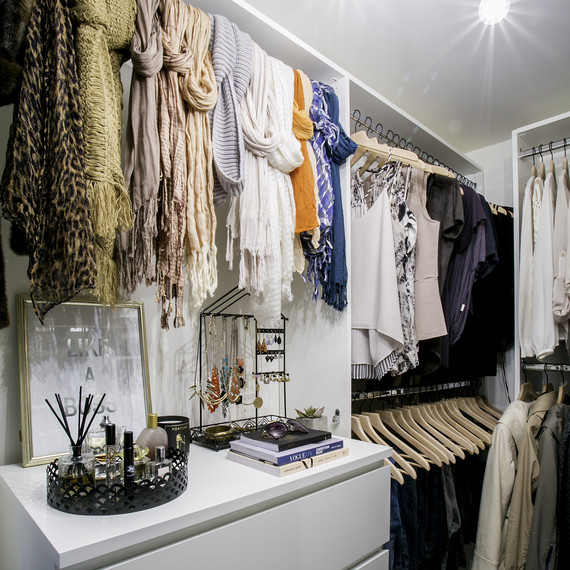 #1: Upgrade your hangers
"First things first, replace all mismatched hangers with the same hangers. In Lexi's closet, I chose a lotus wood hanger with black hardware because it complemented the light gray hardwood floors and the black finish on the pendant," says Jessica of creating a constant comfortable design. Doing this immediately makes your closet look more organized, and choosing wood or velvet hangers is better for the longevity of your clothing.
#2: Categorize your closet by clothing type
In order to make Lexi's closet more manageable, Jessica put all the clothes away by type. This makes it easier for you to find the right piece without searching through your entire closet. As Jessica explains, "pants can stay in one area, and you can even sub-categorize them into jeans, dress pants, etc. If you tend to choose your outfits based on colors, then color code your clothes, and voila!"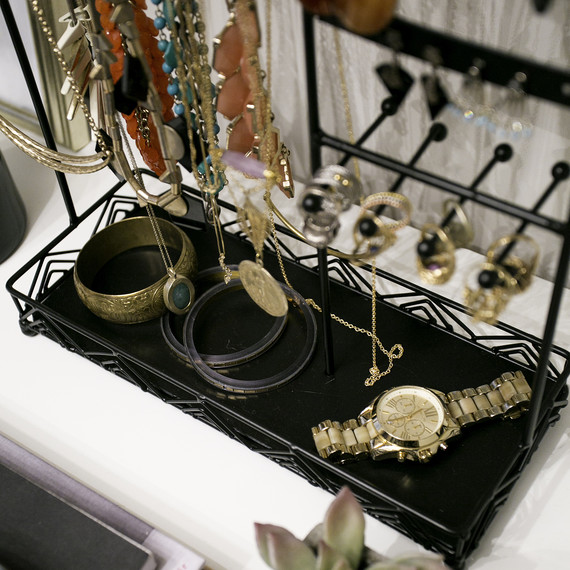 #3: Put what you love on display
A simple way to achieve the feeling of browsing your favorite boutique right inside your own closet is by "showcasing your favorite pieces, such as sunglasses, jewelry and even inspiring artwork. This will not only create a beautiful space, but will also allow you to see your options when putting an outfit together," says Jessica. We love the way she used this jewelry stand -- it'sa beautiful way to display Lexi's jewelry, and it's easy to put everything away at the end of the day.
#4: Find smart (and stylish) storage solutions
There is such a huge range of affordable storage options that there's really no reason to fall back on mismatched plastic bins. "Always invest in baskets, boxes and containers that complement the interior of your closet." says Jessica. "Everything from wire to woven to rattan is available, and if you want to be bold, opt for acrylic boxes." Before you go shopping for you storage containers, take a good look at all the things you want to store to gauge what size you need.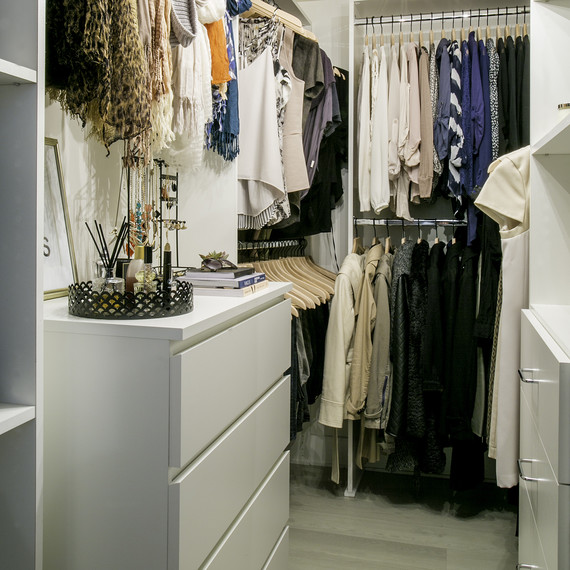 #5: Make your closet comfortable
"Your feet will be thankful, and you'll have an extra layer of texture and color in your space," says Jessica of why she went with a soft grey and white tie-dye rug for Lexi's neutral closet. Since closets are usually small spaces, you can find many affordable, chic options to add to your overall closet design.
#6: Illuminate your wardrobe with a glamorous light fixture
Lighting is super important in any closet, and it's often one of the biggest closet mistakes any fashionista can make. Jessica suggests: "replacing your light with a bright pendant or chandelier to illuminate your clothes, while adding a chic touch." Before her closet transformation, Lexi kept her door closed in order to hide the contents inside and, "never really considered investing in lighting." She now considers adding the light fixture to be, "one of the easiest, but best fixes you can make!"
Lexi's closet has inspired her to remain organized and help refine her own personal sense of style and fashion. Lexi remarks, "A closet doesn't need to be something you keep behind closed doors. Now my closet is a focal point and really compliments the style of my room." The enormous amount of time that she had to spend sorting through different piles of clothes has now been replaced with an extra 15 minutes of joy mixing and matching different items that would have been hiding in the depths of her unorganized closet. With her closet completely redefined, Lexi can finally live up to her full potential as a fashionista. She has the room to get creative with her wardrobe and is able to take on each day with a fierce and fashionable sense of confidence.