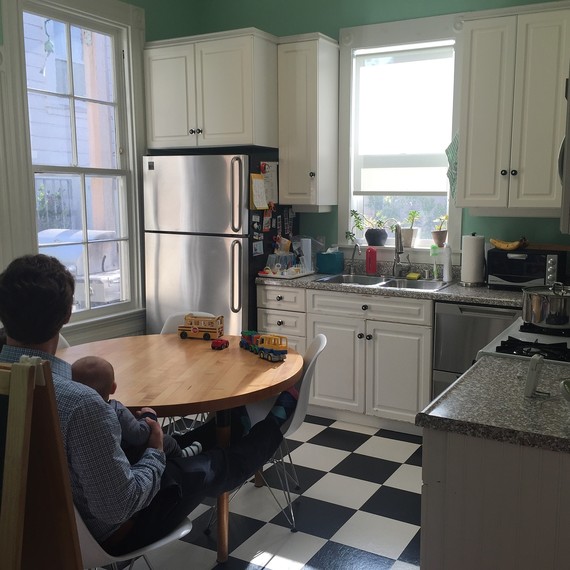 Before
A kitchen, home to a family with two young, rambunctious boys, was once crammed, unorganized, and insular, with restricted counter space and no extra room for hanging about. Although the dining area was connected to an outdoor patio, it lacked integration to the outdoors. This is odd, because this kitchen is based in San Francisco, where it's almost a necessity to be outside enjoying the tepid climate as much as possible.
To solve this problem, we brought in Katie Raffetto (@krinteriordesign), a talented interior designer whose style embraces the quintessential California cool (oh, how my heart melts!). She completely transformed the space, embracing classical form but incorporating modern function. Here's how her kitchen decor ideas panned out.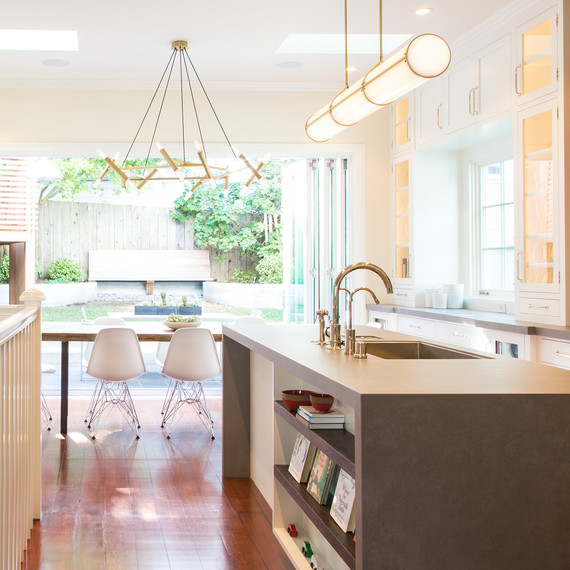 After
One of the most dramatic design changes that Katie initiated was the integration of the extensive outdoor patio with a (soon-to-be) newly refurbished kitchen. Accordion French doors not only showcase the manicured lawn when closed, but can also be effortlessly opened, making the kitchen feel as though it itself is en plein-air. Even quotidian mundane tasks like doing dishes now feel luxurious when basked in glowing sunlight. And the toddlers can now run between the outdoors and indoors without much to-do.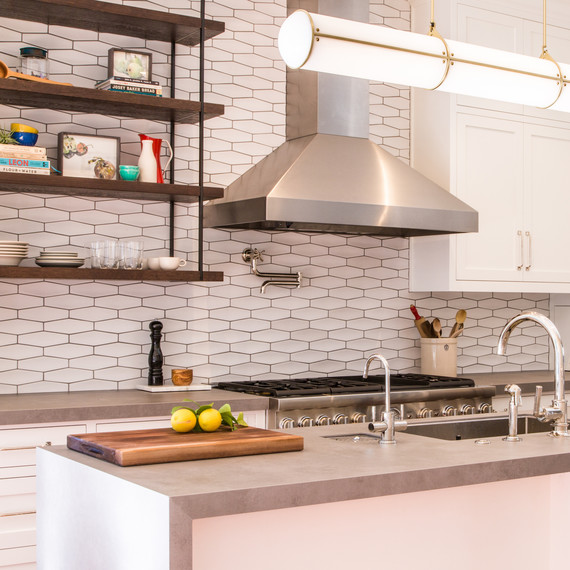 A goal for this kitchen remodel was to respect the history and architecture of the home's late-1800 design. Katie wanted to keep the integrity of the home and incorporate classic and durable materials with an emphasis on quality craftsmanship and interesting details. Rather than using square subway tile, Katie applied Heath tile in classic white. It's similar to subway tile but has an interesting hexagonal shape, puzzled together with dark gray grouting (a practical color to conceal any future dirt or stains). Custom wood shelves were made locally to break up the upper cabinets and to emphasize the beauty of the tiles. The porcelain slab countertops are a gorgeous addition to this modern kitchen. Did I mention they're basically unbreakable?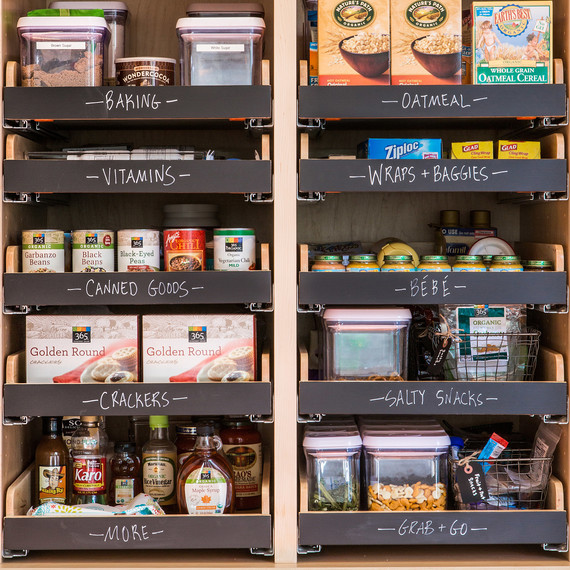 Organization is essential in a kitchen with limited space, especially if you have a growing family. Katie tackled this project with great dexterity. The pantry wall keeps the family's food items easily accessible, and the addition of chalkboard paint on the shelves makes classification even better -- a Dewey decimal system for everyone's favorite snacks!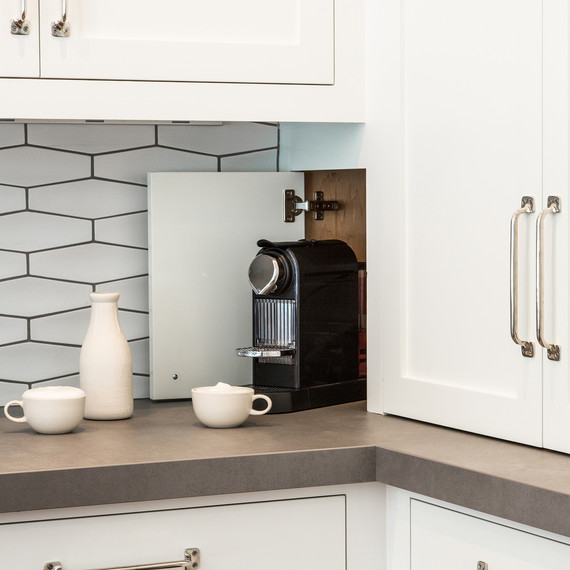 The homeowners wanted to maximize their counter space, so all appliances are concealed in appliance cabinets, like this espresso cupboard! This not only keeps the appliances clean and out of the way, but allows for countertops to be used to their full potential.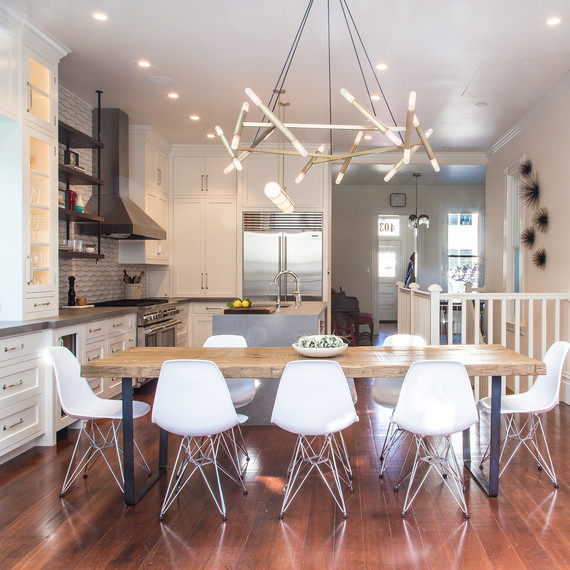 The furniture and fixtures in the kitchen and connected dining area are modern and buoyant. The dining chairs are durable and the contemporary chandelier could not be anymore, well, cool.
The remodel of this kitchen has been a total game changer for the family -- it's a place that is inviting, charming, and modern. The space feels open and organized, in my opinion, it's an ideal kitchen and dining room. Katie's design elements allow for a functional space while maintaining classic sensibilities.