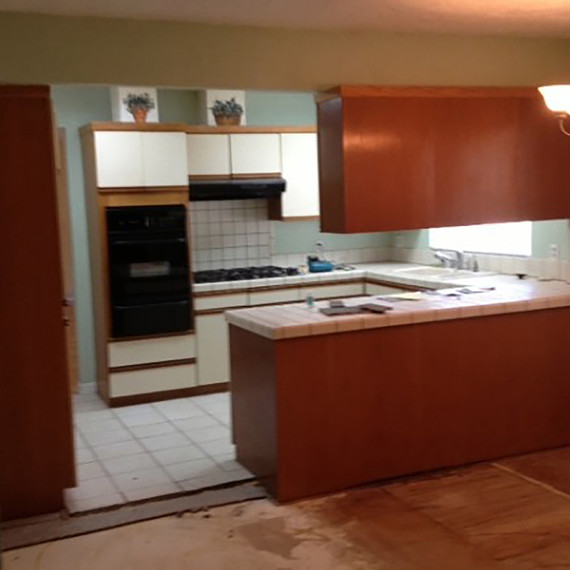 I'm excited to share this kitchen makeover -- it actually took place in our first house! We were on a very tight budget, having just emptied our entire life savings to buy this tiny fixer-upper outside of Los Angeles. Problem was that the house needed a lot of work.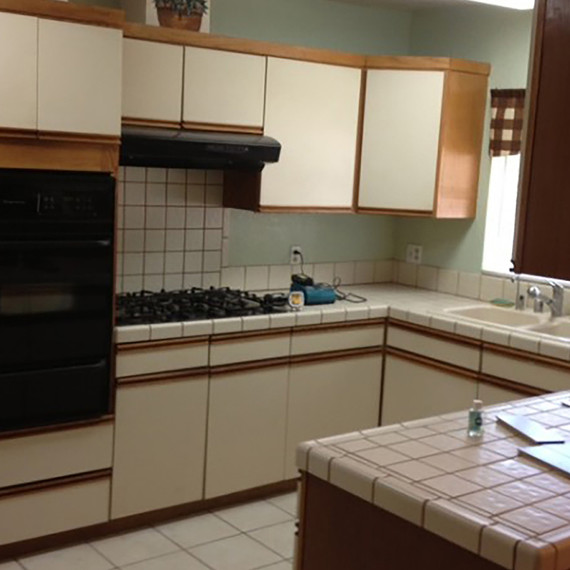 Before
One of the first projects we tacked was leveling out the kitchen and dining area flooring. The original kitchen was very outdated, closed-in, and dark. I could see the potential of opening the space up, so we gutted the entire thing and never looked back! We also smoothed out every inch of the walls and ceilings because they were covered in thick, textured plaster from the '80s! Once we got the place straightened out, if you will, we really got to work. You can see in the picture above that the cabinets needed a major update.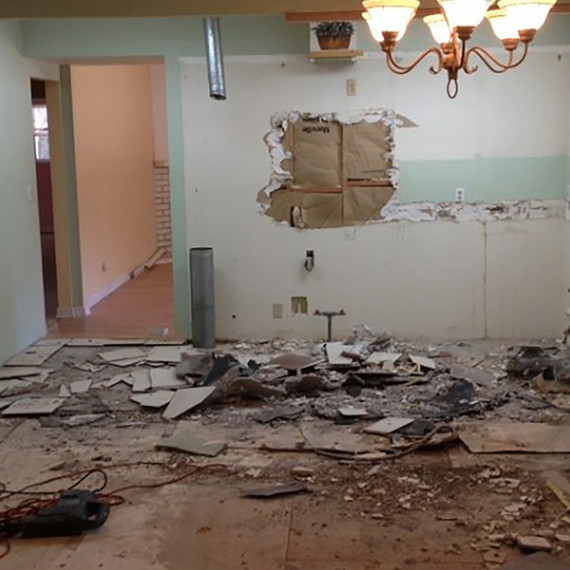 Here's a photo showing the demolition of the kitchen -- it was such a mess!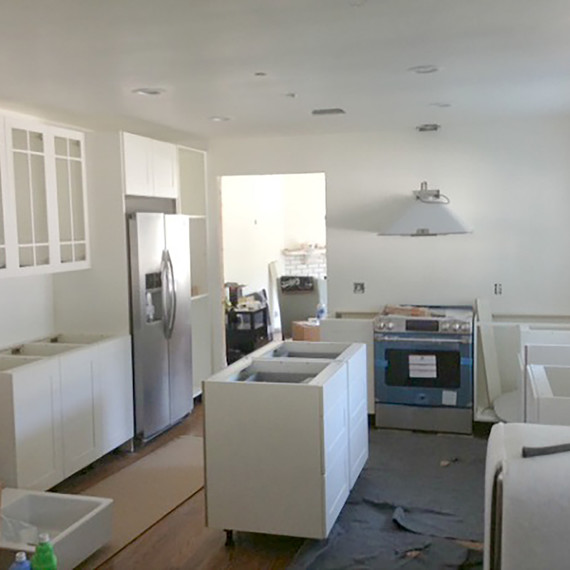 Since we were designing on a budget we opted for Ikea cabinets. We had heard great things about them and of course it saved a lot of money in the redesign. (We even found our farm skink there!) My husband assembled all the cabinets himself and then we had a wonderful contractor install them. We used the Ikea software to lay it all out and implemented the triangle kitchen work method too. I actually learned about that from my studies in Home Economics, and I have to say it really makes things more efficient in the kitchen! Don't know what it is? It's the imaginary, uninterrupted triangle that you should be able to draw between the middle of the sink, the middle of the stove, and the middle of the fridge. This allows for maximum efficiency. Does your current kitchen comply with the triangle?
After
For my overall theme, I was inspired by the clean and open feeling of a great coffee shop. I knew I didn't want upper cabinets because you wouldn't see those in a cafe. Forgoing them also made the space light and airy rather than closed in. Instead, we doubled our lower storage with the addition of lots of cabinets and counter space. I wanted a good mix of masculine and feminine in the design, so I went with brushed metal hardware.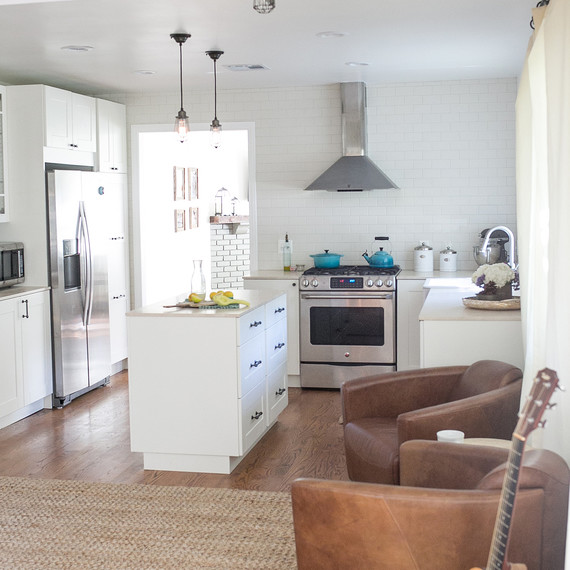 To stay within our budget, we used a mix of high and low priced items. We spent a little extra on knobs and pulls to dress up the cabinets, and for the countertops I chose a honed marble in a natural beige color. The wall behind the range is tiled with subway tile, which is actually pretty inexpensive and looks beautiful. It's also so easy to clean! We bought all of our appliances from Sears, with the GE cafe range being my favorite piece because it's great to cook on!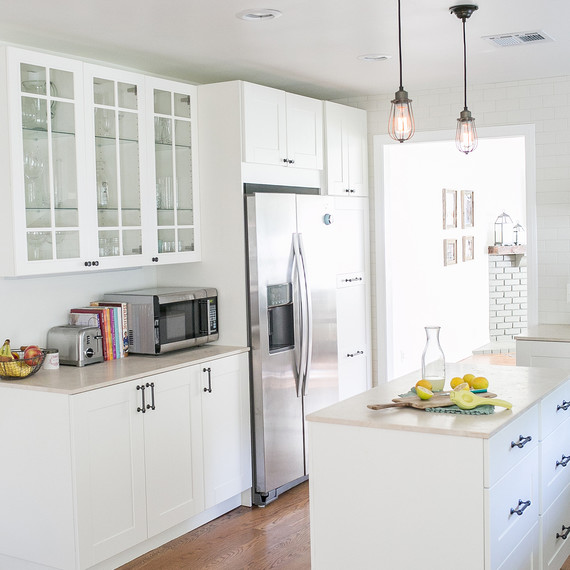 I love the way the glass cabinets look, and they encourage me to put things away neatly!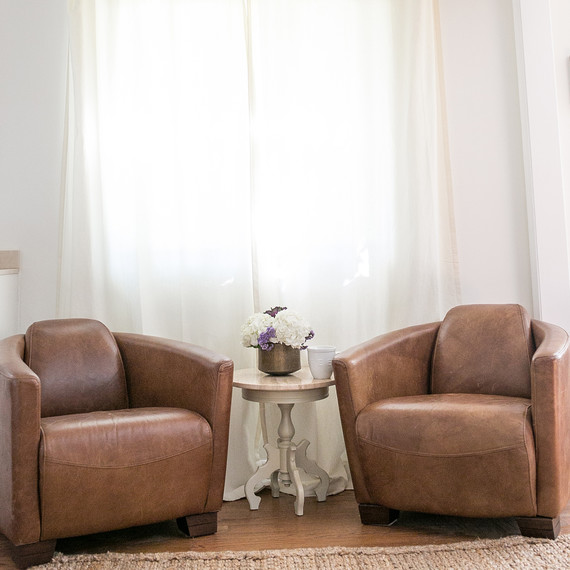 One of my favorite additions to the kitchen is the sitting area with two leather club chairs. This extra touch made it feel like a little cafe. We have enjoyed so many morning coffees and evening glasses of wine in those chairs!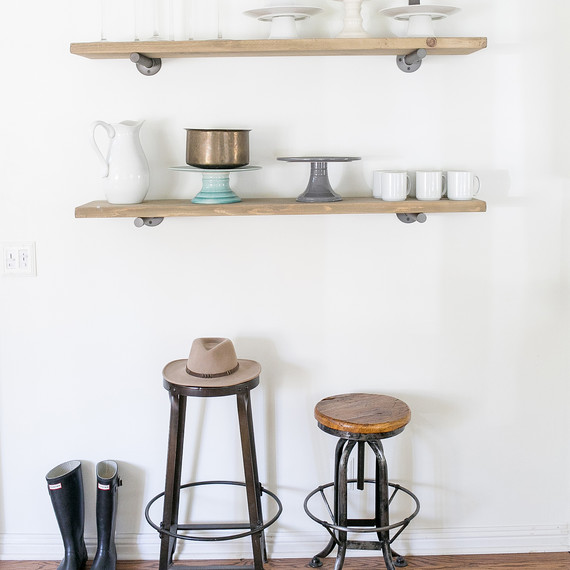 This open shelving area next to the cabinets allows me to showcase some of my cake stands, while providing a bit of color and visual intrigue to the kitchen.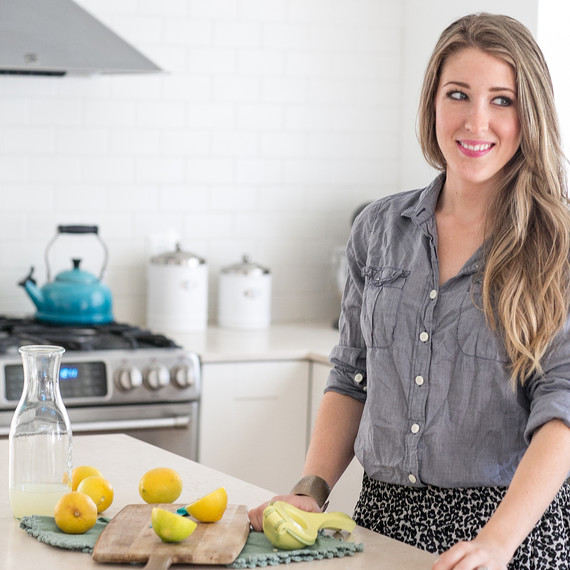 If you'd like to know the details, here are some resources:
Wall paint -- mirage white, Behr
Cabinets -- AKURUM frames and ADEL doors & fronts, Ikea
Sink -- Ikea
Countertops -- honed marble in earthy beige
Hardware -- Lugarno in oil-rubbed bronze, Restoration Hardware
Pendant lights above island -- Restoration Hardware
Floors -- real oak hardwood, Early American stain
Range -- GE cafe range
 
Photos by Mad Citizen