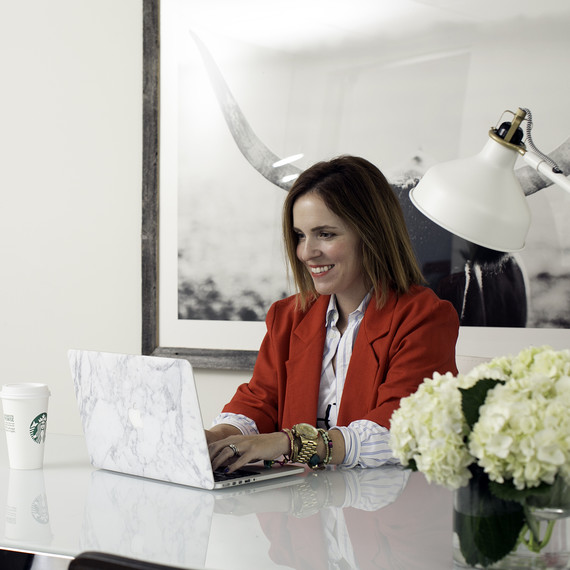 Rachel Hollis, the founder/editor of popular lifestyle website, The Chic, is not afraid to speak her mind when it comes to the way she lives her life. Being a mother to three boys, an author, and an ex-celebrity event planner, all of her experiences have prepared her for success in both her professional and personal life. Serving as her "digital front porch," Rachel founded The Chic with the mindset of producing honest stories that women can relate to and encourages them to live chic and stylish lives.
Read on to see how she created a space that reflects her business, and get some office decorating ideas of your own!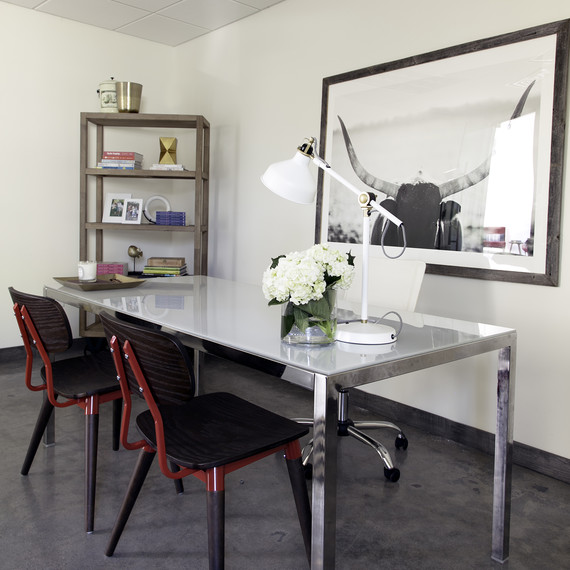 Inspired by the boundary-pushing designs of Kelly Wearstler and the quirky style of Jonathan Adler, Rachel had a clear vision in mind for her office from the start. She wanted her office to feel bright, playful and open -- a place where fun and functionality exist in unison. Rachel worked with Laurel & Wolf designer Maryn Goolsby Favors to take her office to the next level, just in time to beat the holiday madness. Through lots of communication and sharing of ideas via the Laurel & Wolf platform as well as beautiful furniture provided by purehome, the Chic office transformed into an organized and inspiring space where Rachel and her team's creativity can flourish!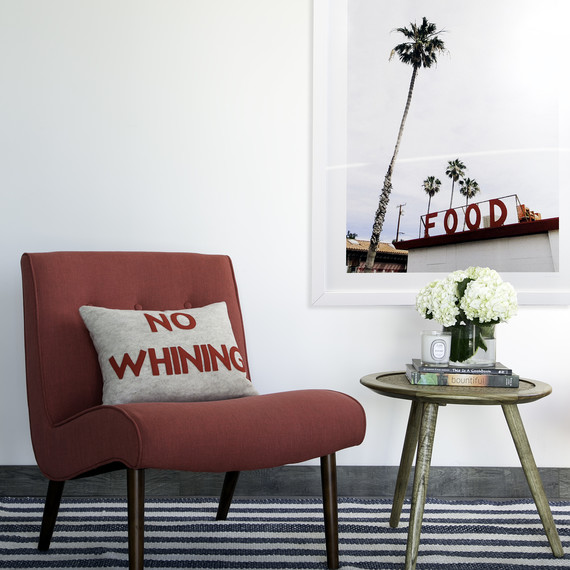 Rachel's reception area sets the elevated tone for the entire office. Maryn and Rachel took advantage of the floor-to-ceiling windows, white walls, and polished concrete floors of the Chic lobby. Rachel's love of color is introduced through two cranberry-toned chairs from Apt2B. A striped area rug and stylish pillows establish an upbeat, playful theme that flows throughout the entire space.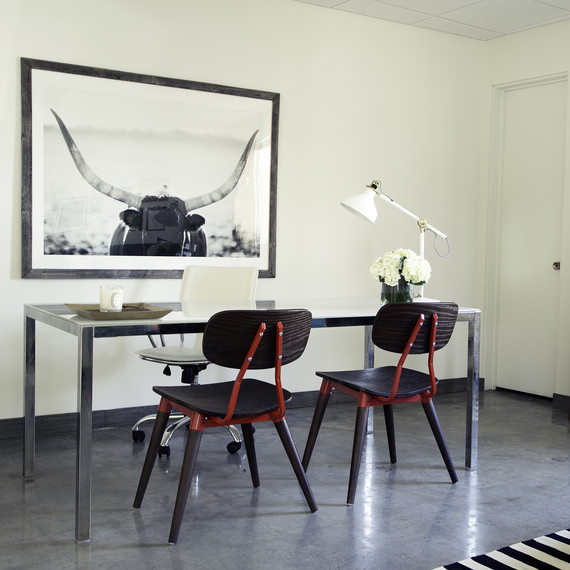 Rachel's outgoing spirit and vibrant tastes are perfectly expressed in her eclectic personal office. There is a lot of fun stuff going on -- bright pops of color on the chairs, quirky decorative objects on the bookshelf and a gorgeous photograph (Rachel's favorite piece in the new office) all come together to create a funky, yet sophisticated vibe. The rest of this room was kept toned down and minimal, Rachel really wanted to let the photograph be the focal piece. In her opinion,"the rest of the office is going to be a little irreverent if that's the first thing you see."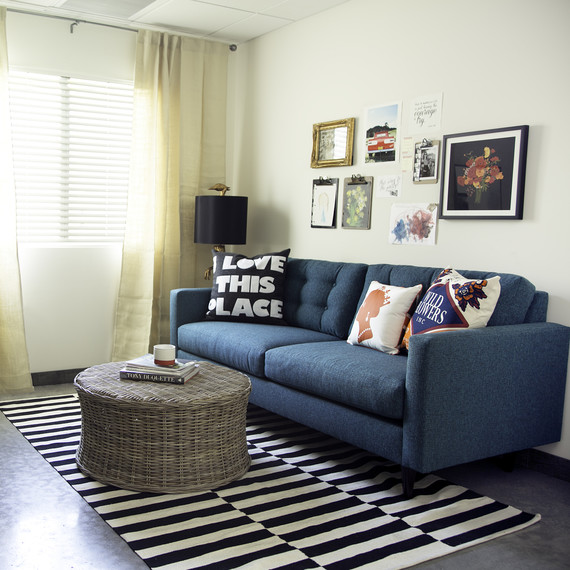 The opposite side of the room consists of comfortable seating for staff meetings and incorporates all facets of Rachel's wide-ranging style. Topped with vibrant pillows, an electric blue sofa faces a rattan coffee table and a bold, striped rug highlights Rachel's penchant for blending colors and textures. The gallery wall above the sofa displays a mix of deeply personal items -- framed prints, birthday gifts, drawings from Rachel's kids -- and clipboards, so that Rachel can easily transform her space whenever the mood strikes.
At Laurel & Wolf, we always want our client's personality to shine through. A great way to do this is to include at least one either personal or interesting piece that stands out -- like the unusual black and gold bird lamp that sits beside the sofa. Not only does it provide nice ambient lighting, but it's a conversation starter!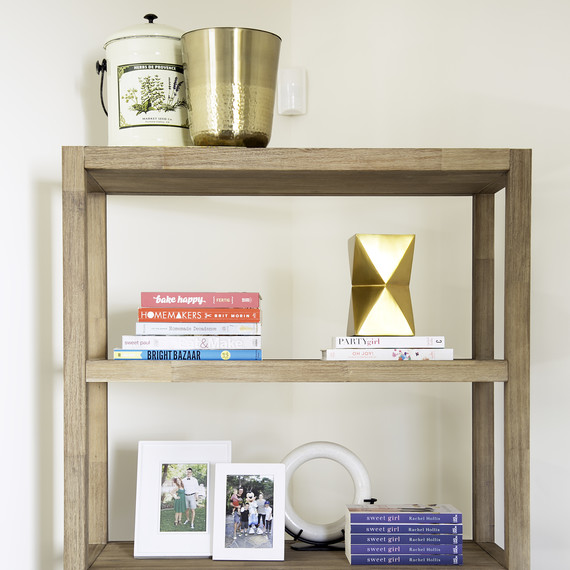 A clean and organized space is necessary for any parent with an engaging career and active lifestyle. Rachel loves that "the new office has plenty of storage that's functional as well as pretty," such as the plentiful shelving that provides space for her book collection, family pictures, and decorative accessories. This allows Rachel to show off some of her personality, and creates a functional storage space.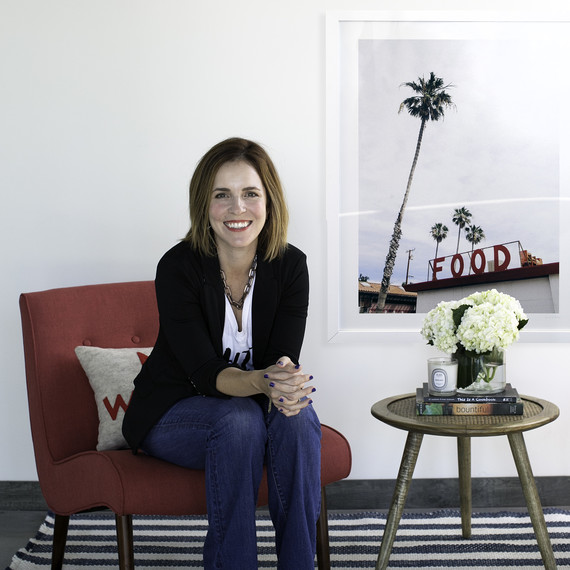 The Chic office is neither high-strung and overly practical nor is it all partying and laughs -- it's a healthy mix of both, which is exactly what Rachel advocates on her site. The new office reflects her personal style and quirky sense of humor: "It's flea market, garage sale, high end and family heirloom all mixed together. It's bright and colorful and it marches to the beat of its own drum... just like me."
When you start designing your new office space, we hope you'll be inspired to express yourself and have some fun!