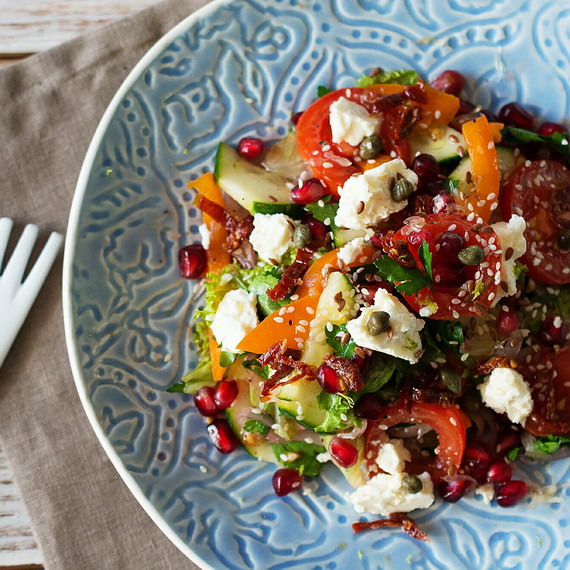 We totally get it. Life can be exhausting, and sometimes at the end of a busy work day, the last thing you feel like doing is cooking. You rummage through your refrigerator to find a strange assortment of odds and ends, and you might wonder, "what the heck am I going to make with this?" That's more or less how this salad came about.
If you're stuck for creative meal ideas, or just feeling straight up lazy, this could very well become your go-to salad. It's a colorful, "everything but the kitchen sink" entree packed with good-for-you ingredients -- and it comes together in mere minutes. The best part about this recipe? You really can't go wrong, no matter how you switch it up. It's all about finding that balance between crunchy, salty, acidic and sweet. This salad has that balance and the result is a flavor explosion we know you're going to appreciate.
The magic of this vibrant healthy salad is that it not only helps you use up all the produce lurking in your refrigerator, it also tastes great. By incorporating healthy fats like sesame seeds and feta cheese, you'll feel satiated without being filled to the brim. Feel free to use other proteins you may have on hand such as tuna, salmon or even a poached or hard boiled egg on top, to make it a complete meal. The possibilities are truly limitless, just use your imagination -- and the contents of your refrigerator -- to whip up something healthy and delicious.
This recipe feeds one hungry human, or could be split in two and served as a side. We often end up making extra, so we can pack it for a healthy lunch the next day.
For the Salad:
1 cup torn romaine lettuce
1/3 cup flat leaf parsley leaves
1/3 cup mint leaves
1/2 cup baby spinach leaves
1/2 finely sliced red onion
1/2 cup chopped cucumber
1/2 lime, skinned and segmented (and its zest)
1 small orange bell pepper, sliced
1 tomato, chopped
1 tablespoon pomegranate seeds
1/2 teaspoon capers
1 teaspoon white sesame seeds
1 teaspoon flax seeds
2 sun dried tomatoes, finely sliced
Crumbled feta cheese, to taste
For the Dressing:
1 teaspoon pomegranate molasses (recipe here)
1 teaspoon lemon juice
2 teaspoons sunflower oil
Salt and pepper to taste
How to Make the Salad:
In a bowl, combine lettuce, mint, parsley, spinach, red onion, cucumber, lime segments, bell pepper, and tomatoes with a pinch of salt. Set aside for 5 minutes.
Make the dressing: In a small jar, combine pomegranate molasses, lemon juice, oil, and salt and pepper. Close lid and shake jar well.
Toss salad with dressing together. Top with feta, capers, sun dried tomatoes, pomegranate seeds, sesame, flax seeds, and lime zest. Enjoy!