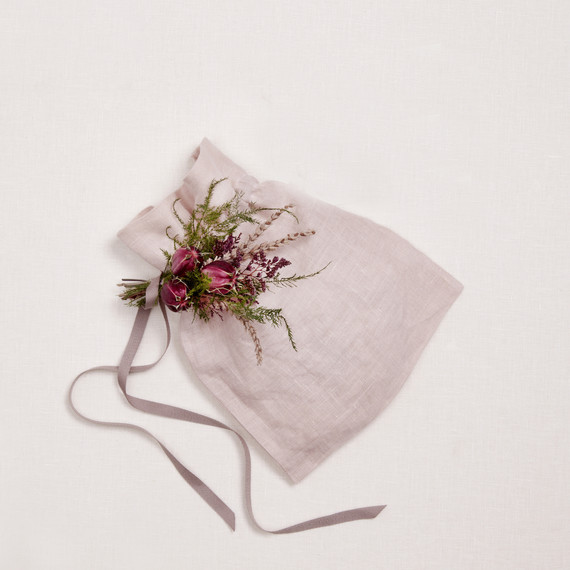 Each bundle of tiny flowers in one of our gifts has one goal: to make someones day a little brighter. I have yet to come across anyone who doesn't like flowers -- tacked to a mood board or sitting on your desk, they're a pretty reminder of a gift that, hopefully, made your day. Today, I am sharing with you the secret to our own Simone LeBlanc signature floral arrangements, so grab some flowers and let's get started!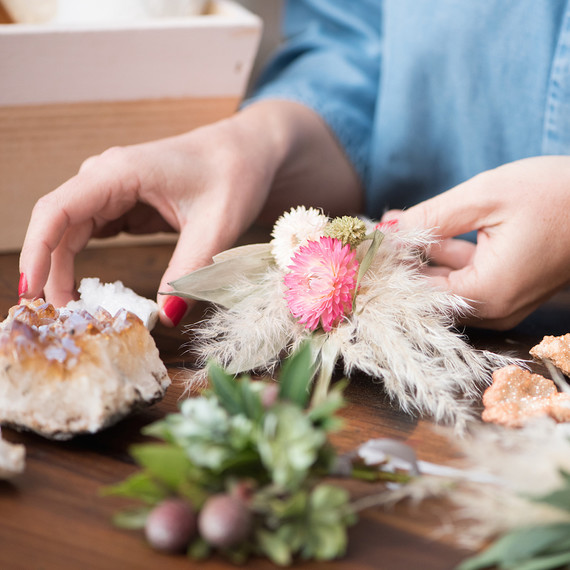 Materials:
twine and floral wire
ribbon
square of sturdy linen (optional)
various types of cut florals and greenery
Note: When choosing your flowers, try to gather pieces of different sizes, textures, and colors, and nothing too delicate. You will want your flowers to be sturdy enough to be tied into a bundle, and to survive the journey to the lucky recipient! To give your floral arrangements some structure, you will need at least two larger and sturdier leafed pieces.
Pro tip: Select one or two "focus" florals to take center stage in your bundle. Some of our favorites to include are dried roses, sage, rosemary, ferns, twigs and seed pods, and any pretty dried florals as well as seasonal bits.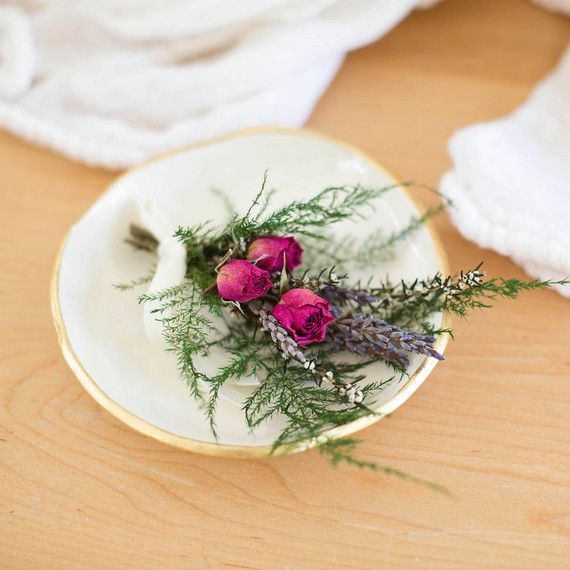 Directions:
1. Making your own tiny floral arrangements is super simple -- but it requires a bit of a delicate hand! First, gather all of your materials (the twine, florals, linen if you're using some, and any ribbon you're including) and set yourself up on a clean, dry work space.
2. Trim all of your flowers so that they are more or less the same length, with slight differences in height (about one to two inches in variation). Note: you may want to adjust the length of your stems as you build.
3. If using the linen, open your square and lay it on your work surface. Fold it over once to create a triangle, with the flat side of the triangle at the top. If you are skipping the burlap, simply move onto the next step.
4. Now it's time for the flowers! Before I start, I sometimes like to play around with the flowers, or create a "mock-up" of a bundle. This helps start the flow of creativity and helps me envision how I want it to look in the end. When placing your flowers, start at the back of with the larger "backdrop" florals, such as ferns, baby's breath, etc. Begin building your bundle, holding onto the stems of the flowers, placing different florals into the bundle, and work your way to the front. Add small sprigs and blooms where needed so that the bundle feels full to your liking!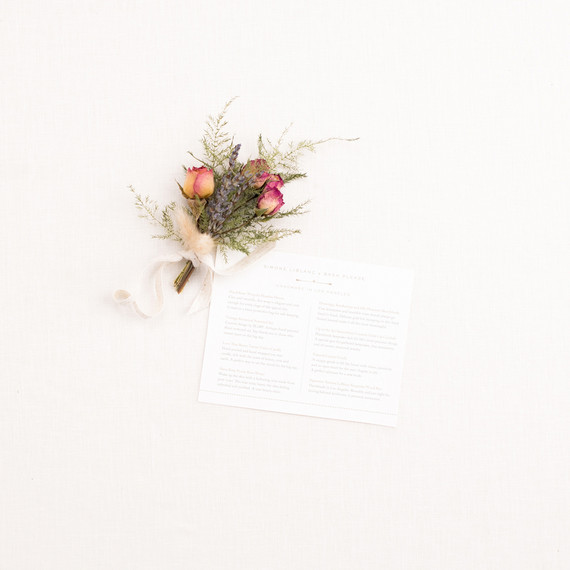 5. Once you have built your bundle, it's time to twine it up. If you've used burlap, fold the edges of the triangle over the stems to make a neat little envelope. Tie twine around it. If you've skipped the burlap, hold tightly as you wind twine around the stems, finishing with a bow.
Voilà!