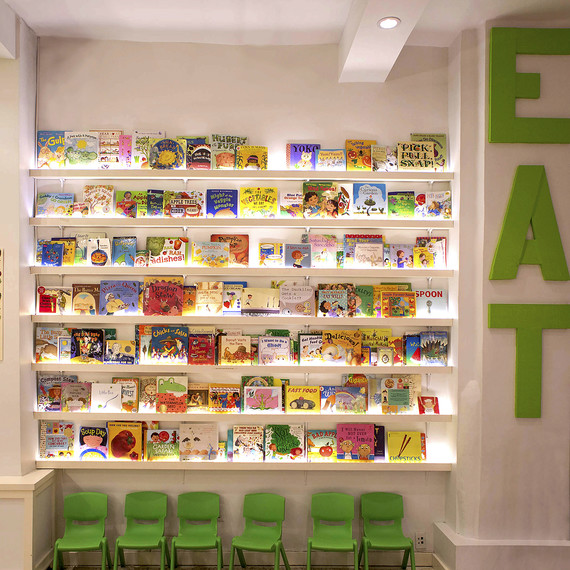 There's no greater joy then watching children discover, learn and fall in love with healthy foods. Every parent hopes to cultivate this love, and watch children grow up with healthy bodies and minds. What better way to do this than by creating fun food projects for kids! Playing with food creates excitement about healthy foods and makes the learning experience fun and memorable for children. I love how Martha always offers great inspiration and ideas for cooking with kids.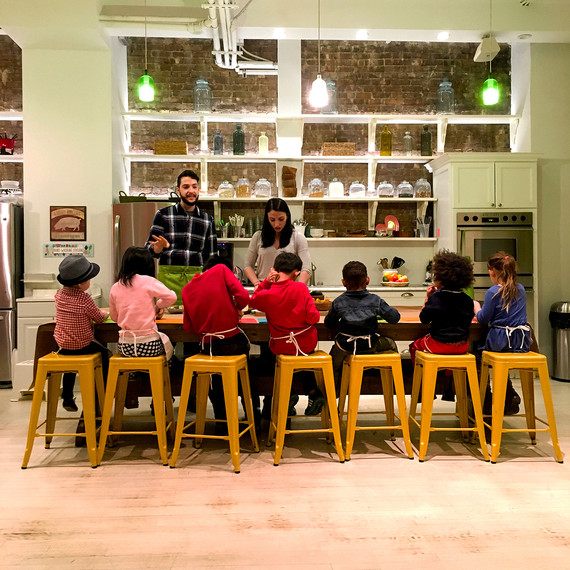 Fresh Kids recently hosted a kids' "Playing with Food" party at Freshmade NYC, a local cooking studio and school, for a delicious afternoon of creative food fun and play. You can easily re-create this "Playing with Food" kids' party at home. Here's a simple DIY plan, for a fun afternoon entertaining children with cooking, crafting and reading.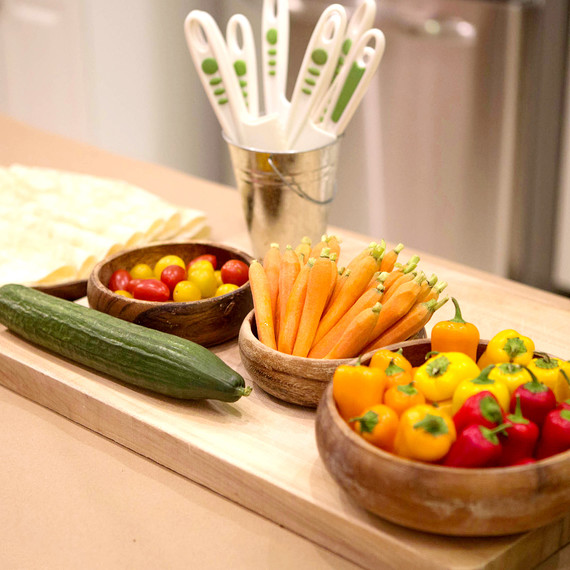 Food Party Part One: Cooking!
The vegetable rainbow awaits. On today's menu: veggie hummus wraps! An easy cooking activity for even the smallest foodie. Included in our wraps: cucumbers, tomatoes, carrots and peppers, but any vegetable medley will do. Keep it fresh and simple.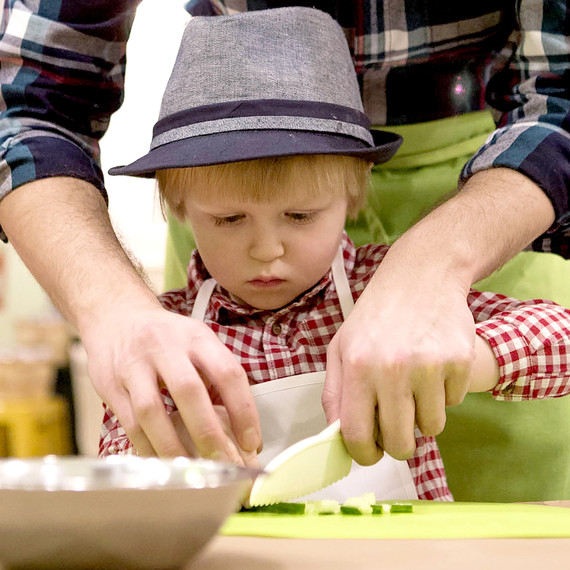 Step 1: Cutting the Vegetables
Carefully slice the veggies. Every child should practice cutting with a child-friendly learning knife. The teachers playfully ask the children to create a bear claw (growl!) with their hands while cutting vegetables. The "bear claw" keeps little fingers safe and away from the knife's blade.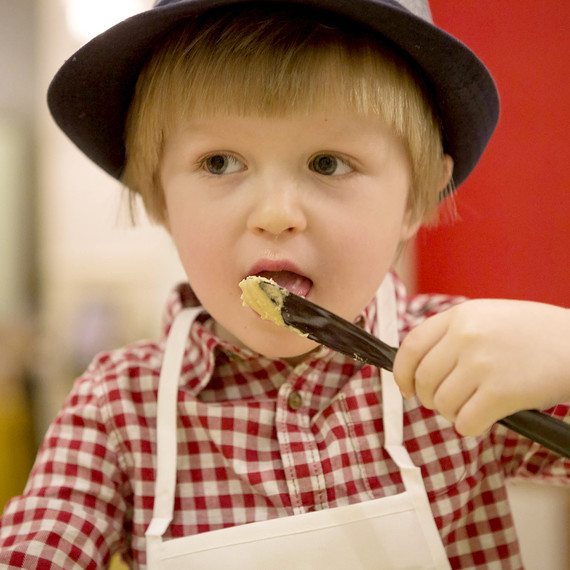 Step 2: Spreading (and Taste-Testing!) Hummus!
Hummus acts as the love that keeps the sandwich together. And how fun to sneak a taste! Hummus has become one of Lil Kid's favorite foods, so it's hard to resist a little lick.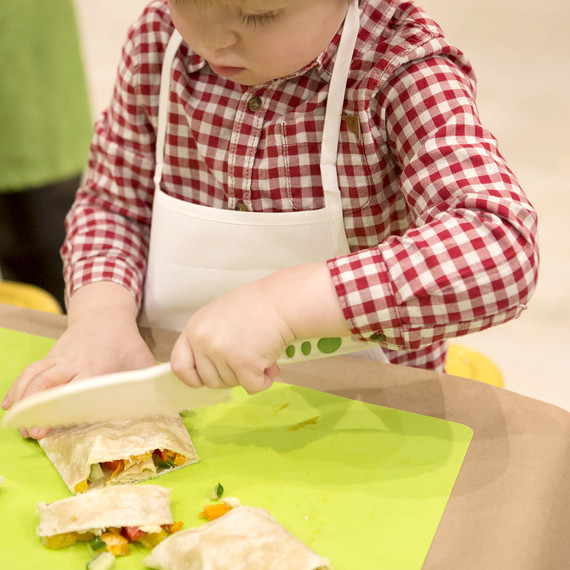 Step 3: Wrap it Up and Enjoy!
Place the vegetables into the wrap, roll and cut into pieces. Our wrap star! It tastes so much better when it's something you create. My Lil Chef in-the-making at the entire wrap. He adores cooking, and announces on a daily basis that he would like to be a chef when he grows up.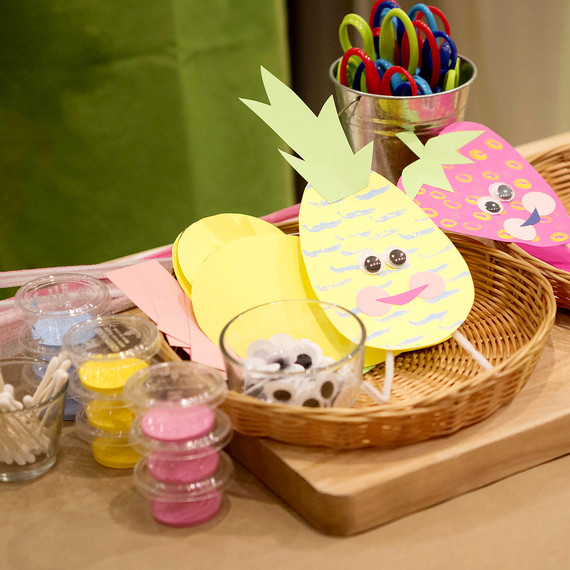 Food Party Part Two: Crafting
With full, satisfied bellies the party moves on to crafting for more fun food projects for kids. Today's food crafting adventure: fruit friends and vegetable stamping! Our stamps include potatoes, carrots, cauliflower and snap peas. You can turn any small or cut-up vegetables into a stamp. And make "Fruit Friends" with simple at-home materials such as paper and paint.
Step 1: Cut pieces of paper into general fruit shapes. Our BFFs today–pineapples and strawberries. Gather paint and other accessories as needed. We used googly eyes and pipe cleaners for legs.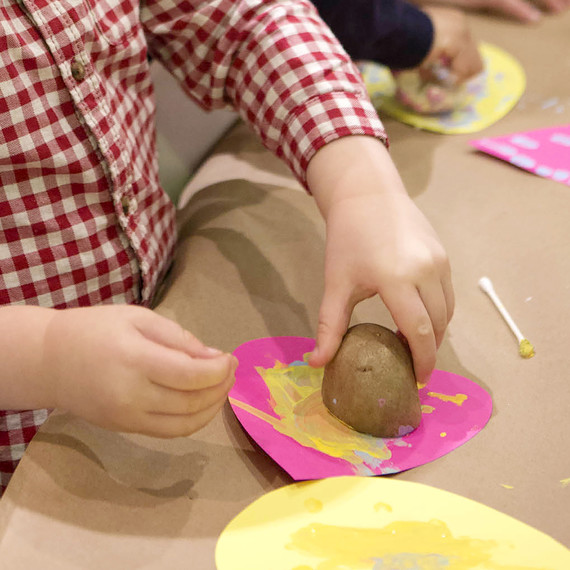 Step 2: The fun part–vegetable stamping! It's so exciting to watch the children explore the different shapes and textures of fresh foods. Hands-on stamping is a creative and imaginative way to connect kids with food. A little paint and some veggies, and let the fun begin.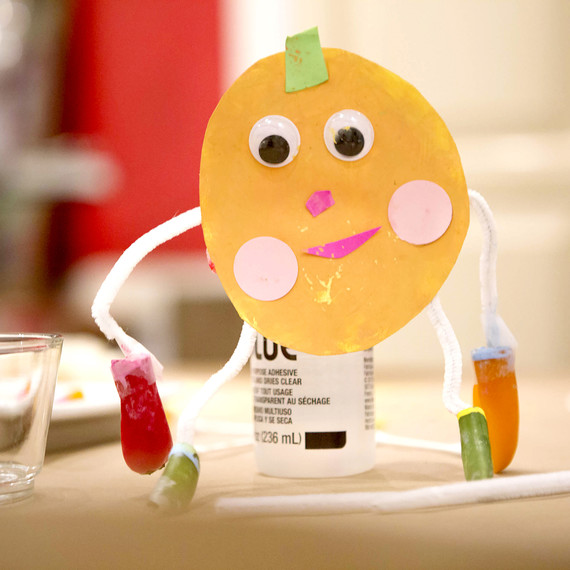 Step 3: Add eyes and finishing touches to make the fruit friends come to life. Children always surprise us with their imaginations and creativity. Like how a child can turn a pineapple into an orange. Such yummy creative fun!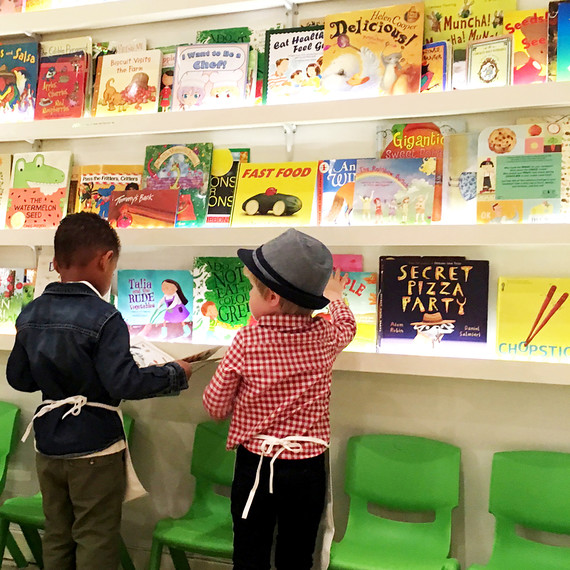 Food Party Part Three: Story Time!
After crafting, it's time for stories and snacks! The children explore the gorgeous curated wall of food books, looking for a reading adventure. Every book on the shelf is about food, gardening or cooking. This is such a beautiful way to connect children with what they eat.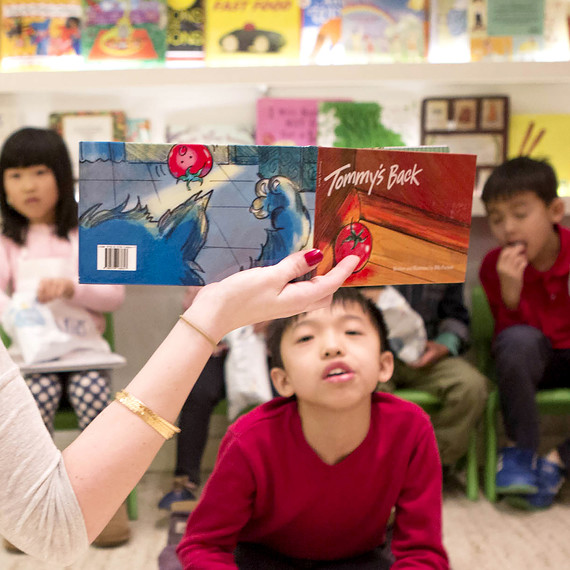 Nothing beats a good book after a great meal and fun with friends! The children loved reading Tommy's Back, a tale about a little tomato and the magic of seeds. What a perfect end to a perfect "Playing with Food" kids' party–such yummy fun!