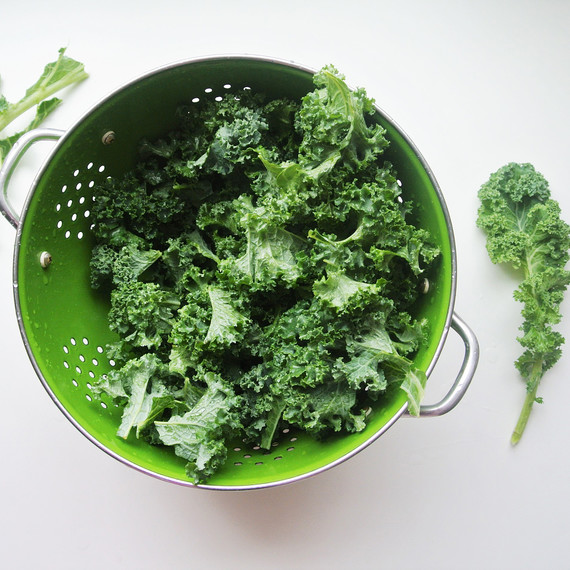 Jessica Serdikoff, registered dietitian and creator of Floptimism, collaborated with Mai Kakish, of Almond & Fig, to create a weekly, easy-to-make at home, kids menu with super-healthy, super-delicious Martha Stewart recipes. Jessica selected the recipes, and Mai cooked up the week's dishes for her family. Before we get started, they both wanted to share a few tips that will make this menu plan more successful for you:
"Healthy eating can feel intimidating, especially when we're talking about finding meals that will work for the whole family. A little planning, though, can go a long way in helping you feel more confident cooking nutritious meals that will please everyone. If you're new to meal planning or simply in a recipe rut, this dietitian-approved five-day meal plan can get you through the week, take-out free!" -Jessica
"When I cook new things I often have the kids help me in the process. They take so much pride in cooking, and are more willing to try new foods. To encourage my kids to explore foods, I often use familiar ingredients they enjoy together with unfamiliar flavors. Presentation (as Martha teaches us all) is most important when introducing new foods, especially with kids." -Mai
Now, let's dig in!
For even more fun, get the whole family involved. Younger children can wash and dry the veggies, while older ones can trim the green beans. Pair it with a few baked potatoes or fresh slices of apple or pear for a complete meal!
Monday
Asian Rotisserie Chicken Salad with Cauliflower Fried "Rice"
Cauliflower "rice" (steamed cauliflower that is pulsed into crumbles using a food processor) is one of the coolest new healthy food trends to hit the scene. It's a great way to "sneak" in a few extra veggies and fiber to dinner. Pair it with a convenient but spruced-up rotisserie chicken to make this meal a Monday night winner.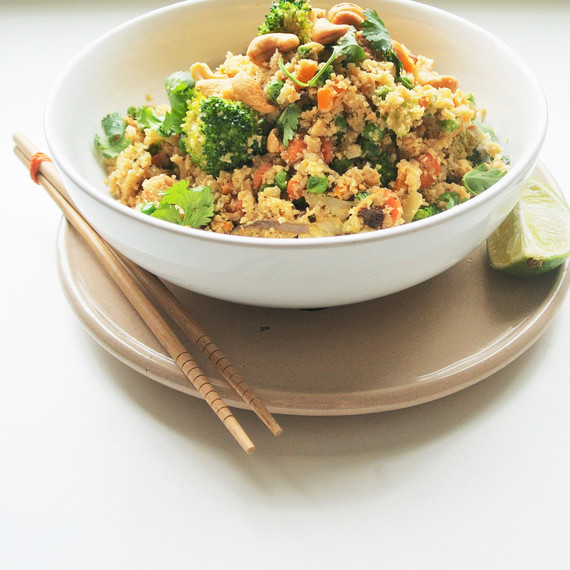 "The cauliflower rice was a big hit, the kids really enjoyed the flavor and texture." -Mai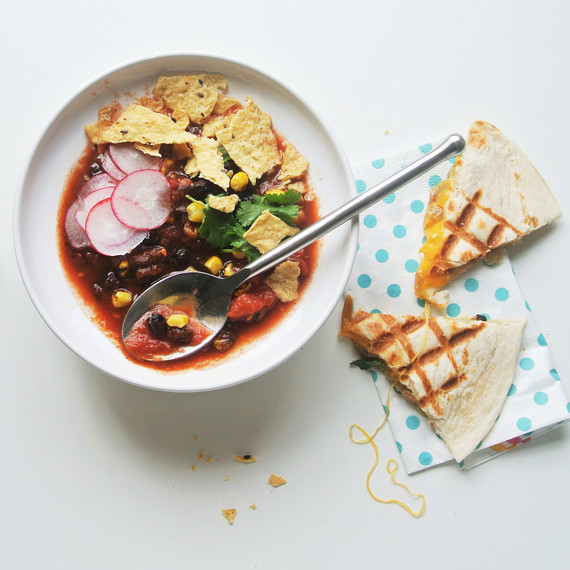 Tuesday
Tortilla Black Bean Soup with Quesadillas
This soup comes together in 15 minutes flat, and it's packed with protein-rich beans and fiber-rich veggies that your kids will love!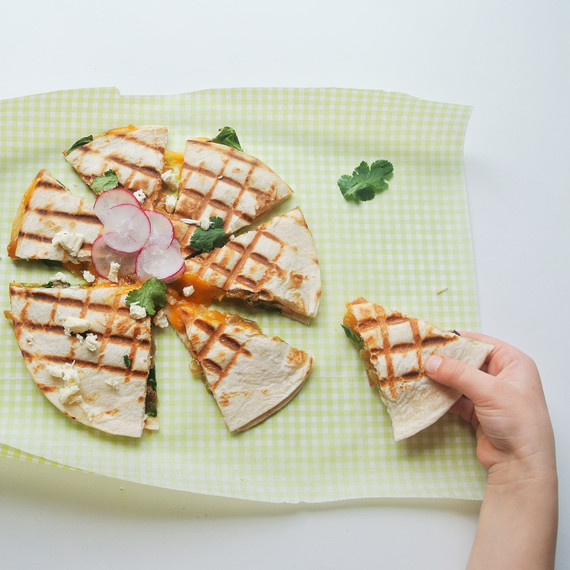 Keep the meal extra-nutritious with low-sodium, whole grain tortilla chips, whole grain corn or flour tortillas for the quesadillas, and any extra veggies you can sneak into either recipe. (A little thawed, chopped spinach would go great in either, if you're feeling adventurous!)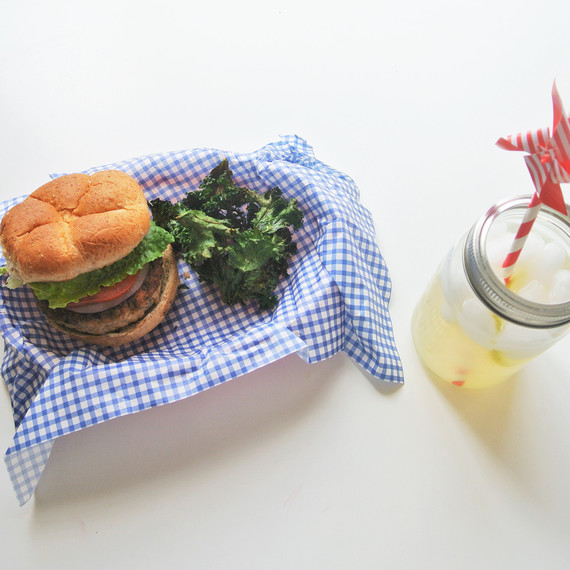 Wednesday
Chicken and Lentil Burger with Kale Chips
Using lentils to stretch the ground chicken in a burger is a great move for your family's nutrition and budget! "It's an extra dose of protein, iron and fiber and gave the burgers another layer of flavor and texture that the kids loved," says Mai. Opt for whole grain English muffins or buns for extra fiber and fresh toppings like guacamole or hummus to mix it up a little bit.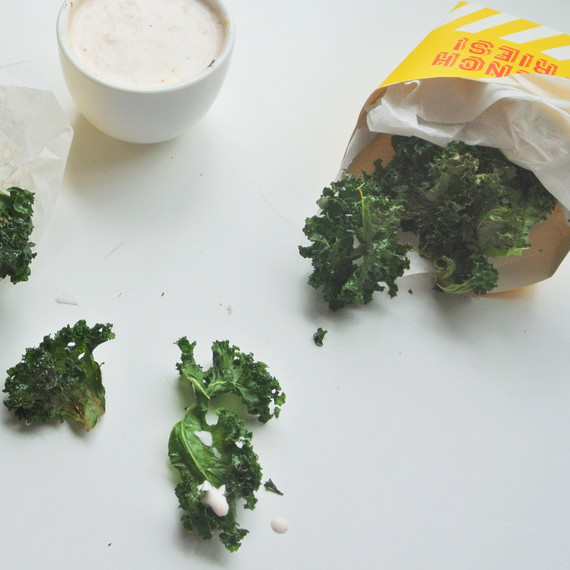 "Presentation is so important with kids. I often give new foods familiar names or presentation. My kids loved the kale chips in fries boxes. It gave kale chips a familiar look, but it was a whole new ball game. They got a kick out of that!" -Mai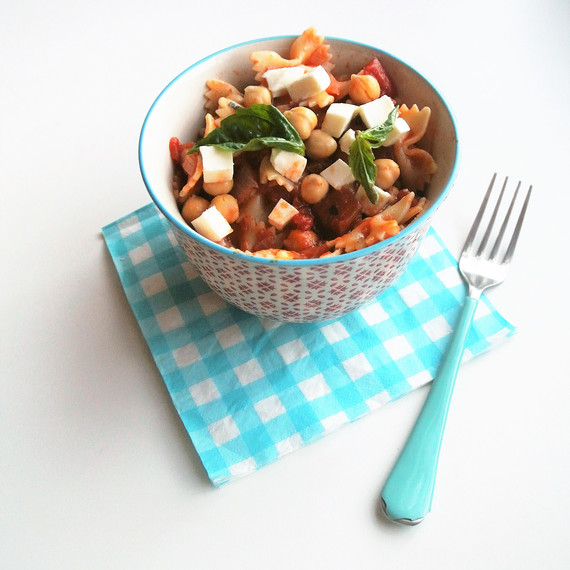 Thursday
Pasta with Chickpeas & Tomato Sauce with Roasted Mixed Vegetables
Whole grain or even bean-based pasta shells can turn this veggie-centric meal into a satisfying weeknight feast the whole family will love! Some of the vegetables are more adventurous, like Brussels sprouts. Pairing them with often well-loved ingredients can help strike a balance (and keep the peace!) while still encouraging everyone to try new foods.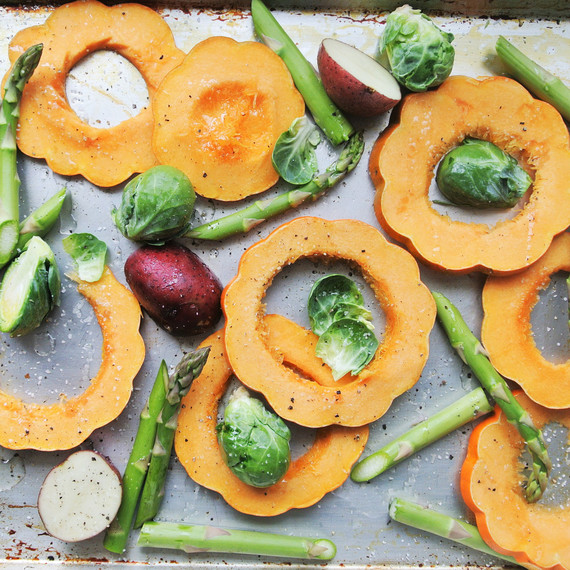 "My kids especially had fun making the roasted vegetables with me. They snipped the asparagus and peeled the outer layers of Brussel sprouts. I paired red potatoes and asparagus (which they love) with unfamiliar squash and brussel sprouts. The sweetness of the squash complemented the strong flavor of brussel sprouts and made the kids happy." -Mai
Friday and Saturday
Wing it! "I like to leave a few days at the end of the week unplanned. It helps keeps things flexible. Did you get a last-minute invitation to dinner with friends or family? Did you end the week with an alarming number of leftovers? No problem! But for all of the other days of the week, you can rest assured knowing that you're covered." -Jessica
Overall, Jessica and Mai had a great time putting together a menu for their kids that they could feel good about. Teaming up can be a great way to garner new ideas and inspire you to make delicious, nutritious meals.
From Jessica, Mai, and everyone at FreshKids: We wish you happy, healthy and fun cooking with your family!
Photography and food styling by: Mai Kakish of Almond & Fig