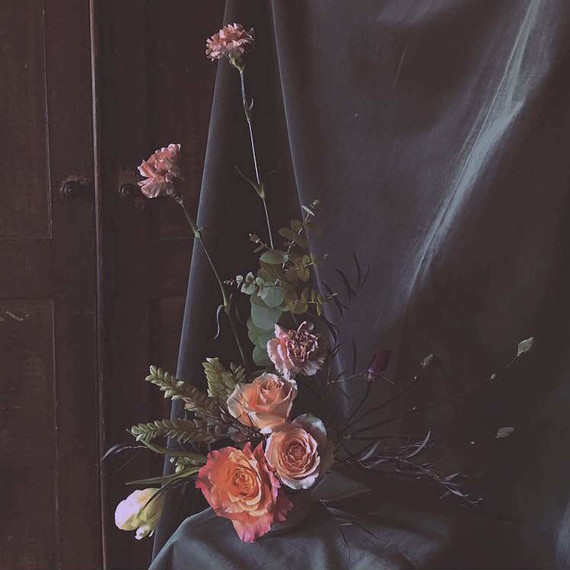 Valentine's Day is approaching, which means bouquets. As a florist, I realize that "pretty" is the number one priority -- few people want to take the experimental route when it comes to their flowers (and who can blame them?). But I wanted to give it a shot and see if different and pretty could coexist.
For quite some time now I've been intrigued by ikebana, the Japanese art of floral arranging that uses as few stems and leaves as possible in order to create lines and contours that highlight each individual flower's beauty. Of course, these factors also make it the perfect budget bouquet. The challenge of creating a unique composition -- with space in the arrangement -- is hard to resist, and even harder to pull off. But the outcome is exquisite!
For this particular budget bouquet I used three roses, three carnations, a tulip, and one flowering branch. I chose a smaller, shallow vessel and made an armature out of balled up chicken wire, placing it at the bottom of the vessel (some florists use frogs). My experience with ikebana is limited, so I was just doing my best to approximate some of the images I've seen. It wasn't until days later that I found an actual formula (on a Japanese culture website) for a type of ikebana arrangement called Moribana. I was amazed to learn that mathematics are a big part of these arrangements.
It should be said that my Valentine's Day flowers are nowhere near the precise and disciplined art form that takes years to master, but more of an attempt to start the learning process and work with less instead of more. If you want to try your hand at this sort of arranging, Martha has a great series of video tutorials on the subject.