When I designed my office, I needed it to work for me. The priorities were organization, comfort and inspiration. But were these the priorities of my fellow designers? My office design was inspired by the exposed brick wall and the urban characteristics of the location. What motivated the design plan for other designers and how did that contribute to the way they worked? I set out to determine how a few of the designers' who's work I admire, find the beauty in their utilitarian space. Come with me as we take studio tours belonging to five different designers.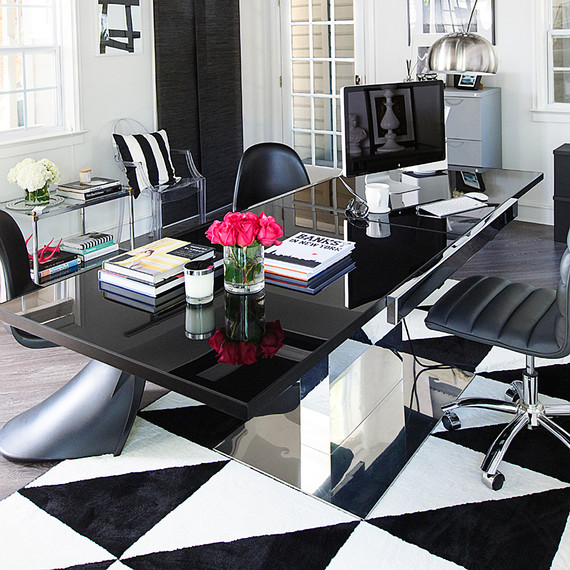 Allison Crawford Design Studio Tour
Designer, AllisonCrawford of Allison Crawford Design, renovated her office (a space detached from her residence) with the goal of creating a bright, airy space that encouraged creativity and collaboration. Allison got creative while furnishing the space, using an Italian dining room table sourced at HomeGoods as a desk. Black and white photos from Allison's extensive travels highlight the walls and provide exponential inspiration.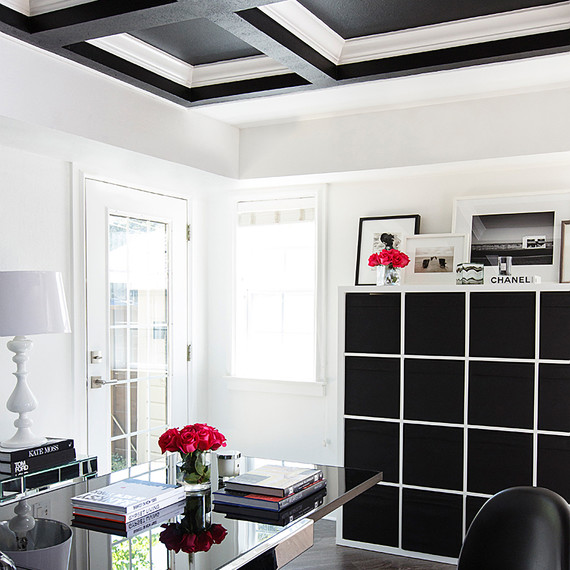 "I am really inspired by the work of painter, Franz Kline," notes Allison. "The simple black and white color palette creates order and allows me to play with the temporary bright accessories, like the fuchsia roses on the entry table." Drawing inspiration from a favorite artist, or someone who inspires creativity, is a fundamental tenet among designers.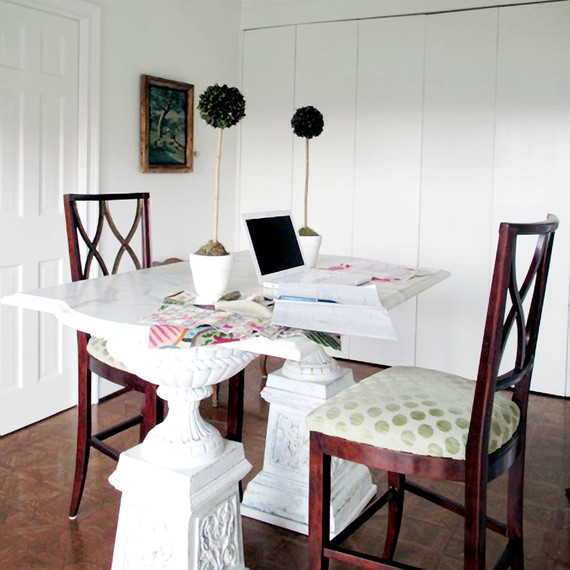 Frog Hill Designs Sutdio Tour
Betsy Barmat Stires of Frog Hill Designs incorporated elements of classic design to create her ideal workspace. Her office exemplifies the "surround yourself with what you love" philosophy. "The classical shape and proportions of the table mixed with the David Iatesta chairs covered in a Cowtan and Tout fabric remind me to remember the concept of "fun" in my design and to always bring the unexpected element to my projects," says Betsy.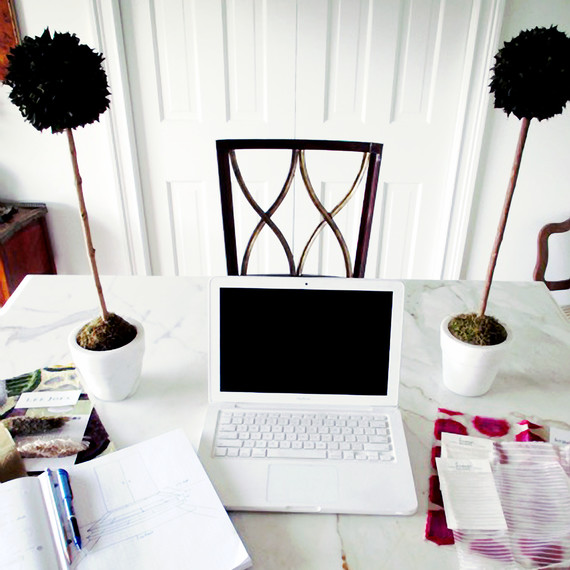 The topiaries in marble pots bring architectural and natural elements together with their column-like form.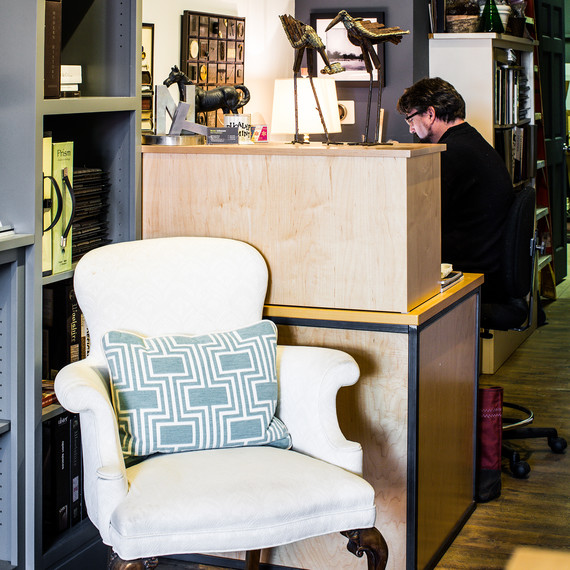 Maine Street Design Co. Studio Tour
Brett Johnson of MaineStreet Design Co. works from a ground-floor office, allowing for welcome visits from his friends and clients alike. Tall ceilings and a neutral color palette offer a calm environment for work and creativity. Fabric samples, floor plans and files are stored in the highly functional built-in.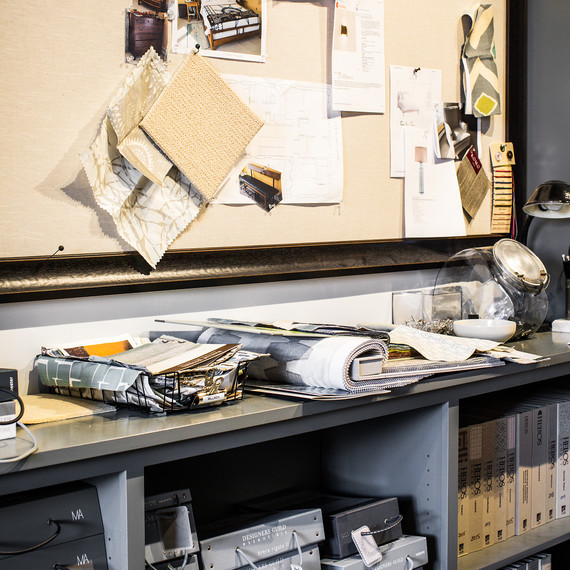 "When I found my space, it felt like a dream come true. It reminded me of the small decorating storefronts in London," says Brett. "We concentrated our library into a tall-ceilinged back room leaving space for two work areas for myself and my associate."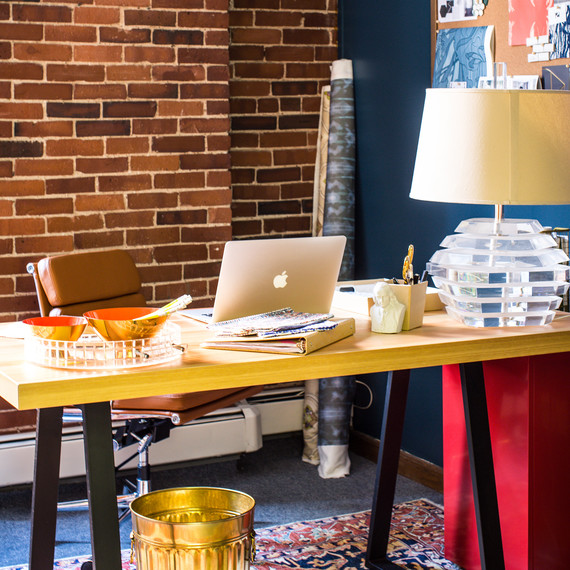 Landing Design Studio Tour
My own office, from which I run Landing Design, is a jewel box of a space, in which the architectural details guided my design. The exposed brick dictated the rich peacock blue-green on the walls as well as the brass, leather, and wood accents.
Functionally, my office serves as a space where I can meet with clients, sit comfortably, spread out and create mood boards face-to-face. We hang out on the vintage Arne Norell love seat and go through samples, swatches and paint colors, connecting one-on-one, rather than over the computer. A comfortable seating area was imperative for not only my interaction with clients, but my own well-being. We spend so much of our time in our workspaces and it was a priority for me to have a place to relax and work, rather than defaulting to sitting at my desk for hours at a time.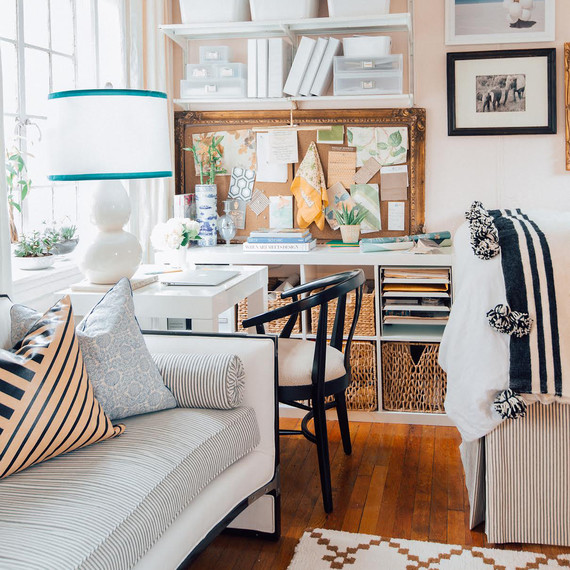 Gena Dorminey Design Studio Tour
Gena Dorminey of Gena Dorminey Design works from her studio apartment and as she notes, "not one inch of space goes unused. Organization is key. Most furniture, art and objects have been collected from flea markets and these pieces are functional and streamlined. My approach as a designer has become more minimal over time. This space is a reflection of the evolution of my eight year career."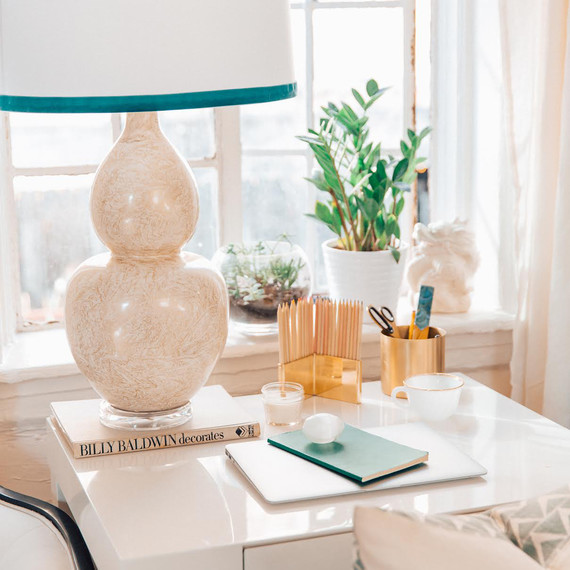 The designer's home office provides her with a sense of connection to her community and an elevated appreciation for her neighborhood. The light-filled bay window is the impetus for this connection.