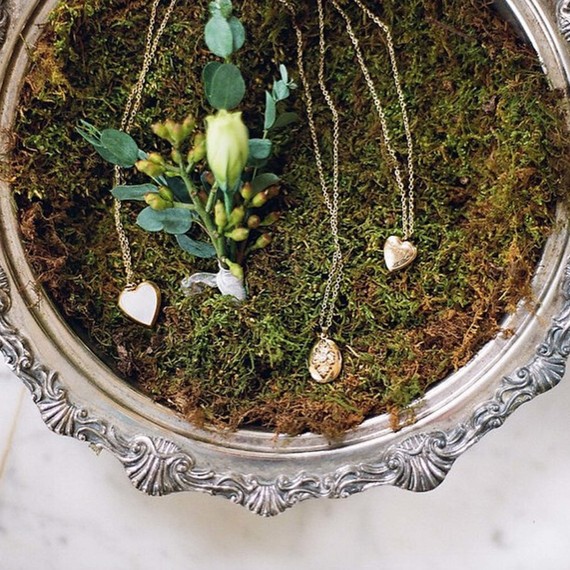 Keep it personal
Monogrammed jewelry is absolutely timeless. From signet rings to personalized pendants and charm bracelets, custom pieces are sure to win over your significant other.
Our suggestion? Find a piece you love, then head to your local jeweler and have it engraved by hand. When you're searching for a piece of jewelry, make sure it has a flat, thick surface that is engraveable.
Pro tip: A monogram is made up of a person's initials (first, middle, and last), but feel free to buck tradition -- sometimes just the first letter of a name in a larger font provides a bigger wow-factor than the traditional three-initial monogram.
If you want to stick to a classic design, remember there are two ways to monogram. Typically, the last-name initial is centered and slightly larger, with the first and middle initials on either side. You can also go with block initialing, where the initials are in order and all the same size. Either way is appropriate, but make sure to clarify with the jeweler so that you don't end up with an incorrect monogram!
Back to the basics
Picky partners can be the hardest to please. In this case, it's best to reach for the basics -- classic silhouettes, clean lines, and simple shapes. Lucky for you, minimalist gold and silver jewelry is all the rage right now, so finding the perfect piece shouldn't be difficult.
With the more basic pieces, it's worth the splurge for 14k gold or sterling silver. They'll last a lifetime and go with just about anything.
Make Your Own Charm Bracelets and Necklaces
Customize it
Does your Valentine have a favorite gem or birthstone? Or perhaps a shape or symbol they adore? Don't hesitate to reach out to your favorite jeweler to ask if a piece can be customized -- many designers are willing to accommodate special requests.
Buy from the heart (literally and figuratively)
Heart-shaped Valentine's Day jewelry isn't too cliché when done right. Whether it's a simplistic gold heart (you can't go wrong with Zoe Chicco's best selling necklace) or a vintage heart locket, a gift like this will be extra meaningful.
eBay and Etsy can be treasure troves for antique lockets. Check for ones that aren't already engraved (many are), and look for genuine sterling silver, gold, or 14k gold-fill for the best quality.
Remember that diamonds are a girl's best friend
Many people reserve diamond jewelry for engagements, weddings, and anniversaries, but they can work for just about any occasion. Plus, diamonds don't need to be large to make a major impact. Look for jewelry that features diamonds as accents, like stacking rings or dainty earrings. Raw or rough diamonds have also become quite popular these days, and typically come with a smaller price tag and an edgier look.