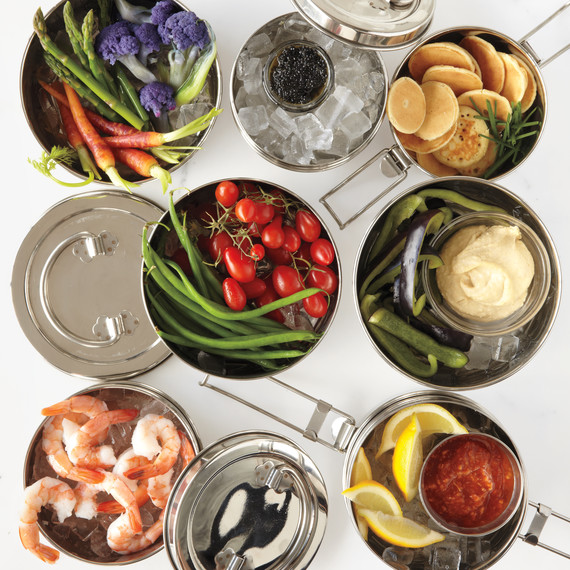 If It's a Desk Lunch:
Make a Flavor Pantry
Give yourself some flavor options during the day by creating a mini pantry at the office. Stock it with a few key, shelf-stable items: Red pepper flakes, olive oil, sesame oil, and a good sea salt. If you have a mini fridge, or space in a shared refrigerator, add to this list a chutney, hot sauce, and mustard. Now you can enhance anything from simple grains to favorite leftovers.
Use a Real Place Setting
Have a set of actual tableware in your desk: A plate, bowl, knife, fork, and chopsticks. Also, a small sharp knife is perfect for those days when you're keeping things both gourmet and simple – like fruit and cheese, summer tomatoes, hard salami, etc. I like to keep a couple of clean dish towels on hand to use as napkins and for cleanup. Your office mates may snicker at first, but they'll come around.
Become a Fan of Big-Batch Recipes
Make your own big batch of savory granola and load it up with yogurt and fruit for a filling and nutritious lunch. Keep a jar at work.
Collaborate with Coworkers
Winter is a great time to start a soup club at your office. You'll make lunch for your office soup-club members once in awhile in exchange for homemade lunch many times over!
If It's Lunch on the Go:
Become a Yelp Expert
If you have to buy your lunch, do your homework. Research the web experts who review food in your area so you know whose opinion you trust, and then take a few minutes to suss out your best options before you get all hangry. Even in the thick of overpriced, touristy areas, there are good lunches to be had (really!).
Find a Food Truck
If you're lunching in major cities like New York City, Philadelphia, or Los Angeles, look up the winners of the most recent Vendy awards for food-truck excellence. It's a great way to try something new and innovative, but with the convenience of fast food!
Try a Pub Lunch
Skip the restaurant and head for the bar! Two of our favorite lunch spots are old-school steakhouses, both of which offer a "pub lunch" menu during the day. Interestingly, these meat cathedrals have several excellent fish and vegetarian options. The same is true for some of straight-up bars that we hold near and dear – they serve delicious food during the day but are often overlooked as a lunch option.
Plan Ahead: Make a Smoothie
Smoothies can be blended at home and packed full of protein, greens, fruit, and dairy... enough to keep you energized and moving until dinner.
If It's Lunch at Home:
No More Sad Sandwiches
New twists on classics like tuna fish salad (add fresh herbs or lemon juice and zest to your traditional recipe) and tahini butter and jelly can help a sandwich feel special. Opt for really nice bread whenever possible – it makes everything inside the sandwich taste better! Or go ahead and make one of the great diner sandwiches that so rarely gets eaten at home: The BLT. You can also try your hand at chicken salad made from last night's rotisserie chicken – like this one – and pile it on an avocado half instead of bread.
Go Open Face
Make your handheld sandwich open-faced, and eat it on a plate with a fork and knife. Roast Beef, egg salad, smoked salmon, cheese and bell pepper, together with some butter or mayonnaise... anything can transform a single piece of bread into an open-faced sandwich (or smørrebrød as the Danes say).
Put an Egg on It
Add a fried egg and a dash of sriracha to your leftovers and voila, you have transformed last night's dinner into today's lunch with enough new flavor to keep it interesting.
Make a "Kitchen Sink" Salad
Another trick for reinventing last night's leftover noodles or rice is to have a some tasty salad dressings ready to go. Add to that some shredded kale and carrots, shrimp, roasted broccoli, and maybe even some toasted nuts. Throw whatever you have in there! In the Soup Club Cookbook we have recipes for dressings that fit nicely into clean peanut butter jars so that putting together a salad is just a few rinses and chops. Here are a few more quick, satisfying recipes that we love!
Hope the lunch ideas for work get the job done for you!