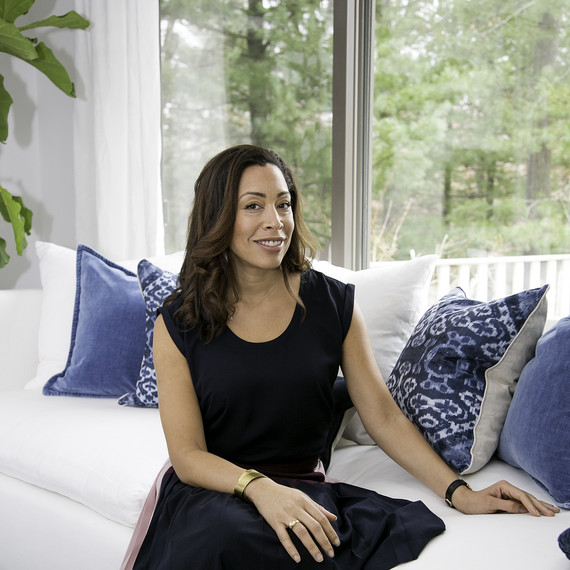 "You can literally find inspiration anywhere," says Keija Minor as she lounges on the cottage-style sofa in the living room of her Hamptons home. Keija lives in Brooklyn but – like many New Yorkers – finds refuge from the stifling summer heat by heading to the Hamptons. Keija was always incredibly sad when it was time to leave the tranquil, seaside rental that she shared with friends each year. During one reluctant farewell, a friend remarked, "Keija, this is your happy place. Just pull the trigger and buy a house already!" And with that suggestion, the Hamptons became Keija's second home.
Thanks to her overwhelming passion for home decor, Keija had a clear vision for her fantasy vacation home, but that vision began to change as soon as she bought the property. "For years I dreamed of a beach house awash in pale aqua and seafoam. Then I bought this house, and something about its clean, modern lines made me want to ditch the soft pastels for indigo and white." Although Keija knew she wanted to channel the Hamptons vibe with a crisp, classic palate and a dash of beachy essence, she quickly realized she was paralyzed by an excess of decorating choices.
"I never tire of looking at furniture and home decor. I could easily look at 157 coffee tables before committing. Designing this whole room on my own would have been a very slow process." To facilitate the revamp and help speed up the process, Keija enlisted Laurel & Wolf. She tasked the design team with making her modern beach home vision come together seamlessly in her new space.
Read More: Martha's Amazing Maple Avenue Kitchen Makeover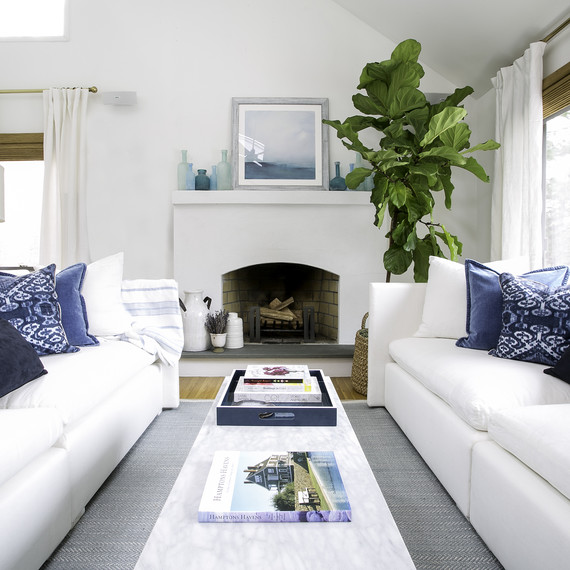 The whole process of designing the dining and living rooms of her vacation home turned out to be much easier than Keija anticipated. The Laurel & Wolf designer she worked with, Alyssa Alon, had the exact same aesthetic as Keija, making them a perfect team.
Alyssa's starting point was the color scheme Keija picked out – a rich indigo paired with crisp white. These colors work exceptionally well with the large windows and slanted ceiling to make the room feel modern and bright. To keep things in this vibe, but also nod to traditional beach-inspired interiors, Alyssa added to the mantle some frosted bottles that emulate sea glass and also a moody photograph of ocean waves crashing upon the shore. These little details prevent the room from looking too nautical – a style Keija thought would feel cliche in this oceanside locale. The large fiddle leaf fig tree and woven planter add warmth to the space.
"We have a motto at BRIDES that everything doesn't have to be expensive, but it does have to be beautiful. That philosophy definitely carries over to my home life." Keija's Hamptons home is the perfect balance between reasonable and luxurious. While her new living room may look like it belongs on the pages of your favorite design magazine, it feels extremely intimate and comfortable when you're in it.
Read More: An Outdated '80s Bathroom Becomes a Luxurious Retreat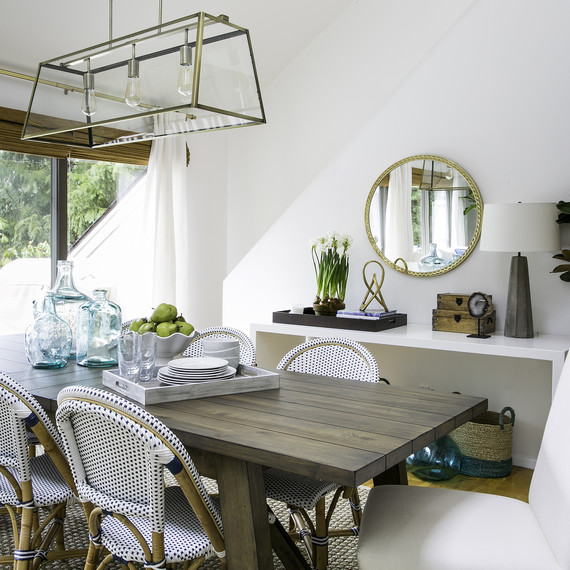 An open floor plan and large common area make this home ideal for entertaining. The rustic farmhouse table paired with modern European bistro chairs creates an elegant setting for dinner parties. The gilded iron lantern hanging above the table in the dining room gives off a warm and welcoming glow. "More than anything when I picture the Hamptons, I see big group meals: brunches and dinners for 10!" says Keija. "I love bringing friends together for an impromptu getaway weekend where nothing is planned but everything works. One of my friends calls it, 'the magic of the house.' I hope that never changes."
Keija has developed a strong sense of personal style that is impeccably reflected in everything she does, from her busy job and world travels, to her constant search for new and exciting trends. Alyssa tried to pay homage to her impeccable taste by only choosing items that are timeless and well-made. She took great pains to keep the home uncluttered visually, but interesting enough to draw the eye in and make the space feel welcoming.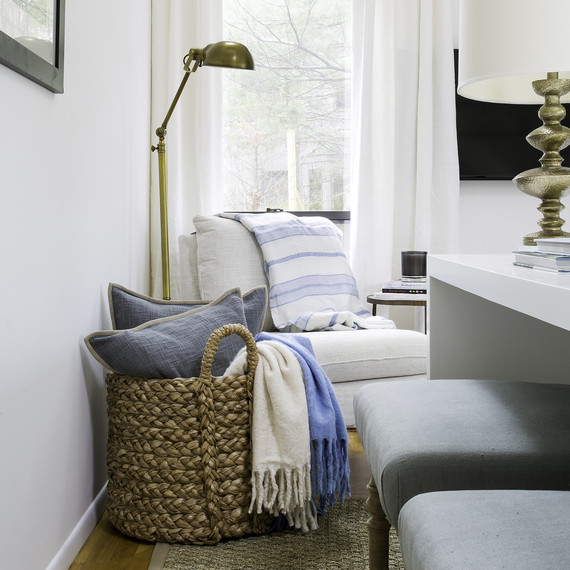 A cozy reading chair, extra pillows and throws for chilly nights, and a small desk area round out the redesign of Keija's new home.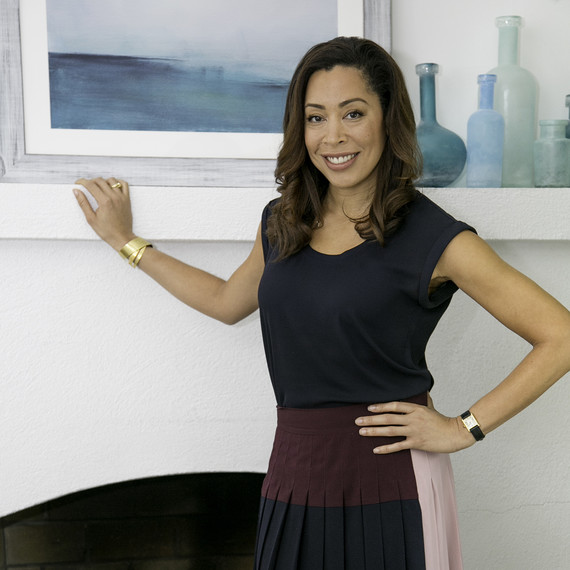 Keija is thrilled with her new beach home, and can't wait to use it this summer! How would you decorate your home away from home?