We all know someone who constantly puts others' needs before their own. For many of us that might be a parent who is always there, or a friend who shows us how to laugh again when we forget how. At Laurel & Wolf we thought, wouldn't it be great if we could give back to these people who help change lives with their genorosity?
That's why we teamed up with ATG Stores to give one lucky stranger the ability to do just that. Together we donated a Classic Design Package and $10,000 in furniture to the winner of our Better to GiveAway home makeover. The twist? That stranger had to give this amazing gift to someone in their life who they found to be most deserving. Enter Olivia, the kind-hearted winner of our giveaway.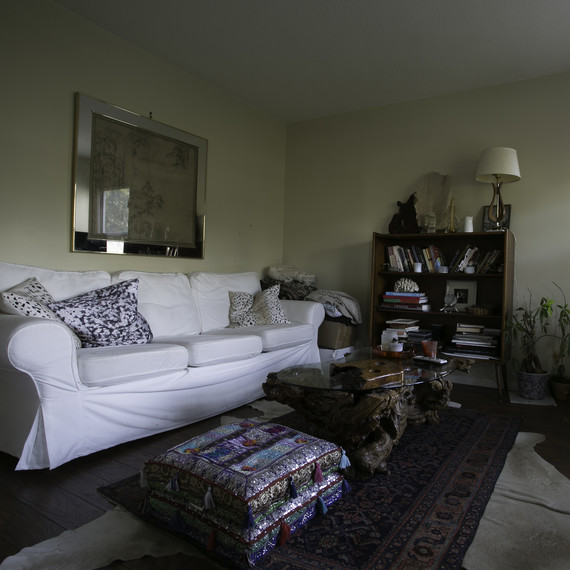 Before: The Living Room
This is the living room of Olivia's two best friends, Kate and Shirin. When Olivia first moved to Los Angeles in 2012 she had little more than a suitcase. Without giving it a second thought, Kate and Shirin opened their home to Olivia and let her stay rent-free until she was able to get on her feet. Olivia will never forget this act of kindness. She was overjoyed when she found out that she could give them a little something back as the winner of the Better to GiveAway makeover.
After an emotional Skype call between our winner and her friends, we immediately got to work. We had the two roommates take our style quiz, choose a designer, and with their designer finalize a plan and order everything they needed from ATG Stores. Kate and Shirin were taken aback by Olivia's gift and eagerly awaited their new living space.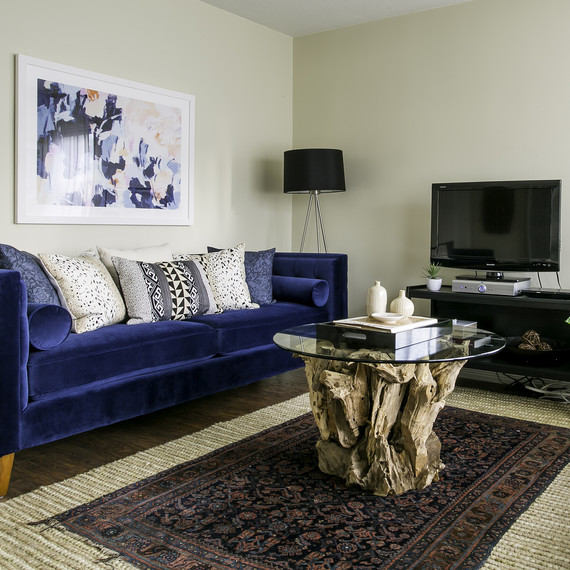 After: The Living Room
The homeowners chose Laurel & Wolf designer Jessica Today for this project. Jessica took into account the duo's artistic personalities and modern-eclectic preferences when redoing their interior. In the living room, Jessica elevated some existing treasures – that the women weren't ready to say goodbye to – by anchoring them with more substantial, sophisticated pieces. For instance, the designer gave new life to Kate and Shirin's antique Oriental rug by layering it over a larger solid textile. Also, she was able to find a raw wood coffee table similar to the original but in a much more suitable size for the space.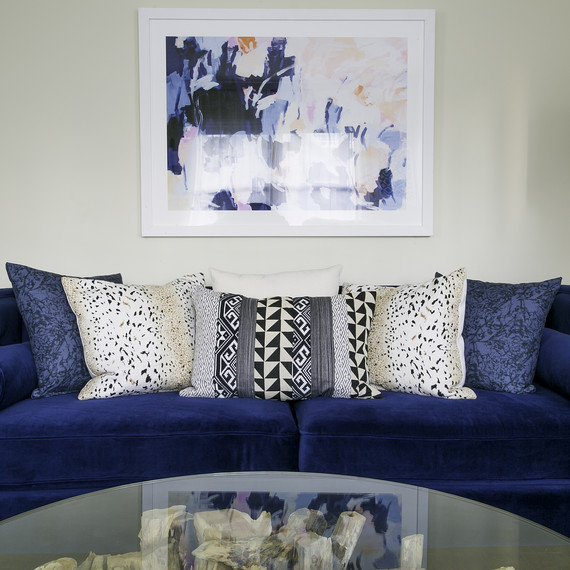 A bright sofa is one way to add instant color to a room, and this sumptuous, blue velvet fabric is a shining example of how it's done.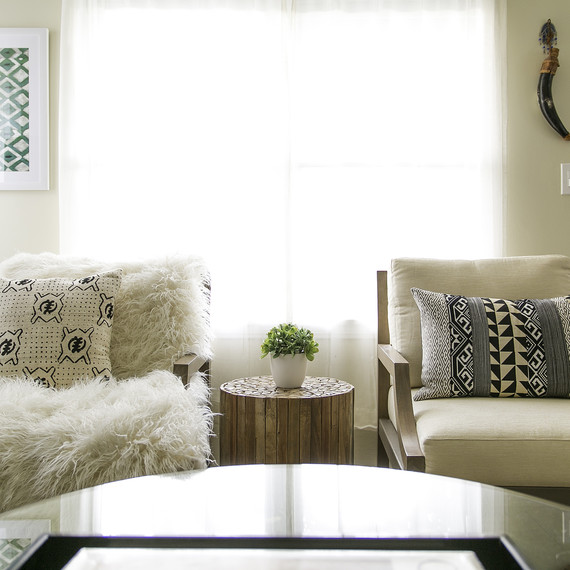 Twin arm chairs provide additional seating in the living room. To make the neutral scheme more cozy and inviting, Jessica indulged in luxe upholstery, faux-fur accents, and throw pillows with coordinating graphic patterns.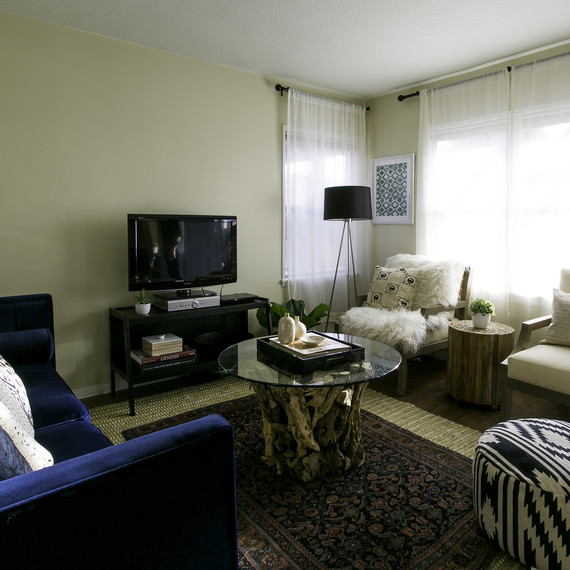 By decentralizing the TV and providing plenty of alternative seating, Jessica optimized the layout of the room for entertaining purposes.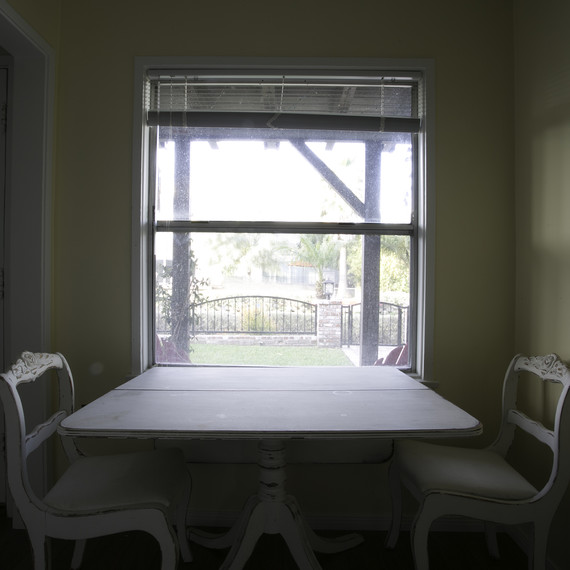 Before: The Breakfast Nook
The breakfast nook was charming and full of potential, but it was pretty bare.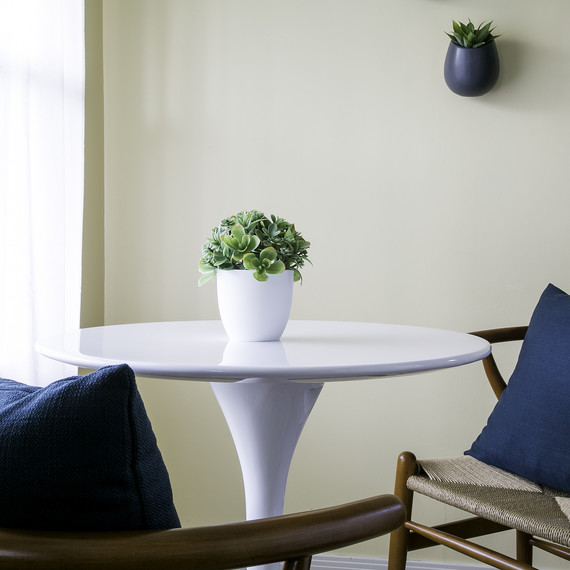 After: The Breakfast Nook
Jessica breathed new life into Kate and Shirin's breakfast nook with just a few key changes. She added a warm but modern seating area that fit the space; she softened the light with flowing drapes; and she hung succulents in place of wall art. Now the space reflects the pair's personalities more than ever.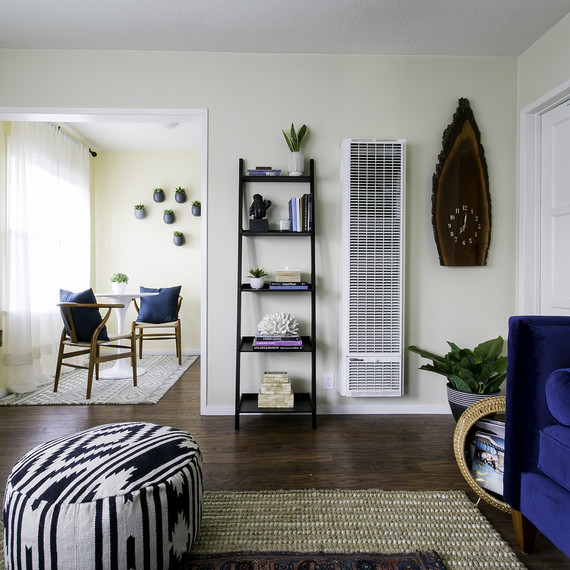 For a finishing touch, Kate and Shirin added found items they picked up at local flea markets, including this amazing petrified-wood wall clock. It plays perfectly with the raw wood tones and hints of greenery throughout.
Olivia, Jessica, ATG Stores, and Laurel & Wolf were overjoyed to give the gift of good design to two kind and deserving people, and Kate and Shirin still "can't believe this is 'home' . . . we have a home!" Yes, it definitely is better to give than to receive. Home makeover success!