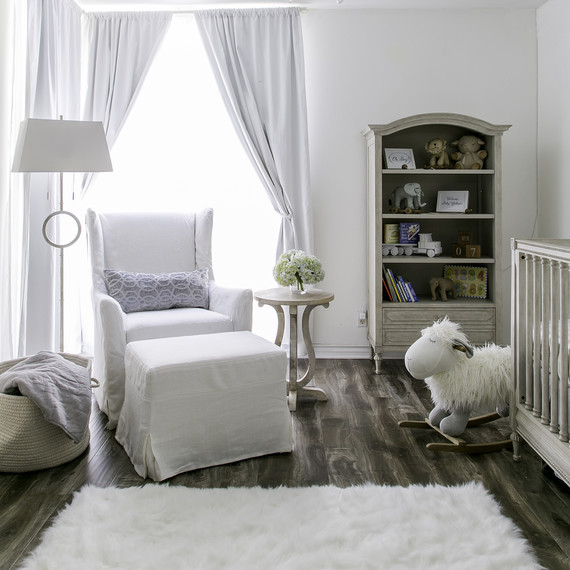 Michelle practically burst with joy when she found out she would be welcoming her first child into the world. However, while those nine months of baby preparation seemed like eons on paper, time flew by and before she knew it, Michelle was in her third trimester and still had no nursery. Luckily, she discovered Laurel & Wolf and was able to design a stylish and practical space just in time for her baby boy's arrival.
She decided to convert her home office into the baby's room and started looking for ideas. Michelle's initial inspiration came from a classic and refined crib that reminded her of her own crib as a child -- It was reminiscent of a French antique. Aside from that, she knew she wanted a gender-neutral nursery that could change and grow with her child. Understandably, she was a bit distracted in the midst of her pregnancy so, with only the crib as inspiration, she openly welcomed designer Kaitlynn Alexandria.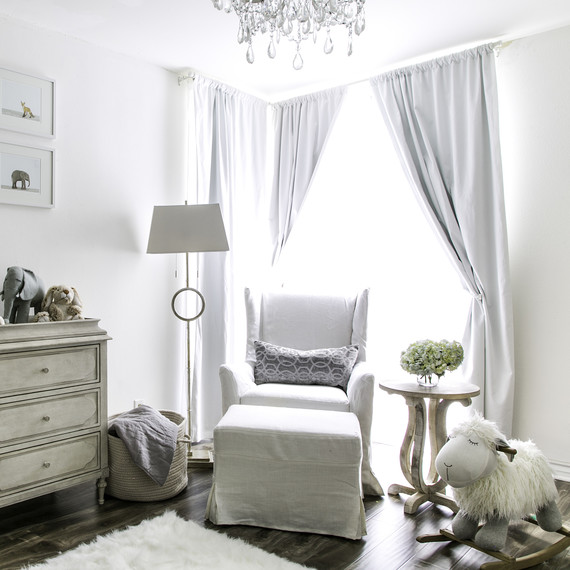 The office-turned-nursery was already an incredibly beautiful space to work with -- rich hardwood floors, clean white walls, and a large floor-to-ceiling window with lots of natural light. Kaitlynn selected soft and sweet decor details to fill the space, resulting in a look Michelle describes as "light and classic."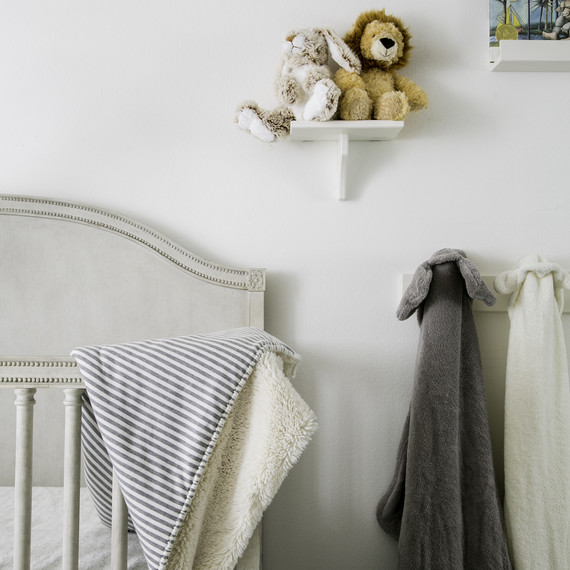 The soft assortment of colors and textures in the nursery gracefully flow through the space as gently as a lullaby. Pale grays with blue undertones appear on drapes, a decorative pillow, and a small collection of stuffed elephants -- sure to become Jonah's favorite animal. Creamy white hues float around the room in the form of linens, a fluffy area rug, and a woolly sheep rocking horse.
Although designed for a baby, Jonah's room boasts a classic and sophisticated vibe that will grow with him. All of the wood furnishings in the room have a flaxen finish that ties back to the vintage-looking crib that started it all.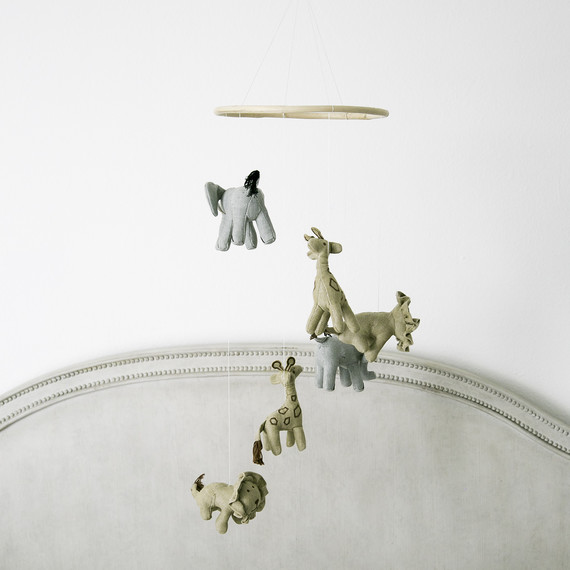 A subtle animal theme exists throughout the room -- six minimalist prints of exotic animals adorn the wall above Jonah's changing table while a stuffed elephant, rabbit, and lion rest upon the table and above the crib as Jonah's loyal cohorts. The chambray animal mobile happens to be his favorite piece in the room. "Jonah always giggles when I sway it back and forth," says Michelle.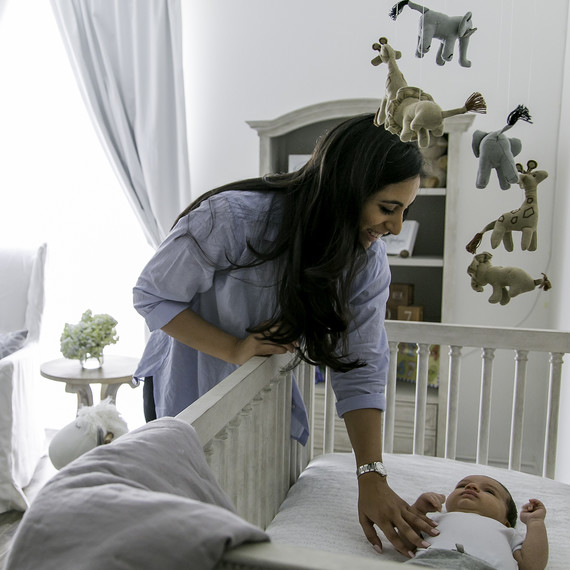 The bookcase, filled mostly with children's books and a few more stuffed animals, includes personalized highlights from Jonah's life -- two framed typography prints announcing his gender and name, as well as a set of blocks that note how many weeks old he is.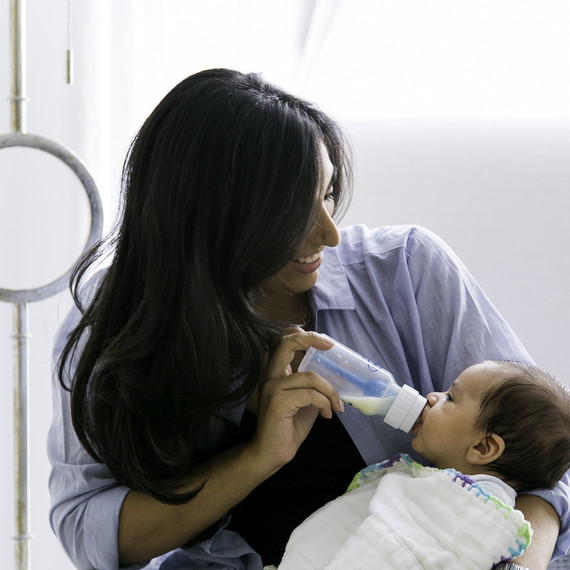 Although the nursery is traditionally designed, the introduction of childlike elements add an innocent playfulness to the space. A big cozy chair is the perfect place to feed and cuddle baby Jonah.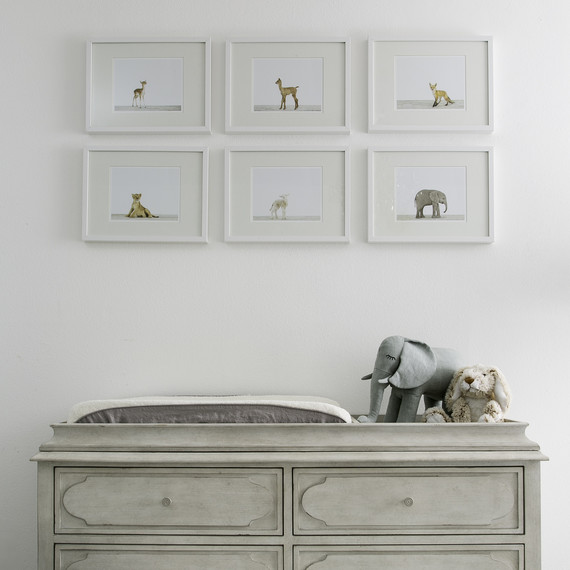 Kaitlynn's design created a calming, chic atmosphere that both Jonah and Michelle can enjoy, with its combination of playful touches and timeless decor. "Jonah loves hanging out in his room and so do I," says Michelle. "During long nursing sessions or when trying to get him down for a nap, it's nice to be in a light and happy room."
We couldn't agree more! Jonah's nursery is as beautiful as the bond between new mother and son -- it's an ideal space for sweet dreams.