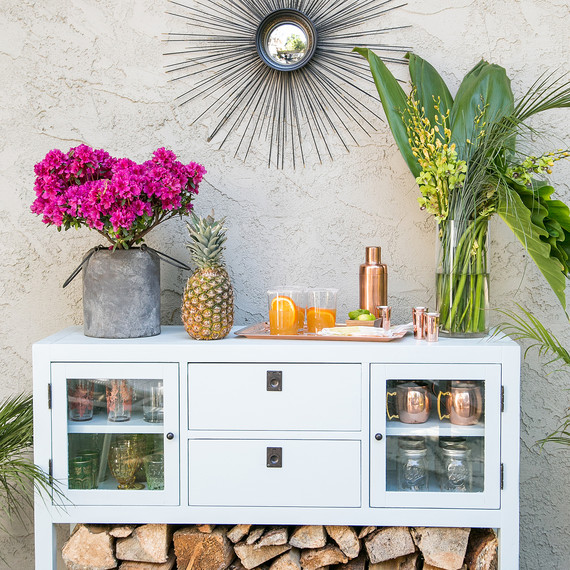 Warmer weather is on the horizon! That means it's time to think about giving your outdoor patio a little makeover. Simply by repurposing a few key pieces of furniture and planting some flowers, you can add instant charm to your patio!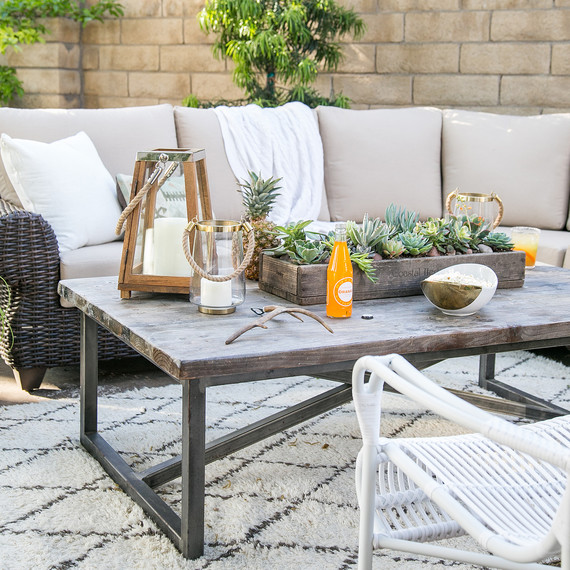 Since I knew we'd be moving within the next year or two, I didn't want to spend a lot of money doing any major remodeling. So instead, I came up with a few easy ways to give our patio a mini-makeover! First, we needed some furniture to create an outdoor living room. Luckily, Home Depot gifted us a comfy outdoor sofa – I just had to buy a rustic coffee table to go with it. We added a rug and some modern hurricane lamps to dress up the seating area.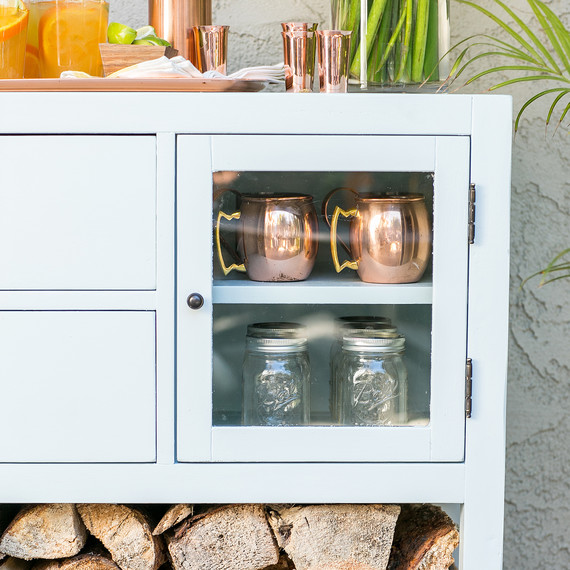 I love to entertain, so I needed a console to store glasses, napkins, and other outdoor entertaining items. I had a black console that I used indoors and decided to give it a new look! We sanded it with an electric sander and used Behr outdoor paint in Nature's Reflection to give it a fresh color. The outdoor paint helps protect it from the weather and makes it easier to clean, which is a major plus. It can be hard to find the right piece of outdoor furniture at the right price, so keep your eyes peeled for media units or dressers that can be reimagined for the outdoors.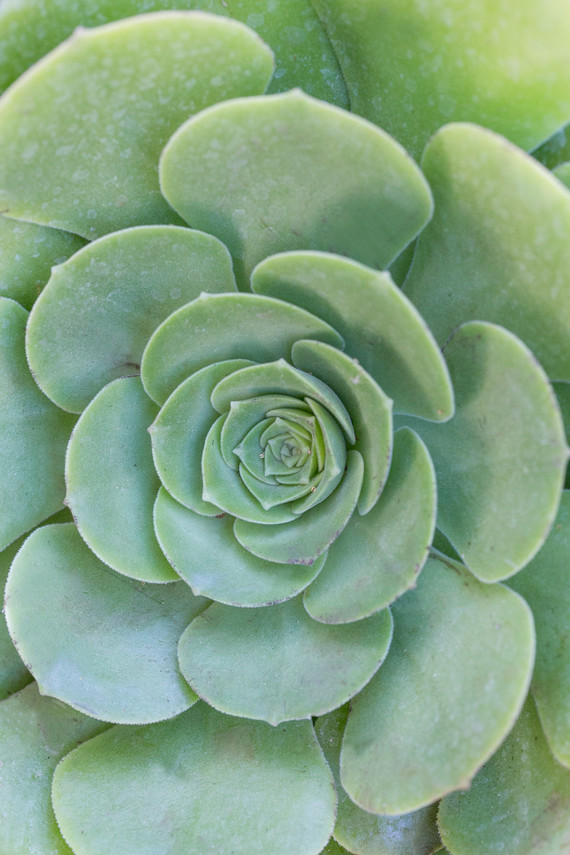 To give the space more natural beauty, I planted various flowers, greens, and succulents in pots. I also added a few potted trees! Using different sized planters and tropical plants was the key to creating a lush environment. The bougainvillea and palm trees do really well in southern California, and I adore the vibrant color they add to the patio.
How stunning is this succulent?! They grow fast and look beautiful in planted pots! They're also very easy to take care of! If you're interested in planting some, watch this video of Martha and guest Jerry Fritz plant succulents in stone-filled pots.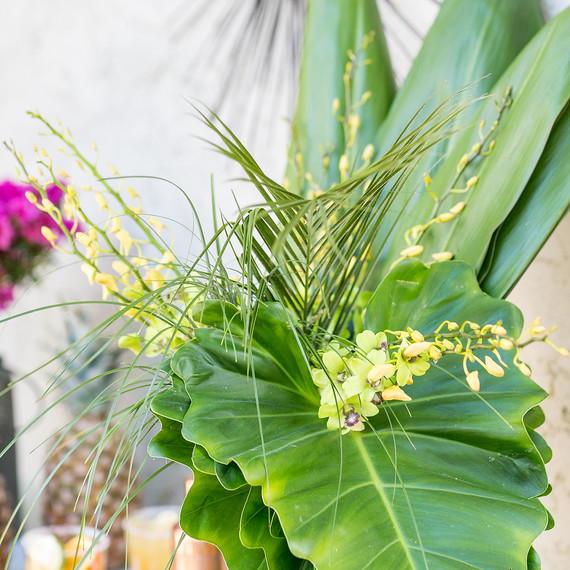 We placed a large floral centerpiece on the console to add some greenery to that area of the patio.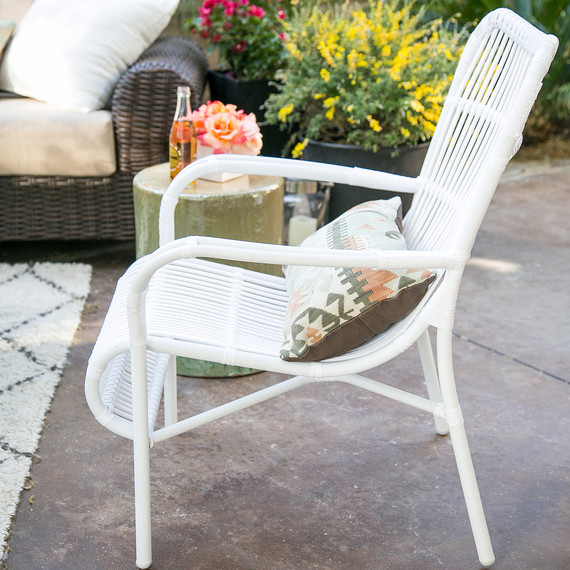 An accent chair with its own little side table helped create the outdoor living room environment I wanted. It's the perfect spot to sit outside with a cocktail and a book. I bring the pillows inside during the winter months so they don't get ruined.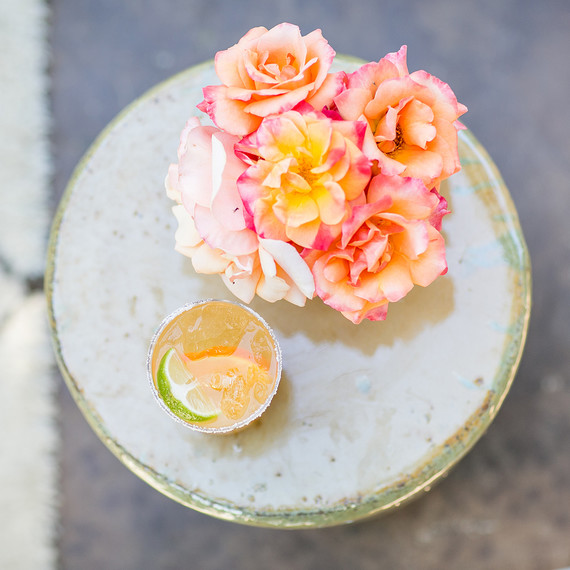 As you can see, I couldn't resist the urge to mix up a fancy cocktail to complement my fancy patio.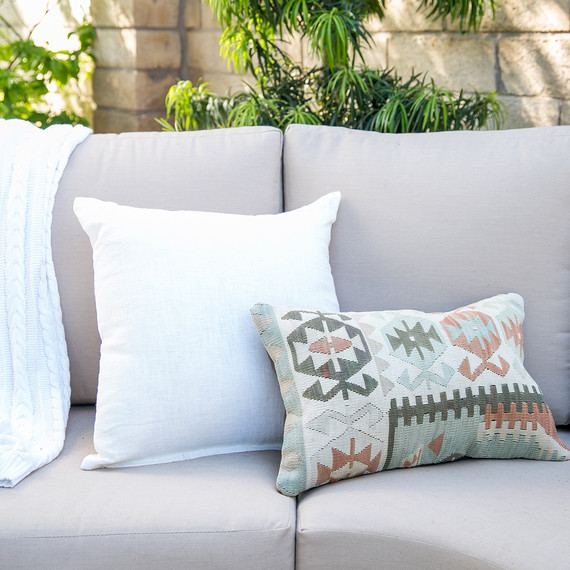 I added some throw pillows to make the seating even more comfortable. Also, we had previously installed market lights (think upgraded string lights) above the patio and yard area – they make for the most perfect outdoor lighting! They're really warm, inviting, and magical.