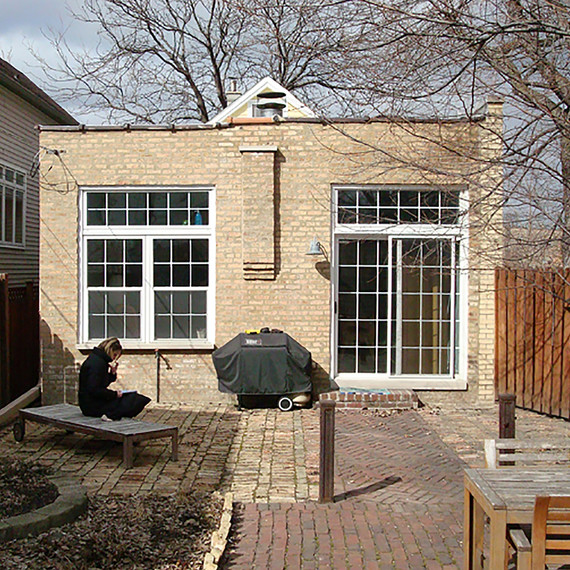 Before
As you can see, the original yard was sorely lacking in design...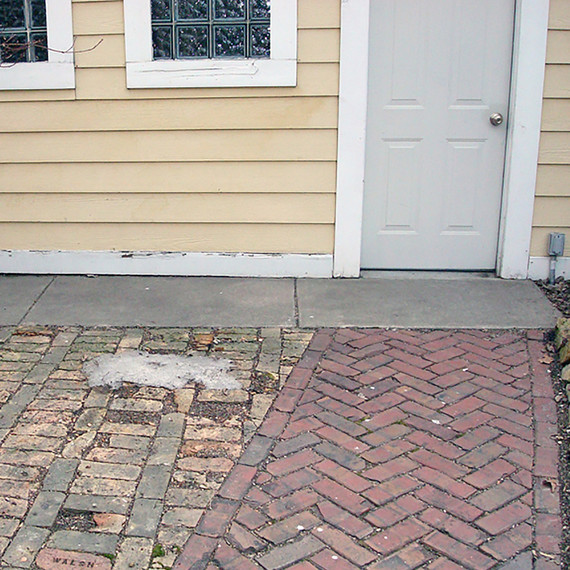 Our biggest challenge was the narrowness of the space -- without any separation it seemed much smaller than it actually was. Fortunately the plot was quite long and already had a great selection of perennials and other design materials, such as common brick and Chicago street pavers. Our main goal of this backyard makeover was to use as much existing material as possible to create separate areas for the client to lounge, dine, and garden.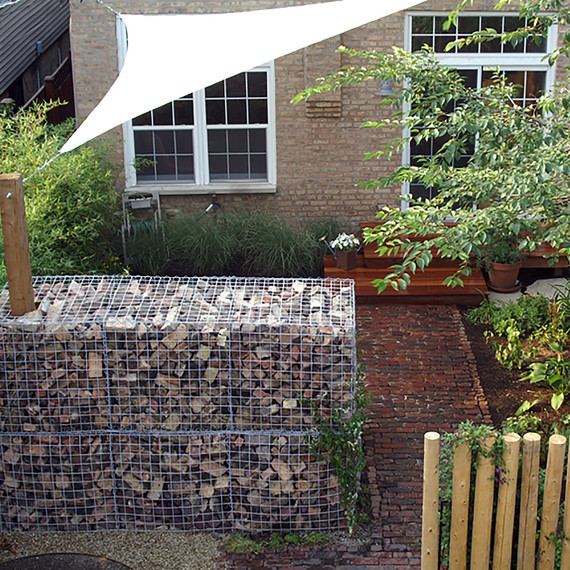 After
We began by visually separating the space into four sections. The first section was delineated by a 6' x 8' gabion wall we installed. The original concrete wall blocks were placed in the center and surrounded with existing natural brick. Next, a cedar timber was installed into the wall to use as an attachment point for a shade sail for the main patio.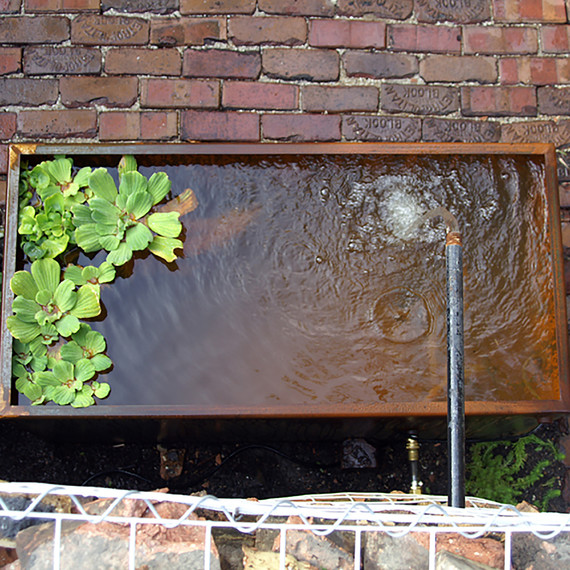 Before completing the gabion, we added plumbing to create a unique steel water feature.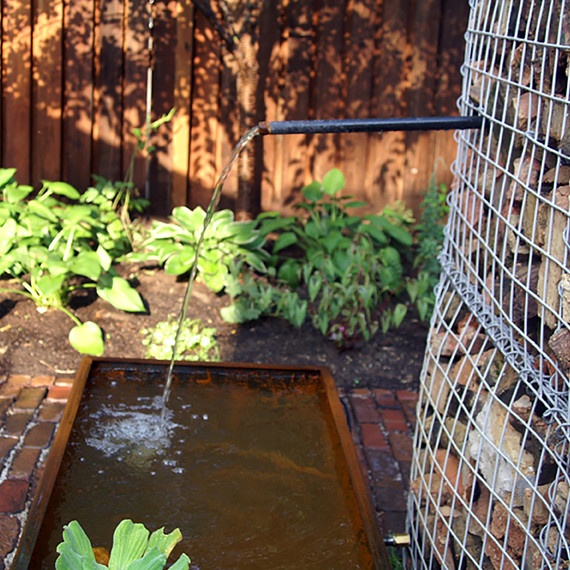 The downspout drained into a weathered and worn rectangle tub, adding another layer of character to the yard.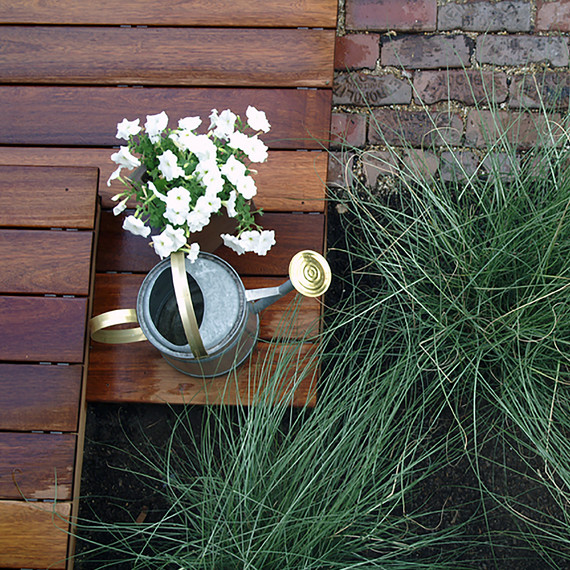 A patio area was installed off the back of the house using existing Chicago pavers. We left space all around the patio for plantings. A small hardwood deck was installed in front of the sliding back door as a transition into the new patio area. Prairie grasses were added between the main patio and the house to bring a sense of meadow to the otherwise grassless space.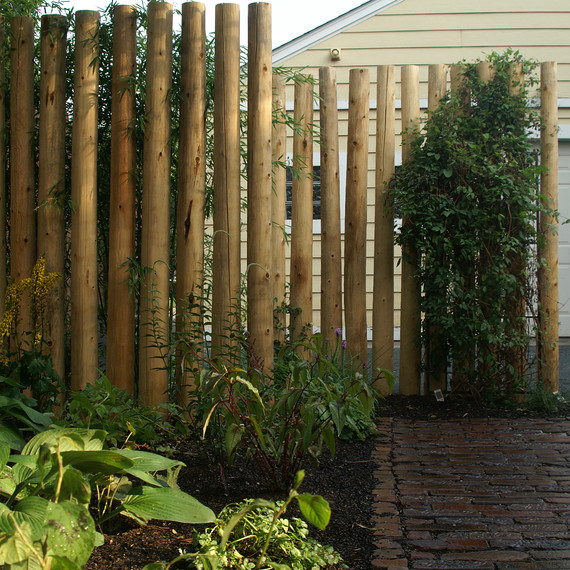 In the next area, we installed tall cedar posts. The durable wooden structures blend naturally into the garden and create the illusion that there are many more sections to discover. Additionally, instead of laying the walkway bricks in a straight line, we installed two cedar-post half walls to add another visual break.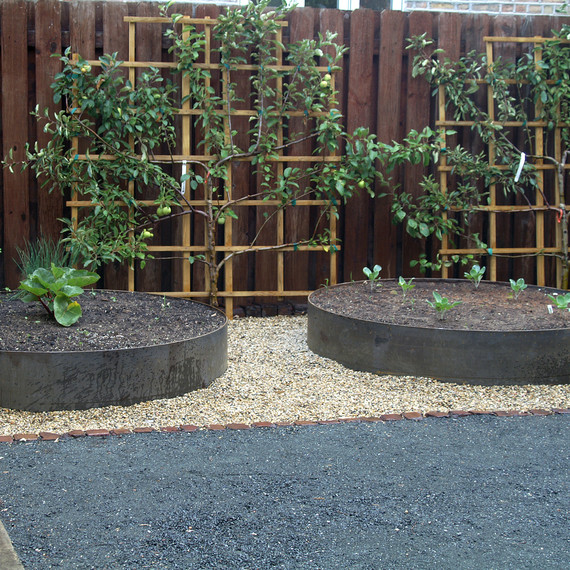 In the last section (the urban farming section), we defined the space visually by using pea gravel and three custom-built Corten steel circular vegetable beds. To increase food production in the small space, we planted two sprawling espalier apple trees along the fence.
As far as the rest of the plant material goes, we mostly used the saved perennials from the original garden. In addition to those vines -- to keep the entire space blooming green -- we planted climbing plants and ground cover on both the cedar half walls and the gabion.
The finished project resulted in a truly multifunctional space. While maintaining its raw and natural charm, we created a stunning rustic retreat. This Bucktown backyard is a shining example of what a little design can do for a narrow space.