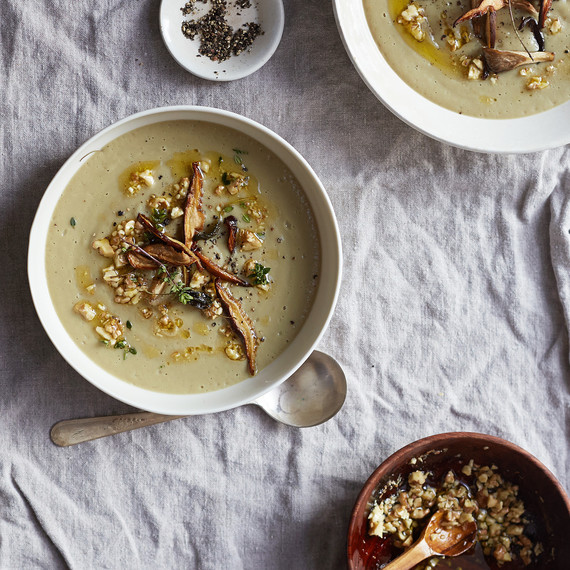 To me, January is all about soups. Although this one is simple to make, when dressed up with the crushed walnut and roasted mushroom garnish, it is worthy of a fancy dinner. This soup is also delicious simmered with a couple of sprigs of rosemary -- tie them in a piece of cheesecloth or place in a reusable tea bag and remove after the mushrooms are cooked. It also tastes delightful with leeks added after cooking the shallots -- use white parts only as the greens will alter the color of the soup.
In general mushroom soups can end up being grey in color, which is not that appealing; for this reason I add a little turmeric to give it a warmer glow. One last note: Choose smaller oyster mushrooms as the larger, thicker ones can take a long time to cook.
View Our Mushroom Glossary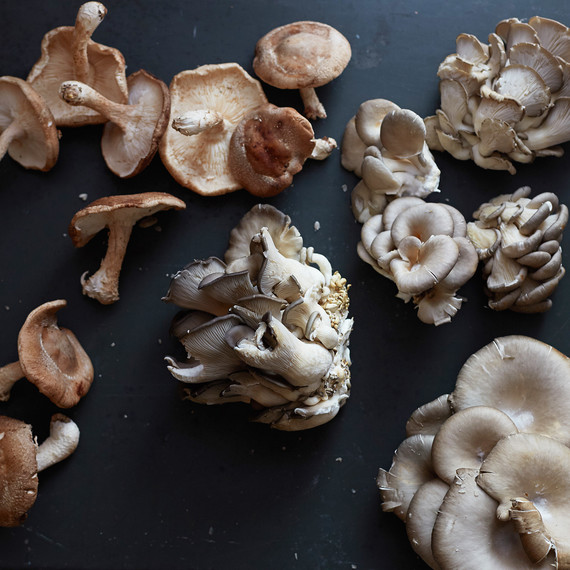 Herbed Shitake and Oyster Mushroom Soup with Toasted Walnuts
Servings: 6
Ingredients:
2 tablespoons extra-virgin olive oil
3 large shallots, sliced
½ teaspoon sea salt, plus more to taste
4 cloves garlic, chopped
2 to 3 teaspoons minced fresh thyme
2 teaspoons chopped fresh sage
¾ pound fresh shitake mushrooms, stemmed and chopped
1 ½ pounds fresh oyster mushrooms, chopped
4 bay leaves
1/3 teaspoon turmeric
5 cups filtered water, plus more when blending
2 teaspoons tamari, plus more to taste
Freshly ground black pepper
Garnish
½ cup walnuts
½ pound shitake mushrooms, stemmed and thinly sliced
½ pound oyster mushrooms, sliced in 1/3-inch slices
8 tablespoons extra-virgin olive oil, divided
Sea salt, to taste
¼ cup small, fresh whole sage leaves
Coarsely ground black pepper
Sprigs of fresh thyme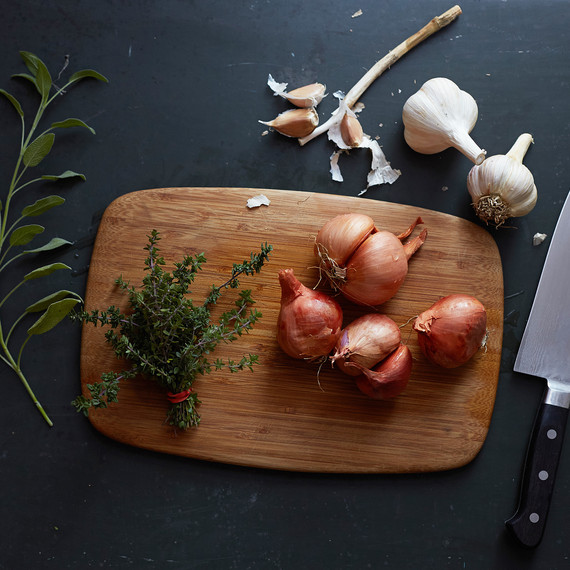 How to Make the Soup:
Warm oil in a medium pot over medium heat. Add shallots and sauté for 5 minutes or until lightly browning. Add salt and garlic and cook for another 3 minutes. Stir in thyme and sage and then add mushrooms. (I stir them in as I chop them, so they wilt and make space). Add bay leaves and water and bring to a boil over high heat. Cover pot, reduce heat to low, and simmer for 18 to 20 minutes or until mushrooms are tender. Remove from heat and remove bay leaves.
Carefully transfer contents of the pot in batches into an upright blender and blend until completely smooth and velvety. This takes a couple of minutes. You will need to add more water to get it to blend well -- add ½ cup at a time until you achieve your desired consistency. Your mushroom soup should be thick and creamy.
Return to pot and stir in tamari, salt, and pepper to taste.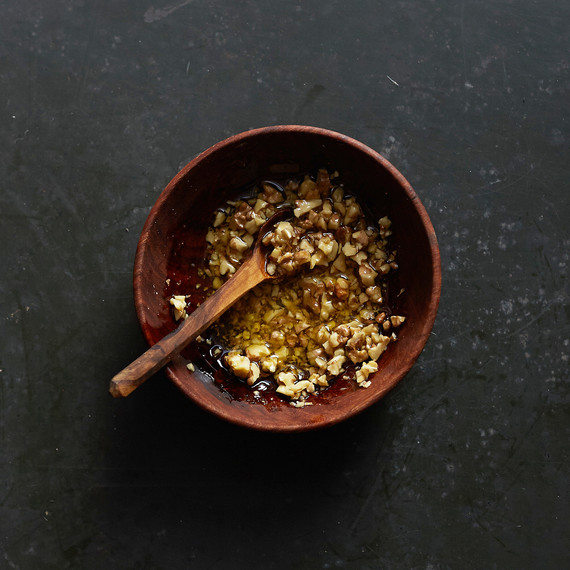 How to Make the Garnish:
Preheat oven to 300 degrees. Line a rimmed baking sheet with parchment paper and add walnuts. Toast nuts for 6 minutes and remove from oven. Slide nuts off parchment paper and onto a chopping board. Replace paper on tray and add sliced mushrooms and sage leaves.
Drizzle mushrooms with 3 tablespoons olive oil and a pinch of salt. Gently toss to combine and spread out over tray. Roast for 15 minutes, stir, and return to oven for another 5 to 8 minutes or until mushrooms are browning and sage leaves are crisp.
While mushrooms roast, finely chop walnuts and place in a small bowl. Add remaining olive oil and a pinch of salt. Stir to combine and set aside until ready to serve.
To Serve:
Warm soup and ladle into bowls. Dot with toasted walnut mixture and a pinch of roasted mushrooms and sage leaves. Finish with a few thyme sprigs and black pepper.
See More Delicious Mushroom Recipes