According to a recent study from Liberty Mutual Insurance, 56 percent of Americans surveyed who drive to work said they would take a new job if it meant a shorter commute. The shortest commute? Working from home -- as more and more people are doing. And if you work from home, you need an in-house office that helps you get the job done right. That's why home office renovations are becoming such a popular trend.
The first thing I typically tell clients who work from home is that the kitchen table should not be your workspace. Look around your home; you'll be surprised to find that there is most likely a space or room that has been underutilized or made to house unnecessary belongings. Take back that space -- whether it be a nook in a guest bedroom or an alcove under the stairs. Begin by removing everything, including furnishings, rugs, and art, so you can more clearly visualize the space you have to work with.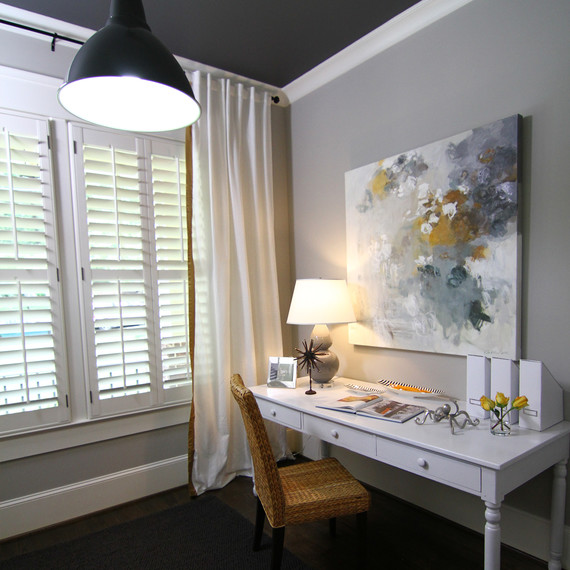 Lighting
Once you have your chosen space cleared out, you can better envision the renovations you'd like to make. Lighting is a good place to begin. LED replacement bulbs can make a major difference in a work space. I recommend replacing some of those incandescent bulbs with retrofit LED fixtures. Not only will these fixtures bring a modern design to your home office, but they'll also provide a brighter space for you to turn out your best work.
Color
Because a home office is often a small space, avoid bold wall colors, which can overwhelm the area, and stick to neutrals. I'm a firm believer in gray as a neutral. Gray comes in in many shades; that's part of its appeal.
Furnishings
Buying new pieces of home decor can become expensive. For flooring, it can be more cost effective to simply have a piece of high-quality carpet cut to size or use individual carpet squares to bring a new feel to your work-at-home area without breaking the bank. As for furniture, I'd recommend taking an old desk and restoring the wood with furniture polish or paint, which requires minimal prep work and is an easy weekend project.
Taking Inventory
Before finally settling into your new home office, take the time to document your possessions. While electronics -- such as computers, scanners, printers, and headsets -- may be top of mind, make sure you don't forget to document your design accessories and artwork as well; all these items add up. The Liberty Mutual free Home Gallery app helps keep track of your possessions by allowing you to store images and information such as purchase price and date for each item on your phone. This information can then be exported to save on your computer or another device as a backup record. The Home Gallery app is easy to use as you can see from one of my videos with Liberty Mutual Insurance and DIY Playbook's Casey Finn.
So, now that you have some inspiration to begin your own home office renovation, check out one of my favorite home office makeovers. This couple made the joint decision to work from home regularly, but wanted their own spaces. For the husband, we decided to undergo a complete basement makeover -- check it out below!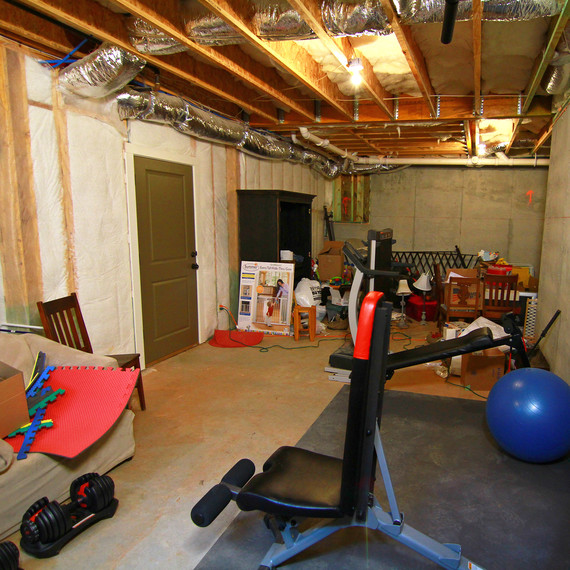 Before
The basement was unused, messy and mostly unfinished.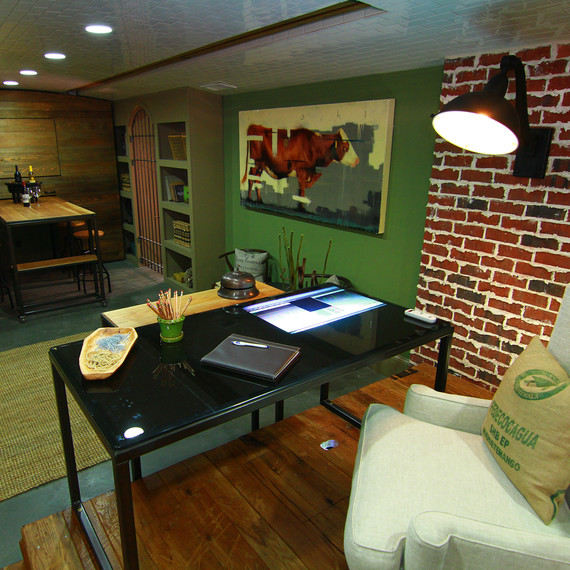 After
To make the most of the space, we divided the basement into two sections: one for working, and one for entertaining. We wanted the work space to be extra comfortable, so we opted for an armchair instead of a typical office chair. Lots of texture and calming green tones completed the look for this home office.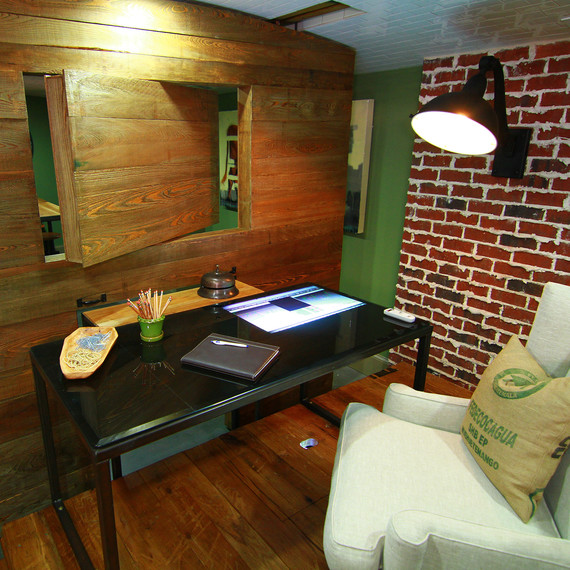 We added a really fun element to this room -- the wall behind the high table is actually on a track, and can be moved to create more privacy in the back office area. The addition of a swiveling "window" makes it so it doesn't feel too cramped when the wall is in place.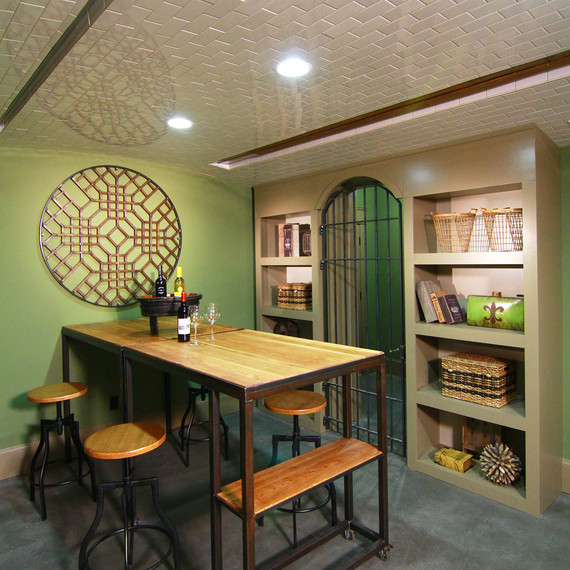 Bar stools and lots of storage make this the perfect spot to unwind after a long day at the (home!) office.
Home Office Organization Tips You Need