When it comes to DIY projects that can help change the look and feel of your room, changing floor tiles is a great place to start.
Depending on the size of the room, laying down fresh floor tile is one DIY project that can be completed relatively quickly. Plus, if you're looking to add value to your home or prepare it for sale, this upgrade can certainly make future buyers take notice. It's a foolproof solution for problems such as mildew-stained grout, cracked or dated tile, buckled wood floors, and laminate flooring that's starting to loosen.
Here are four steps to follow when embarking on your floor-tile project, and some photos of a recently renovated kitchen where we installed gorgeous new floor tiles. As with any major home repair job, be sure to consult a professional before you get started to make sure you're truly ready to take on this project.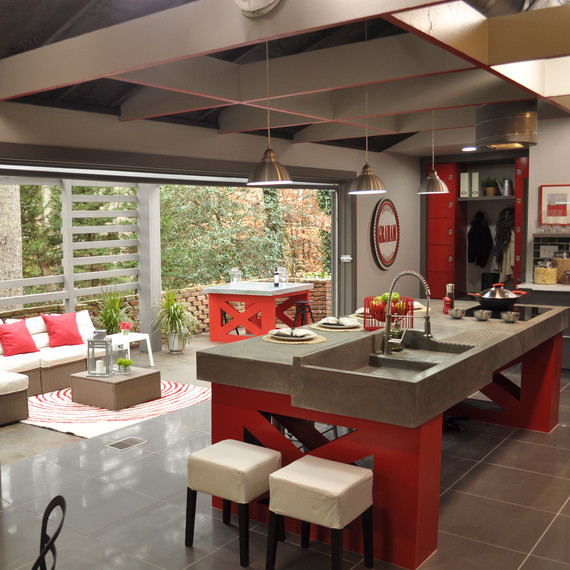 1. Prep the Area
Before you begin your project, be sure that the surface is level, smooth, clean, and dry. Floor tile can be laid on a concrete slab, on exterior-grade plywood that is at least an inch and a quarter thick, or over existing ceramic flooring. To start, mark center points in your walls and draw chalk lines from wall to wall to create a grid that helps identify the center point of the room. Lay loose floor tiles along center lines and work outward. Use tile spacers to ensure equal spacing. If you need to cut tiles, place those on the outer edge of the room. Measure and mark all floor tiles before cutting, and once complete, smooth out rough edges. Hint: To get an assortment of floor tile colors, work out of multiple boxes for a natural mix of colors.
2. Apply Adhesive
Consult with an expert at your local hardware store to find the adhesive that works best with the tiles you've chosen, and follow the directions on the package to prep the adhesive. Never mix more than you can use in 30 minutes. Use the flat side of a trowel to spread a quarter-inch-thick coat on one section of your grid, then hold your trowel at a 45-degree angle, and use the notched side of trowel to create a ridged layer for your tile. Depending on the size of your grid, spread an area that can set in fifteen minutes and be careful not to spread too much.
Chic Floor Tile Patterns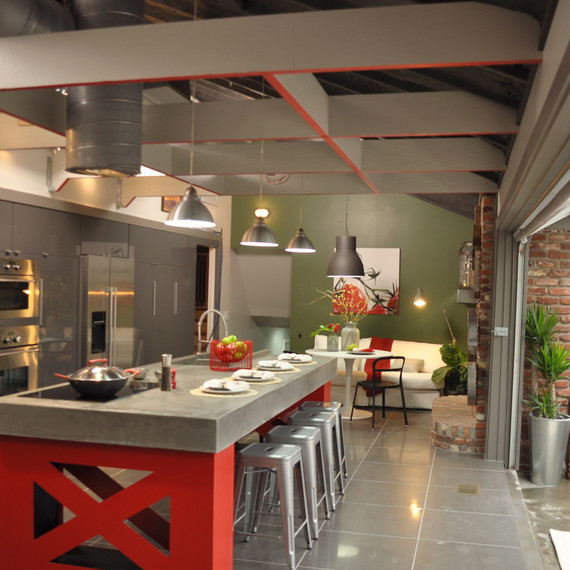 3. Place Your Tiles
Using your grid, start laying the floor tiles along the center lines that you have marked. Work from the center corner of the grid outward. When placing floor tiles, use a slight twisting motion and continue to use spacers to ensure that you're leaving a proper gap between tiles. Place the perimeter floor tiles last and be sure to leave a quarter inch space between flooring and the wall. When all tiles are placed, lightly tap each tile to ensure a solid bond. Then remove any excess adhesive, and let the floor tile set for 24 hours before moving on.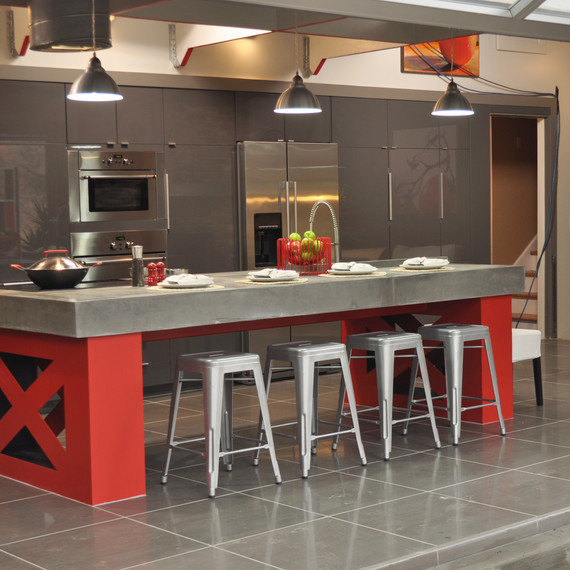 4. Grout Your Tiles
Consult a local realtor to determine which grout will work best for your tiles. Then read and follow all instructions on the package, and mix only enough to use in 30 minutes. Move tile spacers and spread grout across the tiles using a rubber grout float to force grout it into the joints. Then tilt the grout float at 45-degree angle, and remove excess from tile surface. Finally, place the float at a 90-degree angle and scrape it diagonally across the tile. Let it sit for 20 minutes and get a damp cloth to smooth surface joints and remove excess residue from tiles. Let the flooring dry for 72 hours before heavy use.
Note: If you're a DIY novice, start small. One of the most daunting parts of starting something new is getting the motivation to begin. Tackle a room that has a smaller footprint like a bathroom, laundry room, or mud room so you have some experience under your belt before moving to a larger room like the kitchen. Be sure to check out my additional tips on renovating a kitchen without breaking the bank, and check out the tilework that was done in a few of my favorite renovations for inspiration for your next project.