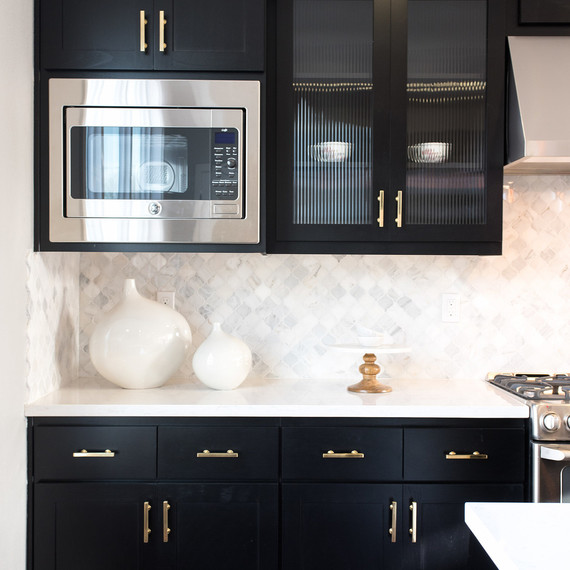 White kitchens have been trending for awhile now, and with good reason. They're simple, quaint and soothing—perfect for all of our culinary endeavors. Perhaps the only thing that I don't like about this trend is how it has scared us off from experimenting with other colors in this room.
That's why today we're focusing on black kitchen cabinets and how you can make it work in your modern kitchen.
[CHECK OUT: More of Our Best Kitchen Design Ideas]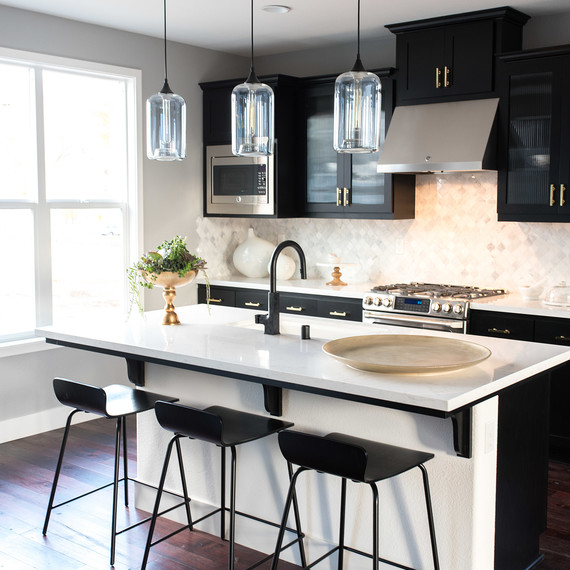 Pay Attention to Lighting
In order to keep your kitchen feeling open and airy, you'll want to make sure you have a strong combination of natural and artificial lighting. Big glass windows and doors are ideal, especially when paired with strong light fixtures. I personally love the cylindrical Arendal Pendant in Brown Tint to add just a hint of color to the room or the Devon Pendant Light with its clean, modern shape and industrial Edison bulb feel. This Translucent Globe Pendant Lamp is also a great choice to illuminate your black kitchen cabinets.
Even if you don't have a ton of natural light, you can enhance the room by painting walls and ceilings white and using reflective materials on countertops and appliances. This will amplify the effect of your light fixtures as well as draw the eye upward, opening up the room.
[HOW: To Let More Natural Light Into Your Home]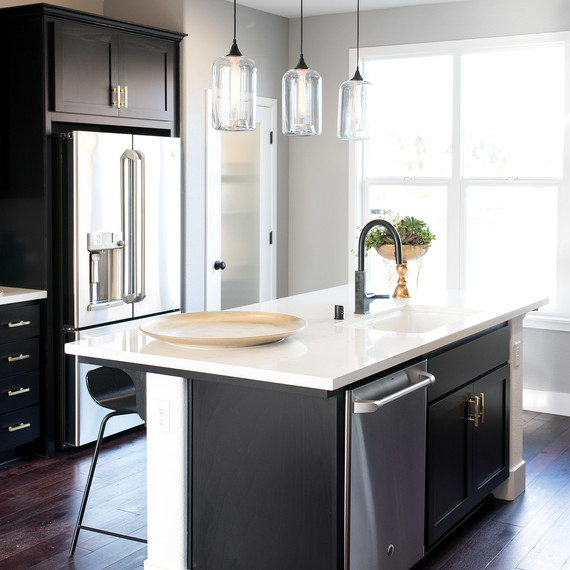 Warm with Metals
It's incredible how fun and modern black kitchen cabinets become with just a hint of a metallic accent. I love the look of this sleek gold hardware, and how it plays off the not only black paint, but also the white countertops and the reddish-brown of the hardwood floors. If you love warm metallics just as much as I do, check out this product roundup to incorporate the trend into the rest of your home. From wall decor to vibrant pendants, these elegant metals are great at adding a spark of warmth to your space.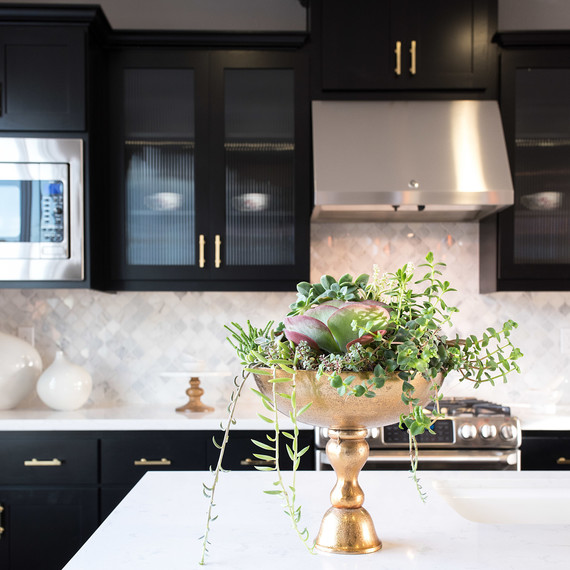 Copper and rose gold are fantastic additions to any modern kitchen, instantly adding warmth, but maintaining that ultramodern feel.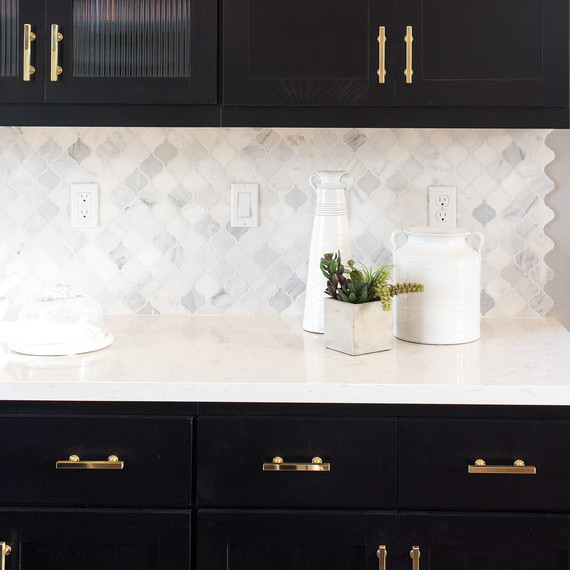 Add Texture with a Backsplash
This kitchen's tile backsplash is so subtle, you can hardly tell it's there. Just a hint of texture and a bit of color variance, and that's it. But it is this feature that adds much-needed character to the space and creates the inviting ambience you want for your kitchen. Just as the black cabinetry begins to feel a bit too modern and cold, this arabesque-style tiling comes in and saves the day.
[TRY: These 6 Backsplash Ideas to Upgrade Your Kitchen]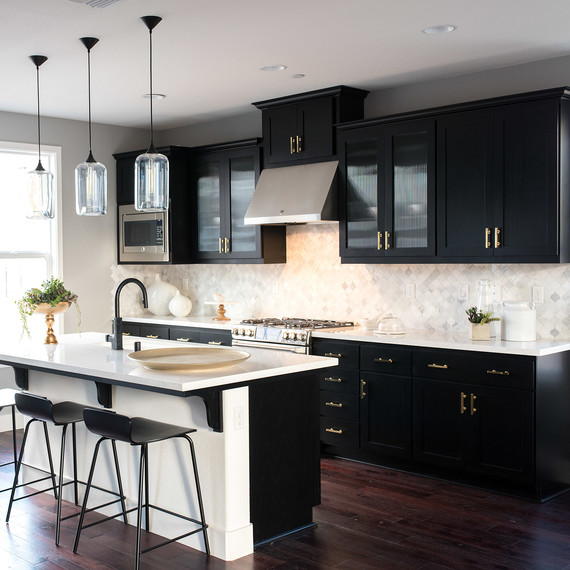 Black kitchen cabinets can be a beautiful and bold addition to your modern kitchen. Just be sure you're balancing its dark design with bright lighting, warming metals, and a textured tile backsplash. Never be afraid to step outside of the lines and introduce statement pieces or styles into your home. Tell me, would you consider painting your kitchen cabinets dramatic black? I'd love to hear your thoughts!