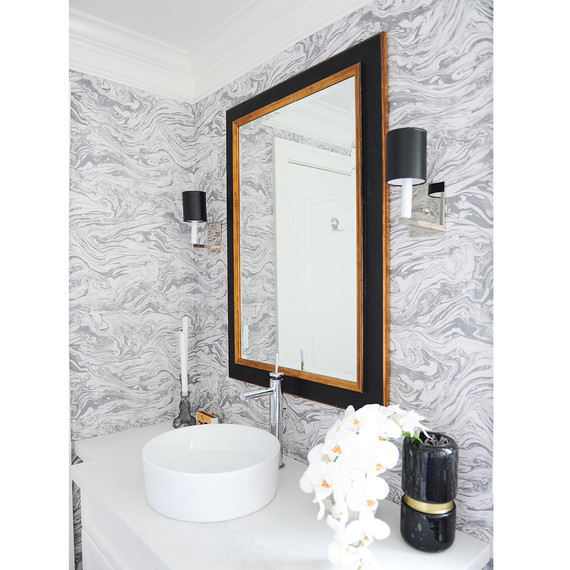 I always revel in any opportunity to work on a powder room. With a sole purpose of serving your guests, why not give this little room a big personality? When it comes to discussing bathrooms with my clients, a common wish list has definitely emerged.
Most people want the master bathroom to feel like a peaceful, spa-like retreat. Kids' bathrooms need to be indestructible. And let's face it: Any additional bathrooms often fall by the wayside, as homeowners try to direct funds at spaces that will get everyday use. This always leaves us with that one lonely little powder room. If guests come over for a dinner party, chances are this is the one bathroom they will end up seeing. It's also a room that the homeowner is generally not spending a ton of time in, so why not take the opportunity to do something fun? And because these rooms are usually small, splurging on a luxurious material (or two!) is so much more manageable, allowing you to pick special items without busting your budget.
How to Design a Bright and Fun Powder Room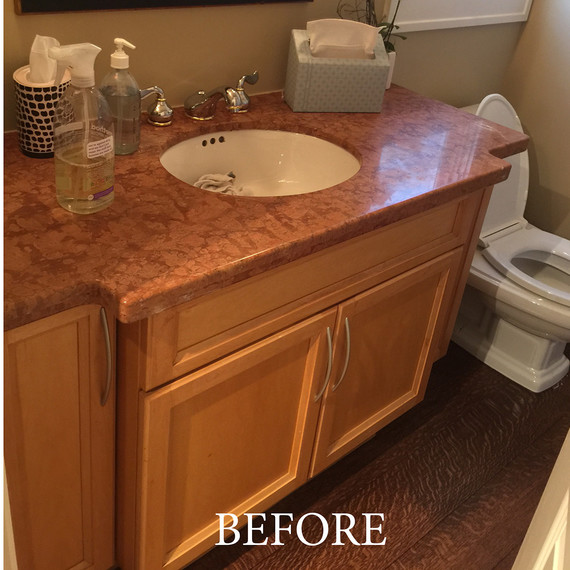 This powder room renovation we recently completed was no exception. With the homeowners toying with the idea of putting their home on the market in the next few years, they wanted to give the space a face-lift as well as create something they could enjoy in the meantime.
Though the bathroom hadn't been updated in 20 years, we were fortunate to have good bones to work with. With the classic shaker cabinetry in good condition, and beautiful solid wood floors running throughout we decided the most cost-effective solution would be to give the vanity some upgrades (without redoing it altogether).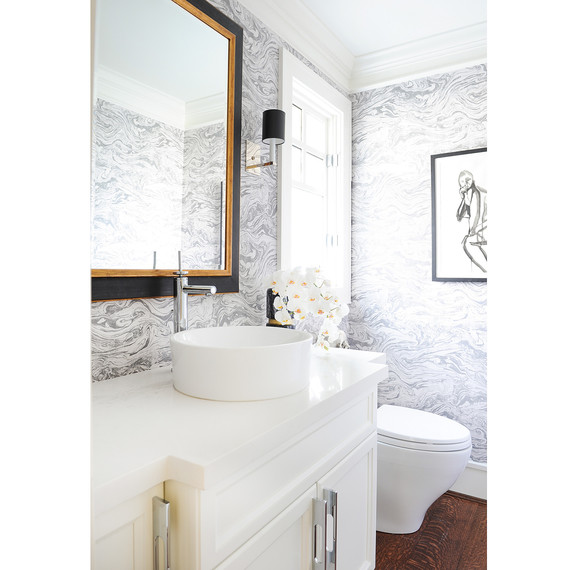 We painted the cabinets a creamy white, added new hardware, and replaced the countertops with Caesarstones Calacatta Nuvo. I love that this manufactured stone gives you the look of marble without all the maintenance; the perfect solution to keep this bathroom in mint condition for when it's time to sell. We also added a vessel sink and faucet from DXV. After replacing the toilet, our next item on the agenda was injecting some major personality. When I found this Schumacher wallpaper, I knew I had found a winner. The finishing touches on the project were the sconces from Urban Electric Co., art by Zoe Pawlak, a vintage mirror the client owned, and some fabulous accessories from The Cross Decor and Design. While some people get uneasy at the idea of mixing gold and silver, I love this layered look. If David Yurman can do it with jewelry, why can't we do it with interiors?!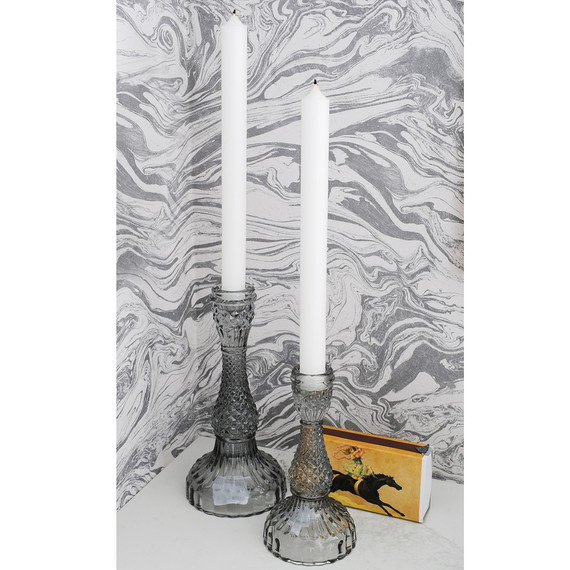 This project goes to show that you can still create that wow factor if you use your money wisely. By keeping the existing millwork and just giving the room thoughtful updates we were able to create a completely new look.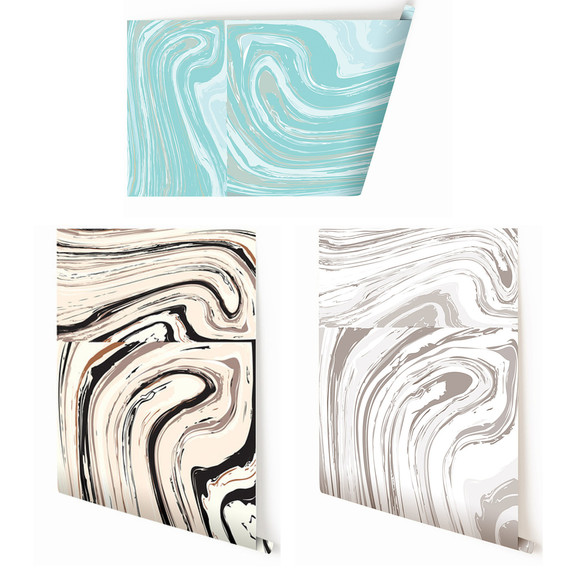 Love the marbled wallpaper look? See some other great option available through Drop It Modern (not to mention a ton of other amazing options if you're looking for something unique with a lot of drama).
Happy decorating and don't be afraid to take some risks -- that's where the magic always happens! Want to see more dramatic powder rooms from Gillian Segal Design? See our last article on powder rooms here. You can also follow along with more of Gillian's projects with her Instagram account.
Photography by Tracey Ayton Photography