Amy Kayne, a Portland, Maine, chef, was constantly frustrated by her dark and dated kitchen. Her work was constrained by its space, layout, and lack of function. She knew that a kitchen renovation would make her culinary dreams take flight. When she enlisted my help, I knew I had my work cut out for me. Not just because the space was functionally and aesthetically outdated, but also because Amy's kitchen needed to reflect Amy and her passion for food. The renovation would address a long checklist of necessities including a new cabinet package, every inch of which was designed specifically for a chef's needs. Every component needed to reflect the Kaynes' modern, streamlined style.
Amy's kitchen is the heart of her home, where she feeds her family as well as her interest in culinary research and recipe development. It's where she creates meals that reflect her diverse cultural background and her commitment to preparing healthy, wholesome, and local foods. I wanted to provide her with surfaces that worked well for food photography, lighting that highlighted the quality of her dishes and a mix of materials that would create an inviting environment for any gathering or party. We worked with Designs Kitchen and Bath in Windham, Maine, to optimize each door, drawer, and compartment. Pat Schwartz, a Maine-based contractor was in charge of the carpentry and install. Collectively, we completed this kitchen renovation in less than a month.
11 Common Kitchen Renovation Mistakes to Avoid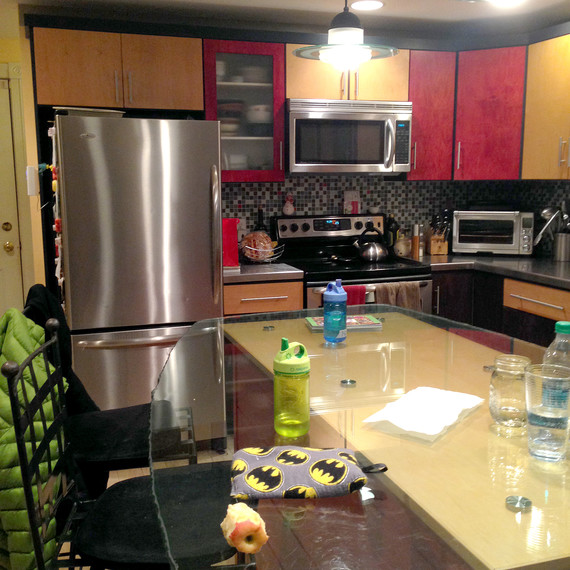 Before
The kitchen before the remodel was dark and cavelike. A large glass-topped island was perpetually dingy with fingerprints. The cabinets were old and falling apart.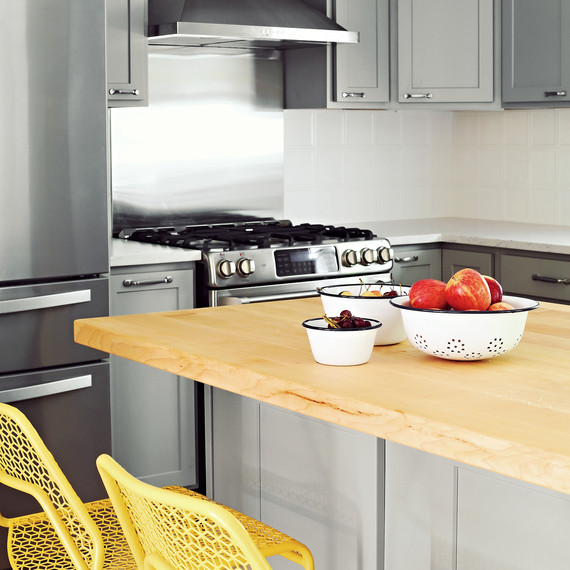 After
Amy and her husband, Kevin, were very specific about their style. The first element we chose were the gray cabinets. We lightened up the space through the use of other materials, but the gray cabinet color is the focal point. One of my favorite color combinations is the classic mix of gray and yellow. The punch of sunshine provided by the Bludot stools was one that took Amy a bit of getting used to, but we kept one stool around for the duration of the renovation and eventually she realized that it provided the perfect pop of color.
Before
The backsplash and lighting in the kitchen before only contributed to its dark appearance.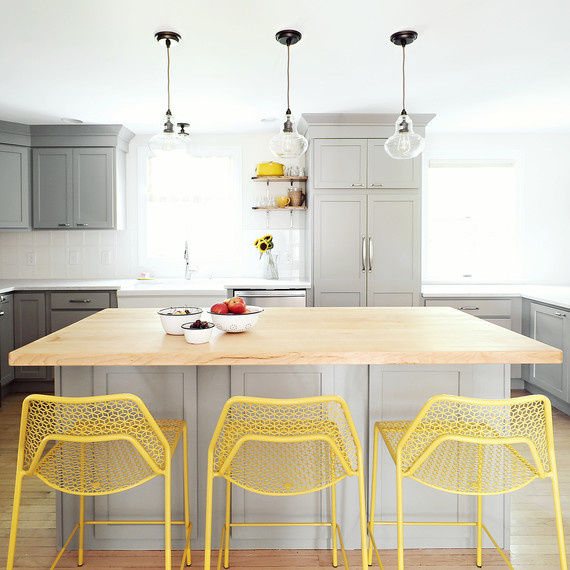 After
The new lighting has industrial and modern elements. They are timeless fixtures that connect the other pieces of the kitchen. The grid-patterened backsplash is a 6-by-6 indented ceramic tile. Amy and Kevin wanted something clean, unique, and not at all fussy. One of the elements Amy loved about her former kitchen was the U-shaped layout and the desk area that provided a space for her boys to do their homework and be an integrated part of the space while Amy was working.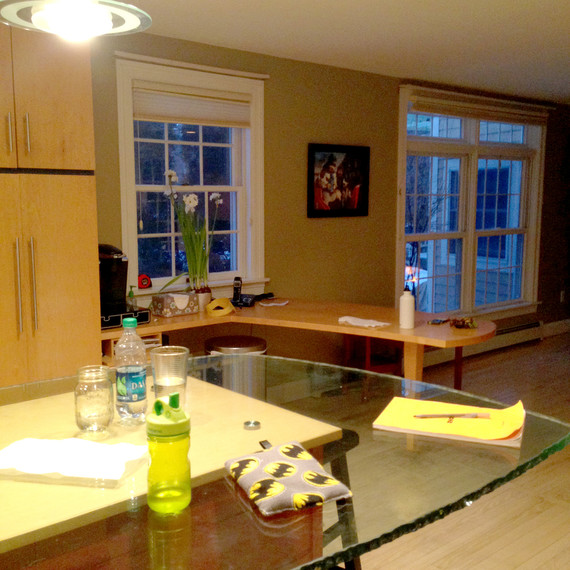 Before
The boys' workspace lacked storage and functionality.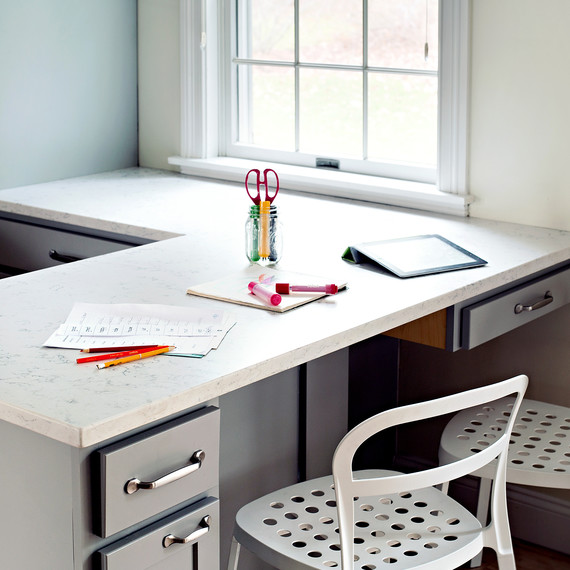 After
The U shape allowed Amy to have a designated work area as well as a spot that the boys could take over. When I renovated the space, I preserved the desk by designing the base cabinets on the nonkitchen side of the pantry a few inches lower than standard to allow for desk chairs. We installed a pencil drawer and a slim cabinet for arts-and-crafts materials. Amy and Kevin were specific about their desire for honed countertops. We worked with Blue Rock, a stone center in Westbrook, Maine, and selected a quartz that had the qualities of Carrera marble and honed it for a matte finish. The result is an indestructible surface that has visual depth and an organic quality.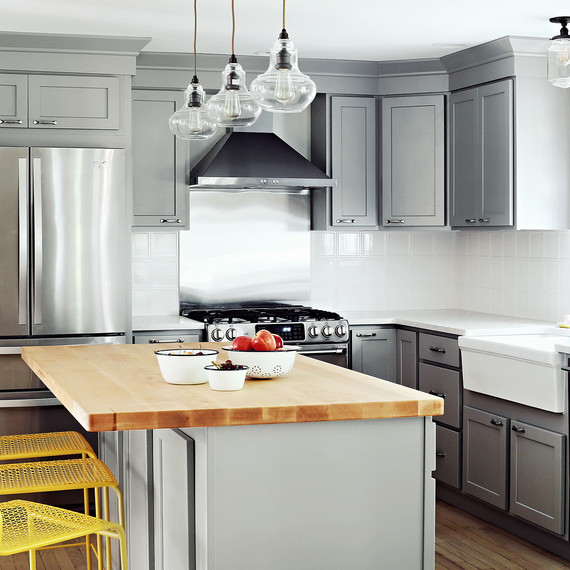 Amy and Kevin had their hearts set on a custom butcher-block countertop for the island. Their instincts were spot on. This kitchen needed the substantial organic focal element. The thick, maple island top was crafted by their friend Tim Hill of Tim Hill Fine Woodworking. Tim also created the open shelves next to window above the sink. The maple top is the perfect backdrop to Amy's culinary offerings during her parties and events. The character of the wood will only deepen with time.
The Kaynes endured every step of this kitchen renovation with patience and positivity, knowing that their ideal space, fit for both a chef and a family, was the light at the end of the tunnel.