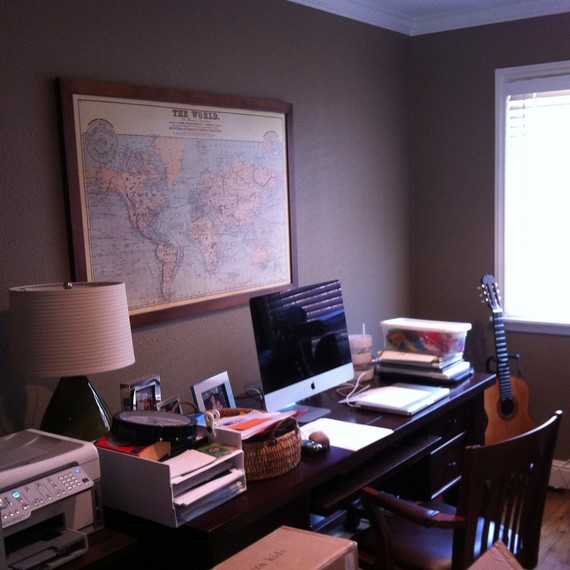 Before
As someone who works from home, I am always so inspired to see other people's work areas. How large are the desks? What kind of "space savers" are used? How is everything organized? Is there color, or is the design minimal and sleek? All these questions and their answers, I store in a design inspiration binder I keep tucked in my bedside table. Hopefully one day, I will have enough room for a "proper" spacious home office, equipped with a crafting station, large workable desk, and lots of shelves -- all neatly organized and full of inspiration. Until then, I can dream.
When I came across this home office that the talented Kriste Michelini transformed, the images went straight into my prized "favorites" section. The office was so dark and cluttered but underwent an entire metamorphosis! I became utterly transfixed.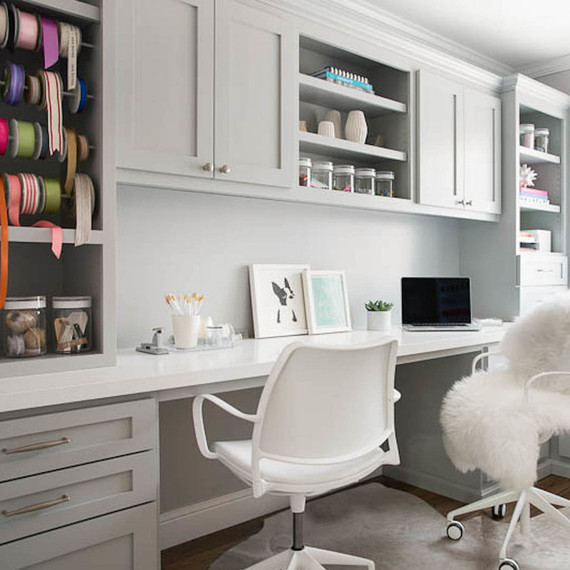 After
Michelini was tasked to transform her client's existing home office into a functional space, a place that inspired creativity and fostered productivity not only for herself but for her children as well. Her client wanted the room to be bright and welcoming and a place for everyone to have enough space to work while enjoying each other's company.
The first challenge was to set up -- in a space originally equipped for one -- working stations for three people. Michelini decided to maximize on the space and created an L-shaped desk (with three stations) that lined two walls. The desks, custom fabricated for the room, were made of white Caesarstone -- a maintenance-free surface that is durable and resistant to scratches and stains, all the while remaining very beautiful and clean. An intelligent choice for a room that will harbor many craft projects and hours of homework.
Once the locations of the desks were confirmed, Michelini set up to lay out practical storage space for the family's needs. She added custom built-ins both above the desk and below, taking advantage of all possible space, and painted them in a light gray. The addition of subtle color keeps the room neutral, but with a delicate twist. Michelini designed the storage space bearing in mind her clients' needs. She made sure that the cabinetry was opaque so as to hide any mess; she used cabinets, pullout drawers, and shelves for all the various types of objects stored and she added acrylic desk accessories for all the pens and pencils. She designed the workplace with such thoroughness that she even included gift-wrapping storage (my dream) for papers, ribbons, and tags.
Take a Tour of Martha's Craft Room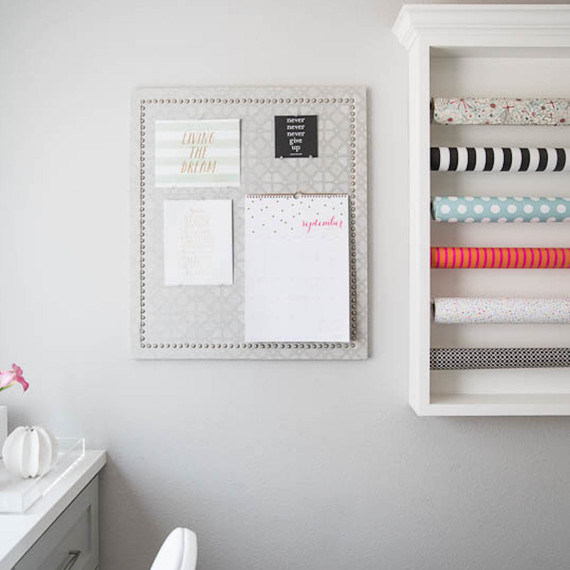 Functionality remained a prime focus for Michelini, whose client also wanted a place for her children to keep important dates, calendars, and documents visible, but who did not want a traditional-looking corkboard or whiteboard. Custom textile-covered bulletin boards were made using an elegant lattice fabric, tying the color of the storage built-ins to the facing wall. Today, the children's artwork is displayed alongside chore charts and calendars.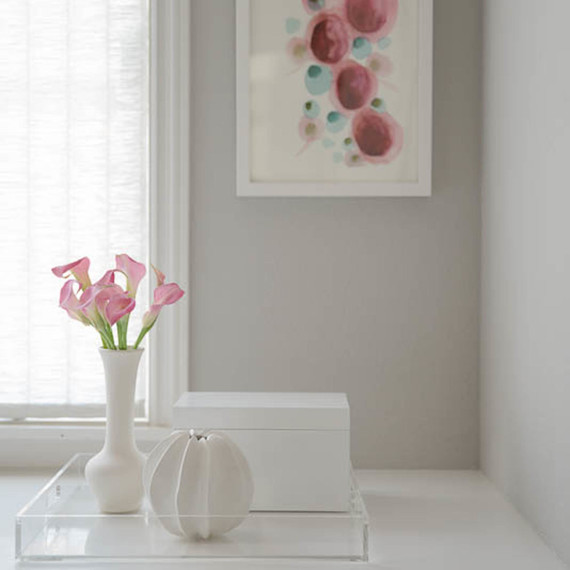 As this room is quite neutral, the addition of color and texture are what really bind the room into an interesting and aesthetic workplace. She incorporated a beige cowhide area rug to give the room a nucleus and added sheer window treatments to add a finished and sophisticated look. Fun and colorful art were included on the desktop and on the walls to bring splashes of pigment and convivial feelings into the space.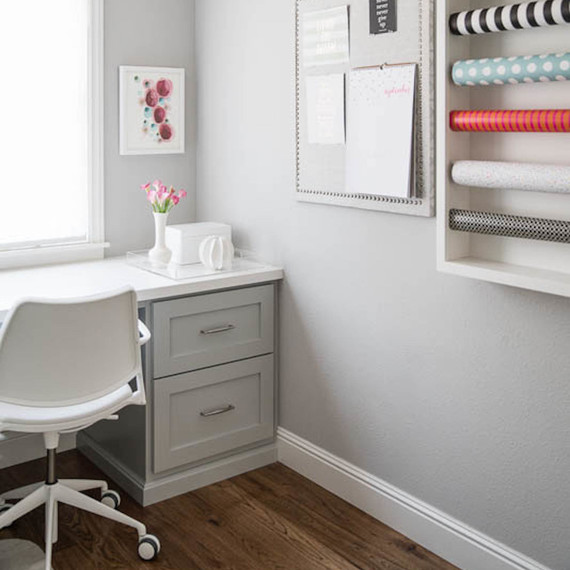 This home office is a real dream, a place where Michelini's clients come together every day to work and create -- all in a space bright, stylish, and utilitarian!
Interior design by Kriste Michelini.