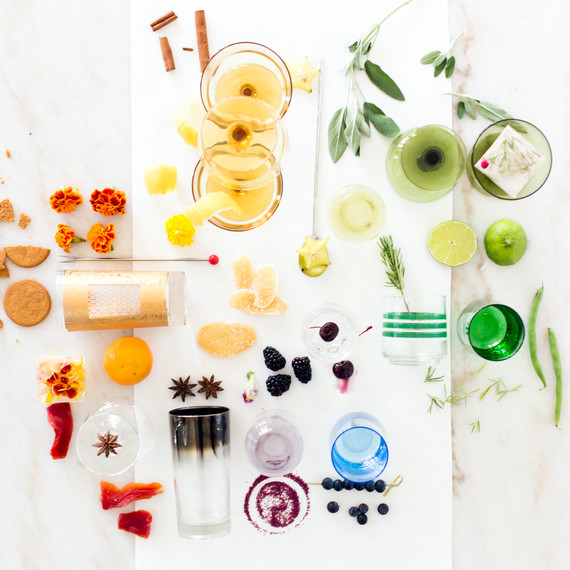 Few things bring us more joy in life than a festive gathering that combines our love of design with our love of food. (That's why we started Filigree Suppers!) But when said gathering involves tasty holiday cocktails in gorgeous glassware, you can doubly count us in. With vintage in our hearts and cocktails on the brain, we put on our rose-colored glasses and paid a visit to one of Chicago's best resources for midcentury glassware, Modern Cooperative. Tiffany Paige, who co-owns Modern Co-op, had a lot to say about entertaining. "If you're celebrating something by making a special cocktail, it should be poured into an equally special vintage glass." Like many of us, her love for vintage stems from family memories. "My grandparents were master entertainers and always had the best celebrations. They went all-out for every occasion and had a wet bar filled to the brim with the most magical cocktail glasses from the '60s."
We find that when we are shopping vintage, it's possible to find a wider variety of color than when shopping for new pieces. This is because the selection likely spans a few decades rather than just the current season. A collection of vintage colorful glassware is absolutely gorgeous when the glasses are empty, but filling them with a cocktail whose color is worthy of the glass can be a bit of sticky wicket. Armed with some of our favorite pieces from Modern Cooperative, we set out to conquer styling some of our favorite cocktails in different vintage styles and colors.
Where to start? One approach is to treat your glass as just part of the color wheel and go from there. Choose garnishes in an analogous color group, or go across the color wheel for something complementary.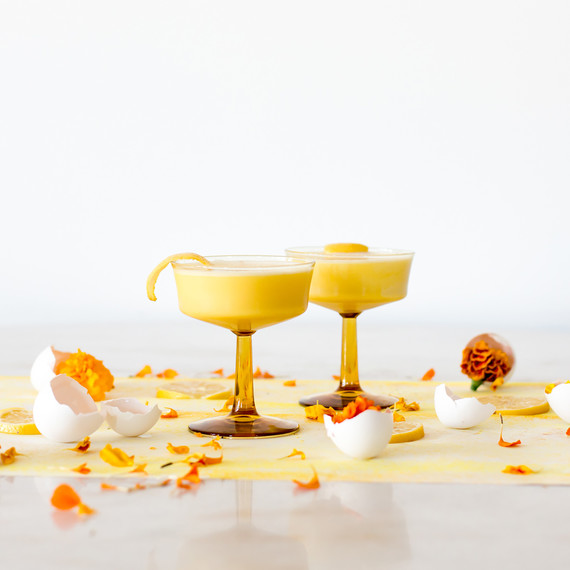 We fell head-over-heels for these modern custard coupes and were inspired to keep the dairy theme going with a classic brandy flip. The texture of the combined egg and cream creates an opaque backdrop that really helps the yellow glass pop.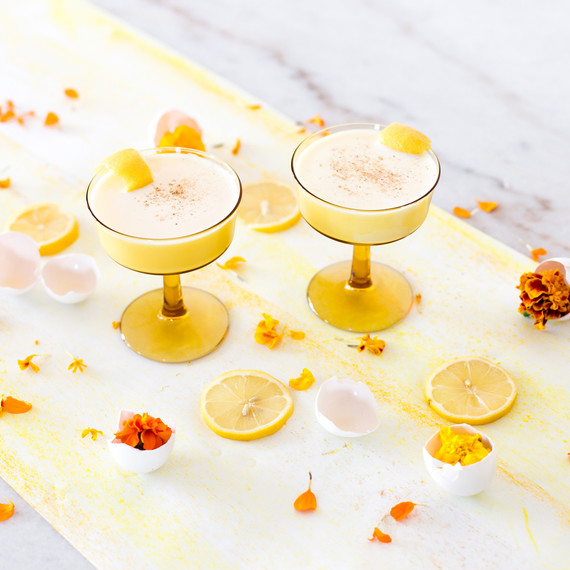 Classically, you can garnish with a lemon peel, which will work with just about any brandy that you use. We happen to love peach brandy from Rhine Hall, but there are just so many tasty options!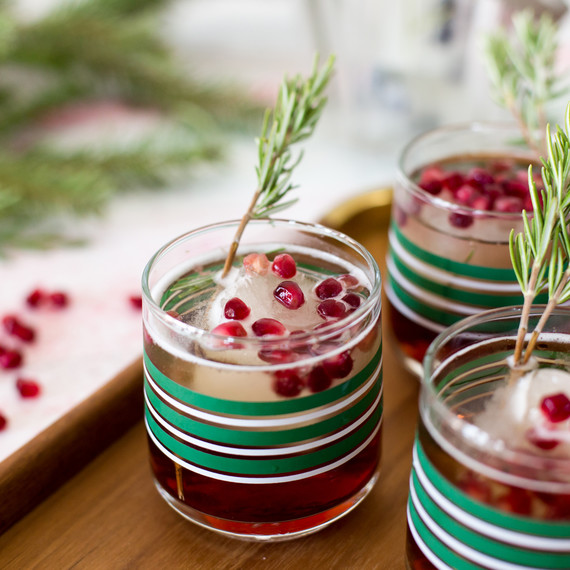 There are a ton of fabulous options in which the glass is clear and adorned with colorful opaque patterns. This is the perfect opportunity to branch out a little bit by using a primary color like red, with a secondary color such as green. Whereas a red liquid in a green glass might make the whole cocktail look too brown, this Sparkling Pomegranate Cocktail is pure holiday because each color really gets to stand out. We kept the garnishes festive, fragrant, and not too fussy with a sprig of rosemary.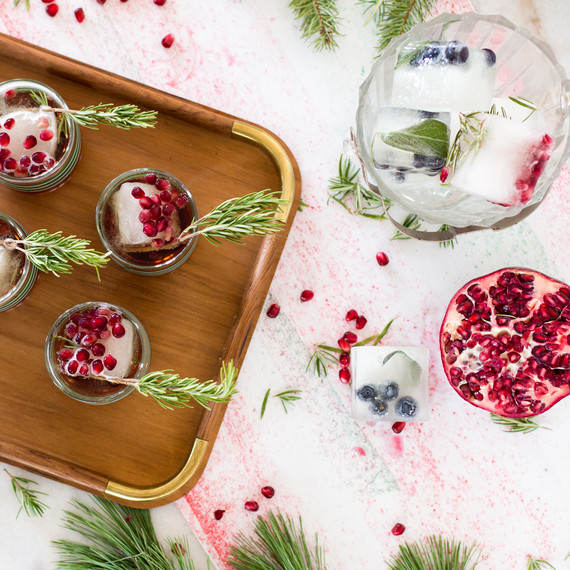 Another way to jazz up your cocktails is to freeze garnishes in oversized ice cubes. As the ice cubes melt, the contents of the cube add texture and flavor to the cocktail. Serving cocktails on a tray is a great way to add to the overall style. For this batch of drinks, we thought this wood and gold tray would be perfect for a cozy but celebratory gathering.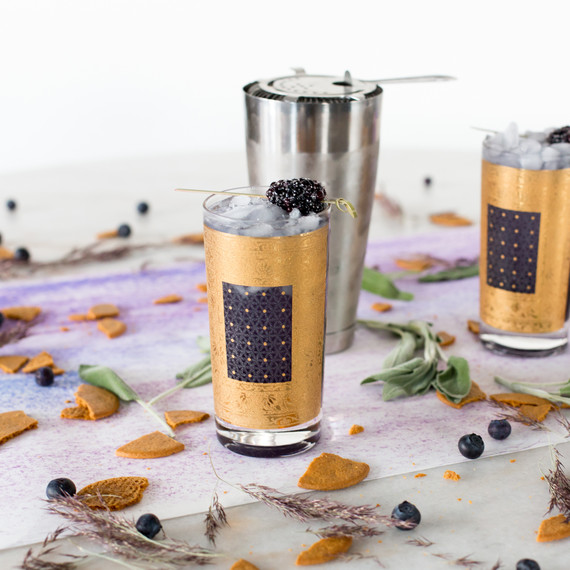 There is perhaps a no more festive color than gold, especially when it comes to the holidays. Any excuse to use it is fine with us, but when we saw these gorgeous, ornate Collins glasses, we knew we needed to use them, and all we saw next was purple. Paying homage to a Chicago favorite, the Violet Smash from Maude's Liquor Bar, we used creme de violet and crushed ice to help balance the warmth of the gold and create a sweet, refreshing cocktail.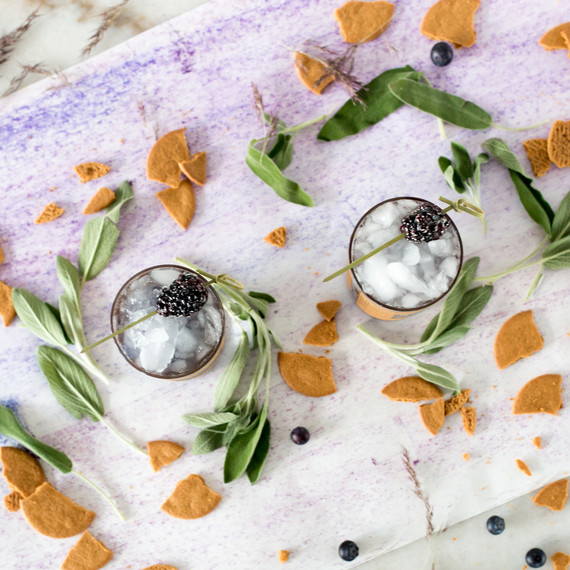 For our garnish, we stayed in the purple family with a sugared blackberry. They are really easy to make and a tasty detail to add to a variety of winter cocktails!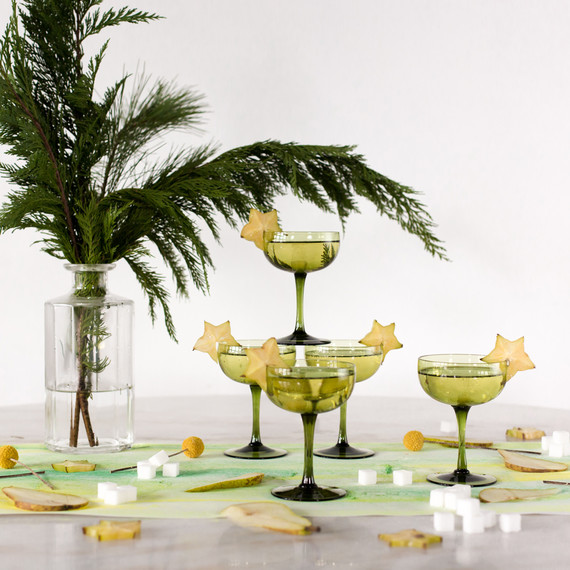 These are just the most graceful green coupes we've ever laid eyes on. The color is a spectacular yellow green and looks best with something clear... something with bubbles... something like Champagne, of course! The Champagne Cocktail is the way to jazz up your favorite champs. The dissolving sugar adds some bonus bubbles, and what's not to love about that?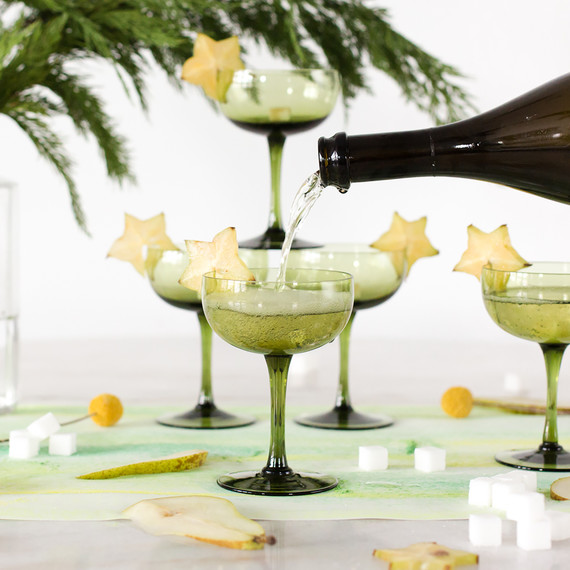 For our garnish, we used starfruit because of the color and the of course, the shape. It's a festive and flashy presentation that anybody can pull off. Adding an additional green element will really let those glasses sing. Try using a decanter instead of a vase for a spirited and nonchalant presentation of winter greenery.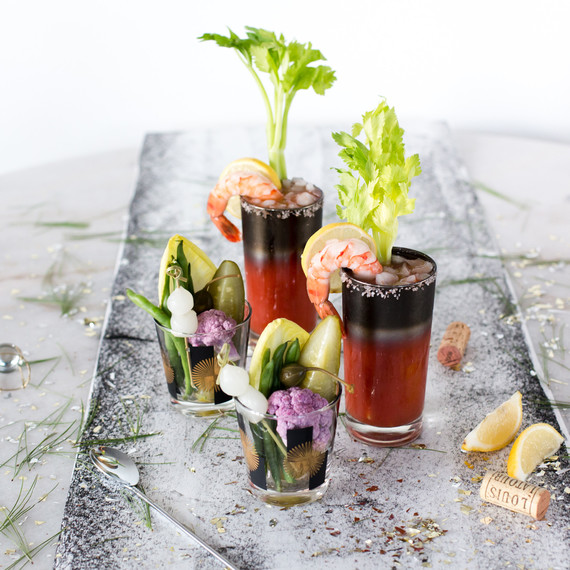 Breakfast is served! Just because you partied the month of December away doesn't mean you can't have one last hurrah before your resolution kicks in. We'll meet you back here in February when it wears off. A Bloody Mary is perhaps the most popular hangover cure besides bacon, and it's all about the garnish. A foolproof approach to garnishing the Bloody Mary is to layer the garnish by height, from the back of the glass to the front. When you run out of room, grab a little rocks glass for a sidekick and keep garnishing.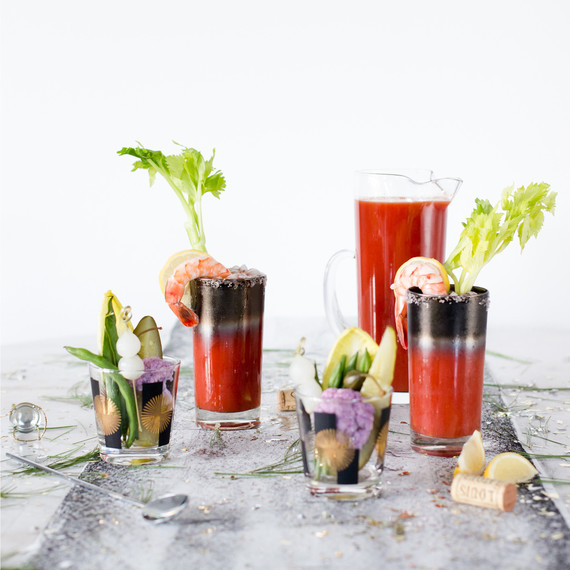 We loved these two-tone Collins glasses for the cocktail, and the black and gold rocks glasses for the additional garnishes. Both help set a gorgeous but neutral base to this colorful collection of brunch favorites!

Dare to try something new and see just how creative you can be by putting your best cocktail forward with some colorful or vintage glassware!