We moved into a three-bedroom townhouse apartment in the Chelsea section of New York City about two months before our first child was born, so we were under a bit of a time crunch with respect to pulling a nursery together. With that in mind, we tried to be very resourceful in our decisions. This little girl wasn't getting quite the custom treatment a decorator's daughter deserves. Not only were we racing against the clock because of my delivery date, we were extremely busy wrapping up client projects at the time. Poor baby Clymer's room was a low priority on the Henry & Co to-do list.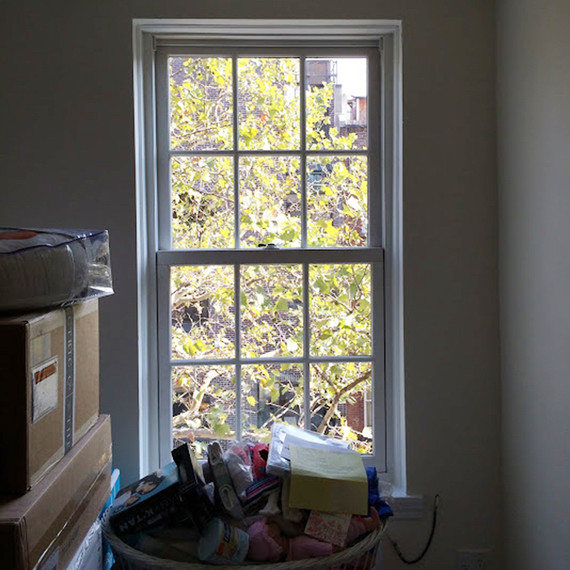 In addition to being limited on time, we were also very limited spatially. The previous residents used this space as a small office with just a desk and futon. There was also a horrible ceiling fan with light and low hanging chain, plus the room felt short and very dark. The overall dimensions were 7 feet by 10 feet, six inches, with one window and one very small 30-inch reach-in closet. That said, we were hoping to include a crib, a changing table or chest of drawers, a glider, and some sort of bookcase to display all of the new books we received from friends and family.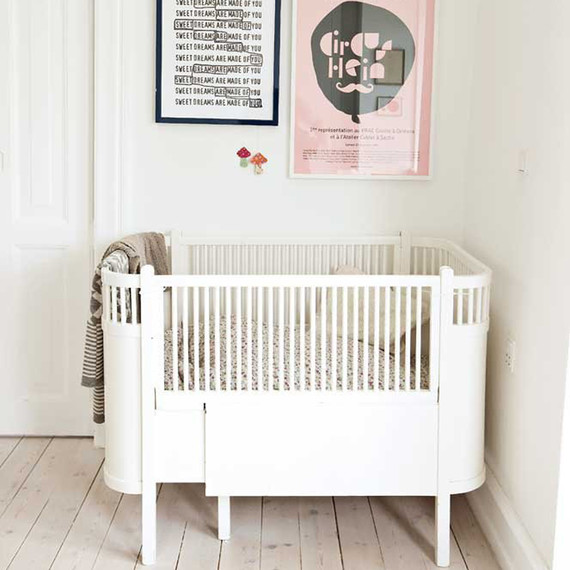 Given the small size, we had to be very selective with what furniture we were going to include. In the hunt for a smaller-scale crib, I fell in love with this vintage Juno bed. After further research, I found out that this design was Danish and was designed by architect Viggo Einfeldt with its first appearance in 1941 to 1942.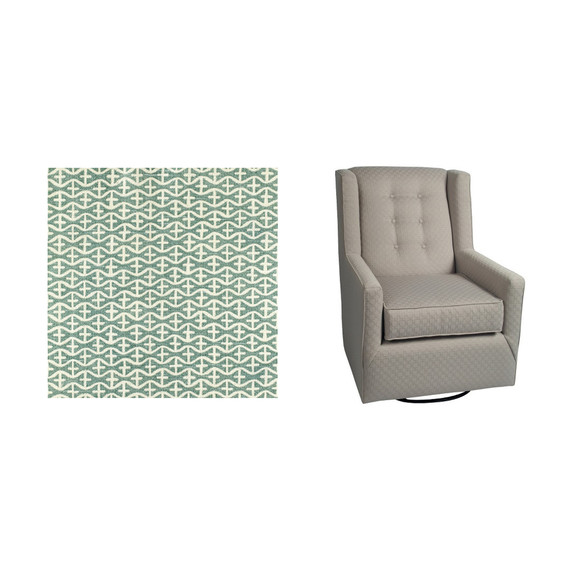 For a glider, we also searched for something that was narrower and not so oversized. We wanted a high back for head resting during those sleepless nights. Unfortunately, we weren't patient enough to wait for a custom piece to be made, so we purchased this one from Target and had our upholsterer reupholster it in a custom fabric with contrast welt and buttons. Dimensions are 29 inches wide by 34 inches deep by 38 inches high. It fit just perfectly in the corner by the window.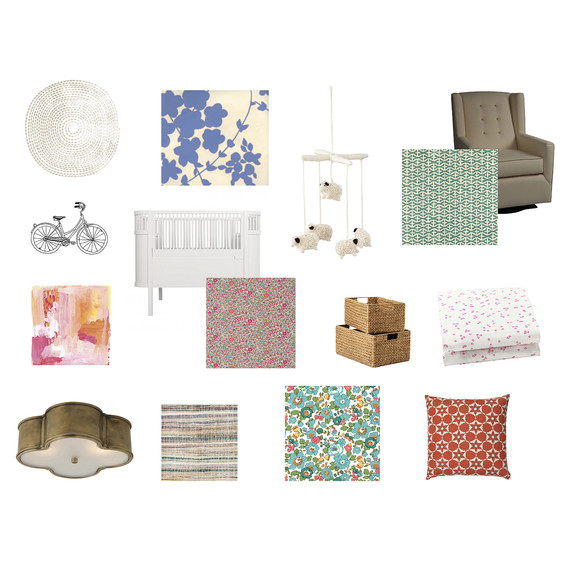 Now that we had our main pieces of furniture picked out, we put together an inspiration board. I wanted the nursery to feel feminine, fresh, and colorful without being over-the-top girly.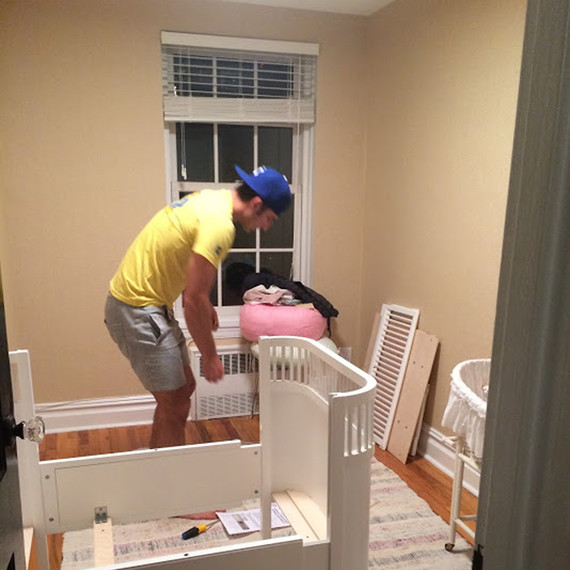 Then we got to work!
Stephanie and I had so much fun using many of our favorite fabrics and colors. We went with a neutral grasscloth on the walls allowing for a nice backdrop for the array of color and texture we had planned. Because it was such a small room, staying away from a busy graphic wallpaper was a necessity. Grasscloth is also a great choice for hanging artwork. The texture hides nail holes extremely well! I have always loved the sweet Liberty of London floral prints so that was the launching point for the room. We had a custom bumper made in the Liberty of London Katie and Millie C Tana Lawn with a contrasting white linen ruffle and ties.
Instead of a changing table (because we just didn't have the space) we got this sleek and functional desk and bookshelf, which served as both a changing table and a bookshelf to hold diapers, wipes, cute jute baskets lined in fabric to hide clutter, a few decorative accessories, and favorite books.
Get Inspired by These Adorable Nurseries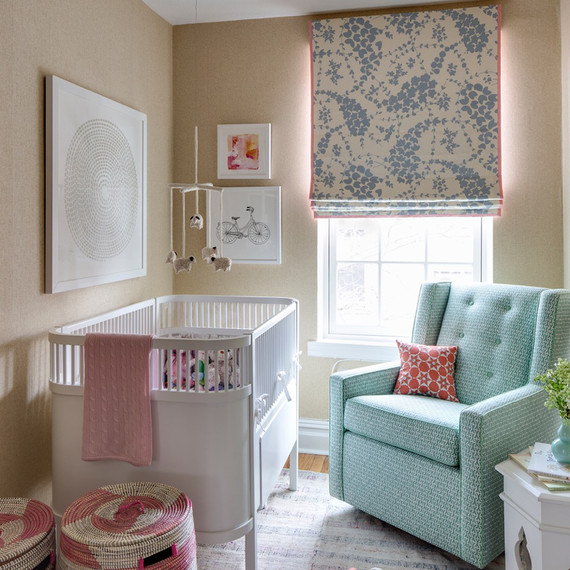 We love the way it turned out!
The roman shade is custom made in a large-scale floral from Quadrille called Lysette. We added a narrow contrast band at the edge in coral and a blackout lining because babies sleep a lot.
To finish out the space, we incorporated a vintage cotton Turkish rag rug we found at ABC Home while sourcing for a client (oops!). We loved the juxtaposition it created against the clean and preppy Quadrille and Liberty of London florals. The artwork is all from Minted, a great source for inexpensive, quick, and fun art.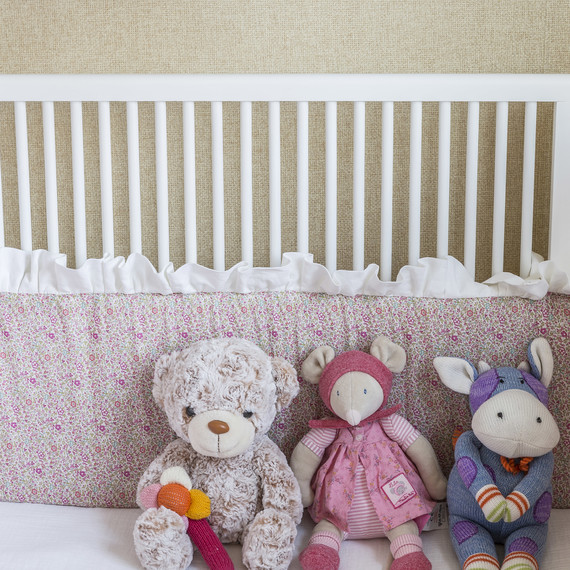 The final details included a gorgeous embroidered Vanderhurd pillow, a Morrocan side table and a felt sheep mobile from Land of Nod. We were ready to welcome our little girl!!!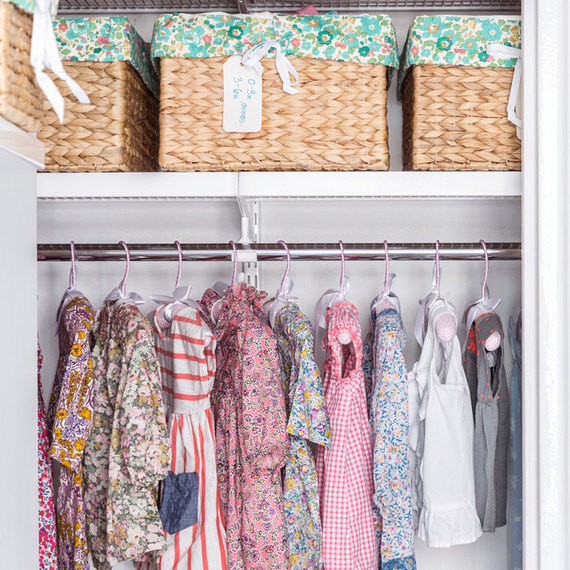 We may have gotten ahead of ourselves, but don't these little dresses look adorable in the tiny closet?
Do you have a nursery in your home? How did you decorate? Tell us in the comments!