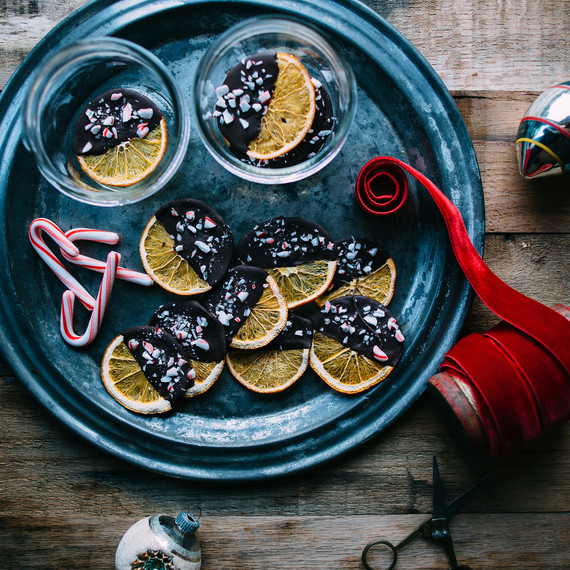 Dried Orange Slices Dipped with Chocolate and Candy-Cane Bits
No holiday party is complete without chocolate and candy canes. Use these simple ingredients and take it up a notch by pairing them with dried orange slices. Melt premium dark chocolate in a double boiler, use a spoon to cover the chocolate on one half of one side of a dried orange slice, set on a drying/cooling rack, let it start to dry for about five minutes, then sprinkle crushed peppermint candy over the chocolate before it's completely hard.
We also love these as a "giftable edible"! Send guests home with a mason jar stacked with these delectable goodies -- perfect as a party favor or holiday sweet treat for friends and family.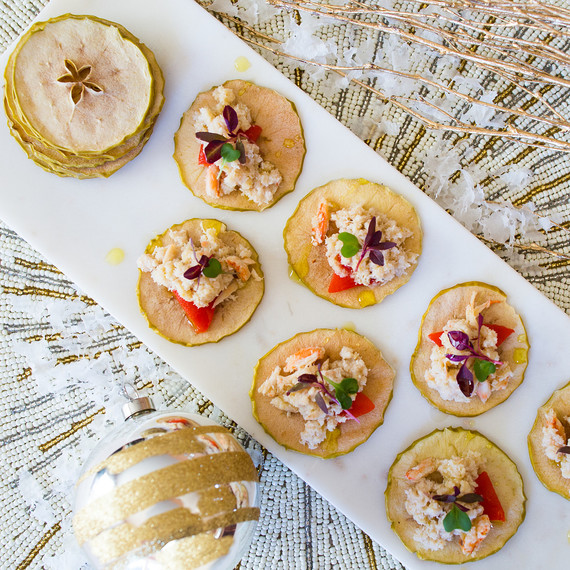 Crab Salad and Roasted Bell Pepper on a Dried Apple Cracker
In this elegant holiday bite, we reimagined Martha's classic Crab Salad Canapé by tossing crabmeat in fresh lemon juice and olive oil, spooning it onto apple crackers (instead of bread), adding a slice of roasted red pepper, and garnishing with micro greens, an olive oil drizzle, and lemon zest shavings. Bring instant joy to your guests with this bite-size holiday happiness!
View More Christmas Appetizers!