First, here's a little about Jen: In 2003, she bought a fixer-upper, and renovated and flipped it with her father. After that, you could say she was hooked. In 2009, she began regularly flipping homes with her husband (a general contractor), and everything took off from there.
Flash-forward to this midcentury modern dream home in Oakland, California, a project that took five months to complete. I'm shocked to say that this was Jen's first midcentury modern renovation (she mostly works on revamping craftsman-style homes). Looking at this stunning four-bedroom/three-bath makeover, I was sure that this design style was her forte. Check it out: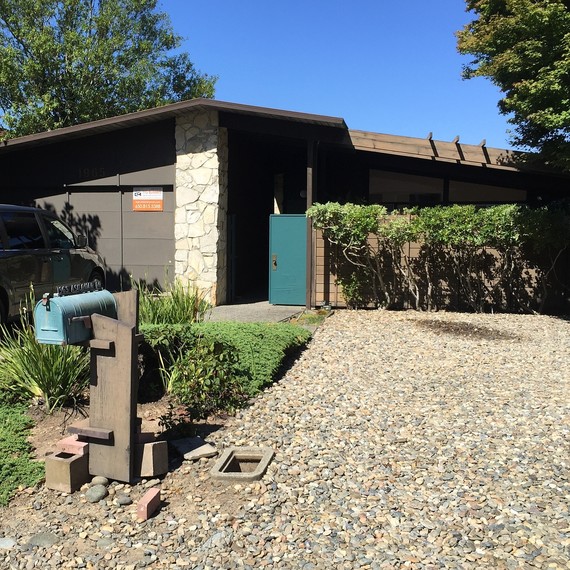 Before:
This was the entrance before. Jen's vision for this particular home was to keep everything modern while staying true to classic midcentury principles. In a nutshell, the goal was to update the home's midcentury aesthetic for this century. She wanted to achieve a well balanced home that felt both welcoming and stylish at the same time. This meant it had to be clean and simple but also have depth and texture.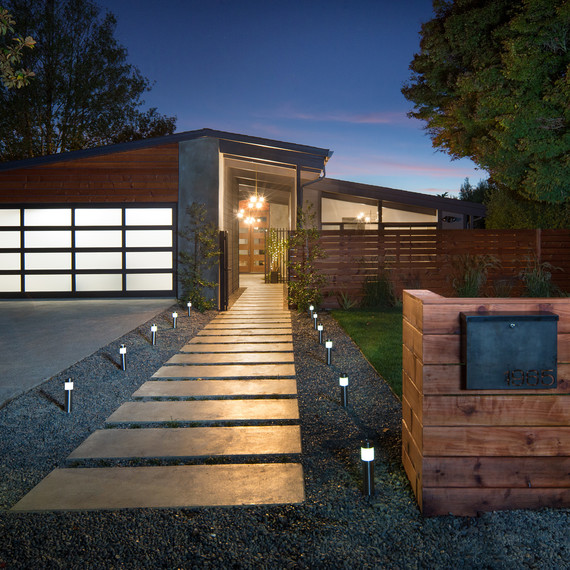 After:
The redesigned entryway highlighted the low geometric exterior and enhanced its appearance with a lighted walkway. The garage door also becomes a feature of the home (instead of an eyesore) with the frosted, lighted panels.
Check Out Another Driveway Transformation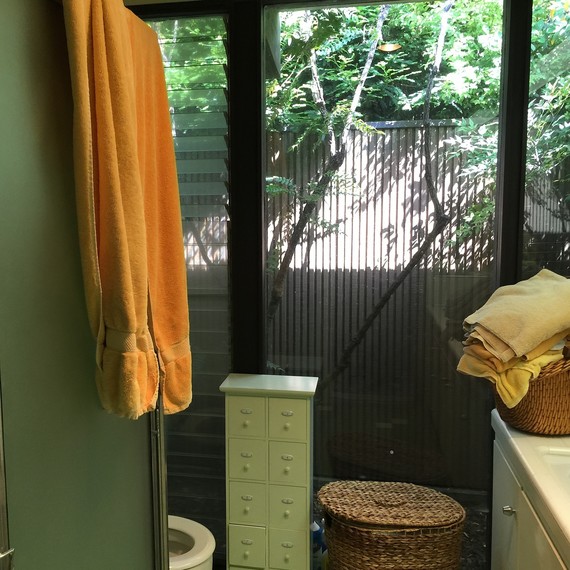 Before:
This bathroom had a lot of natural light, but the colors were outdated and it felt cramped on the inside.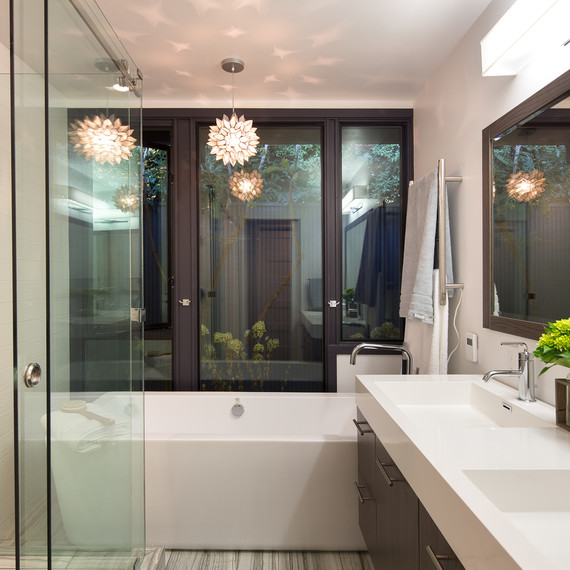 After:
With a little rearranging and the installation of a glass walled shower, the bathroom was transformed into a spacious, luxurious retreat.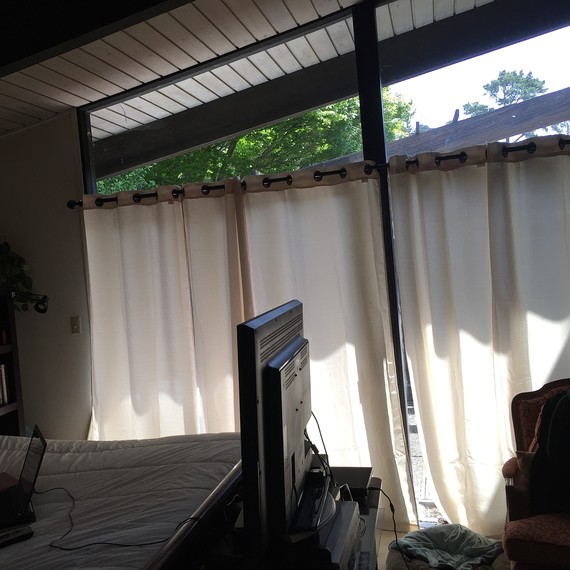 Before:
In the bedroom, the curtains weren't the right height and all the furniture was in the wrong place. It made the room felt very cluttered!
After:
If it weren't for the slatted ceilings, you could hardly tell that this is the same room! Updated bedding and decorative accents make the room feel more grown-up. The colors were chosen with the courtyard in mind, making the whole space appear cohesive. Exterior redwood accents tie the home into its surrounding natural environment.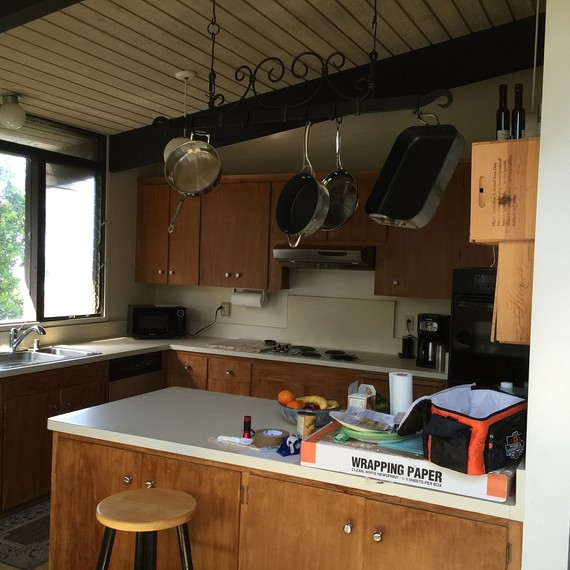 Before:
The kitchen wasn't in bad shape, but it was definitely in need of an update.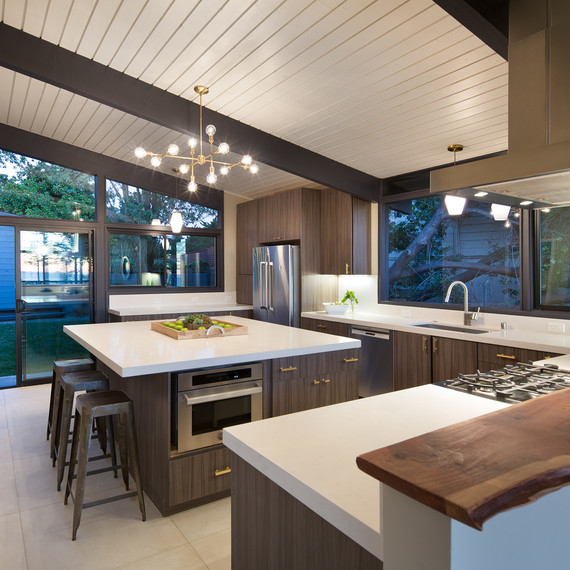 After:
This kitchen got the works: new countertops, appliances, modern cabinetry, and an updated layout. The updated brass chandelier was the perfect finishing touch, and a reclaimed, live edge redwood bar top brings a hint of nature into the kitchen. Oh, and she certainly didn't want to detract from the 180-degree four-bridge views that are right outside this home's windows.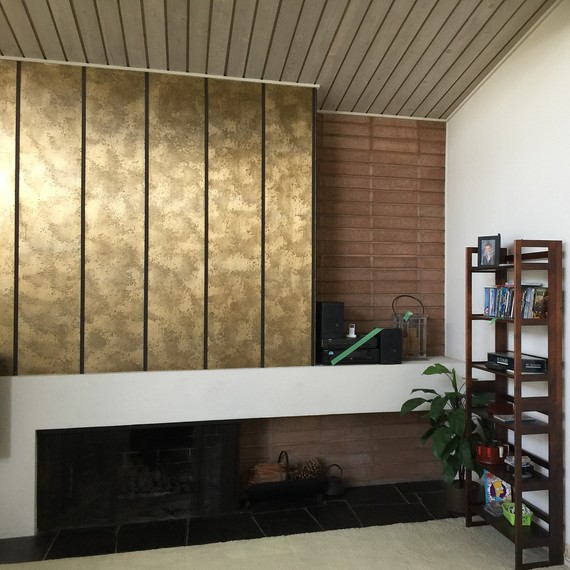 Before:
This is a detail shot of the fireplace and the interesting gold accent wall that was above it. While it holds a certain appeal, the design elements didn't quite come together, and they ended up overpowering the room.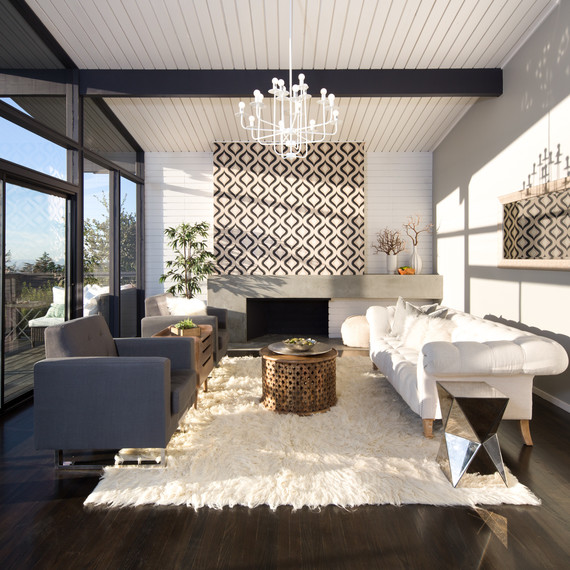 After:
This room was redesigned with entertaining in mind. Smooth concrete was used for the fireplace and pillars, dated flagstone accents were replaced, but the walls were left mostly blank. This was intentional -- two key goals of this renovation were to keep everything feeling earthy but modern, and to enhance the surrounding views outside. Two of Jen's favorite design elements were in this room: the contemporary pendant light and Graham & Brown's "groovy" wallpaper over the fireplace. They both paid homage to the home's '60s roots, but kept things looking fresh.
Really Jen loves everything about this modern midcentury home, but perhaps most of all, she was struck by two things that came with the house: a 10-foot mahogany front door and the gorgeous panoramic views. What is YOUR favorite element in this dramatic home transformation? Let us know in the comments!
Interested to check out more of Jen Montague Clark's incredible home renovation ideas? Head over to The Home Co. Realtors and take a look at photographer Marcell Puzsar's beautiful imagery at brightroomSF Interior Photography.