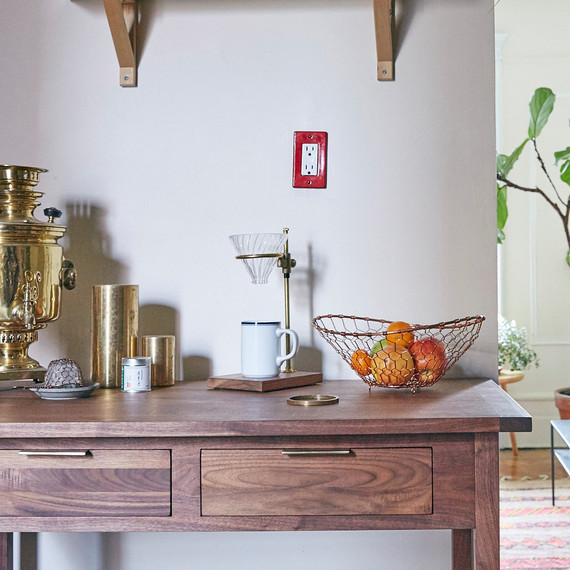 In thoughtful design, the process is always as important and interesting as the final product, requiring a fervor for functionality, a desire to improve how people interact with their space, and an impressive amount of inspiration and determination along the way.
Evan Dublin, design director and creative lead at Kaufmann Mercantile, was initially brought on to create an original line of products for KM's new brand Kaufmann. Evan now spends most of his time with the CEO and namesake of the company, Sebastian Kaufmann, to guide the creative direction of the brand as it grows and develops.
Over the past two years Evan has envisioned, designed, and launched Kaufmann, a new venture for the online store Kaufmann Mercantile. The collection features a range of products, including a line of furniture with a selection of handcrafted bags and home accessories. Evan's approach was simple yet focused: to distill each piece to its minimal function and construction, then layer on understated details that elevate the design and make it original. The collection contains an elegant balance between minimalism and utilitarian design elements using the highest quality materials sourced and produced within the U.S.
Prior to his role with Kaufmann Mercantile, Evan worked with designers Harry Allen and Stephen Burks, developing innovative and conceptual designs for luxury European manufacturers. He furthered his love of home design during a five-year period with retailer West Elm, developing products for more design-conscious everyday consumers. Evan's work has also been featured by a range of satellite design shows over the past few years, and showcased by the American Design Club, Sight Unseen, and Creatures of Comfort.
Evan's Brooklyn apartment in the historic and cozy Clinton Hill neighborhood was originally built in the 1920s. The rooms exhibit a unique combination of products and prototypes he himself designed, family heirlooms, and treasures from his travels abroad. Take a tour of his apartment to see how he brings this aesthetic into his life at home.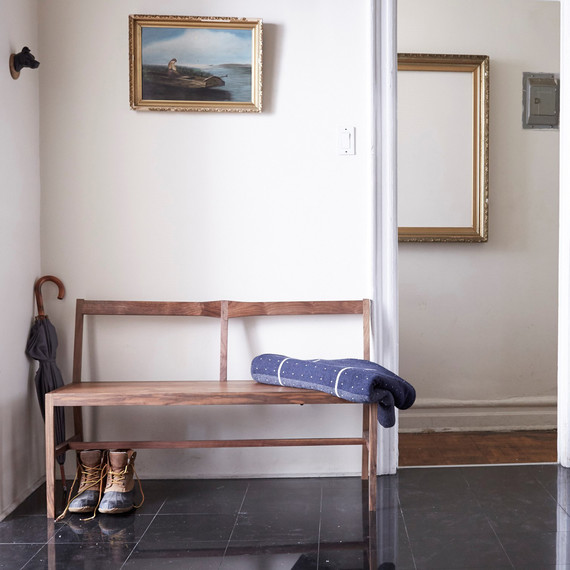 The bench located in the entryway to his apartment is the keystone to the Kaufmann furniture line, offering simple design with beautiful and intricate detail where it counts. Above is a family heirloom hand-painted by his great-grandmother.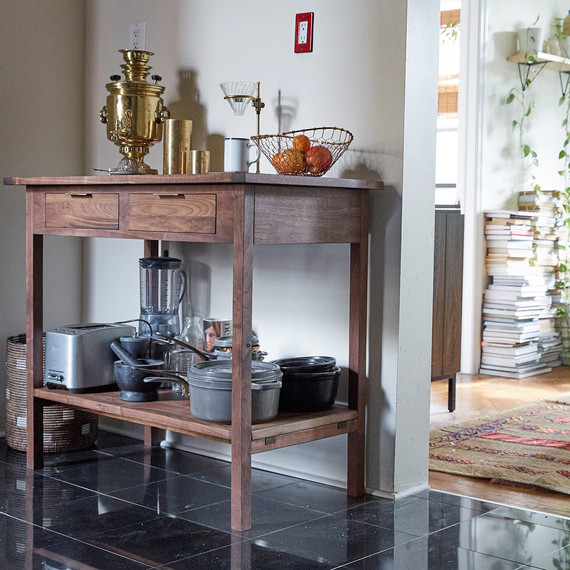 The wire mesh bowl on top of the Kaufmann island was a purchase on a recent trip to Japan. The bowl hand-woven by master craftsman Kanaami Tsuji represents what Evan appreciates most about design: its marriage of contemporary aesthetic using a traditional technique that dates back centuries.
The coffee canisters were acquired on the same trip with an equally historic design, produced by 130-year-old manufacture Kaikado.
Also pictured is a samovar, a fourth-generation family heirloom.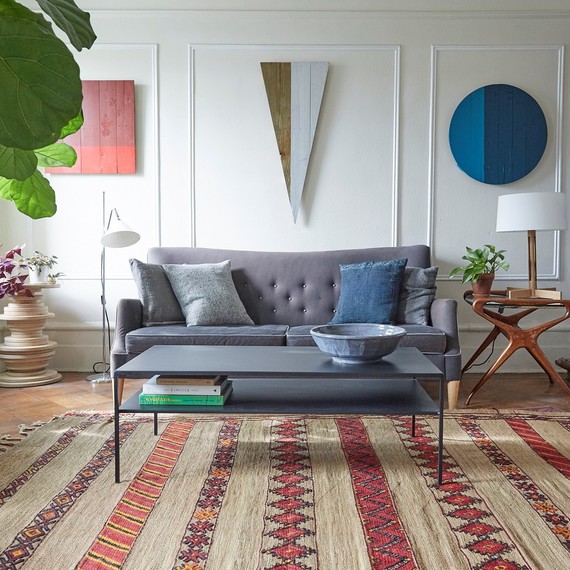 The living room features shields made of colorful monochromatic geometric shapes, made with fellow designer Brian Persico for a competition with American Design Club. The shapes were also featured by sites Sight Unseen, Fab.com, and Creatures of Comfort.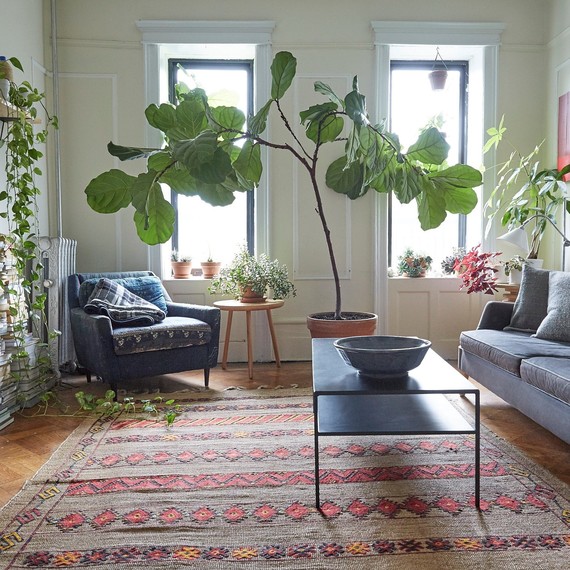 "I'm obsessed with plants and have a plethora scattered throughout the apartment," the most impressive of which is the fiddle fig tree. Each white planter is a result of a collaboration with NYC-based ceramicist Judy Jackson for Kaufmann Mercantile.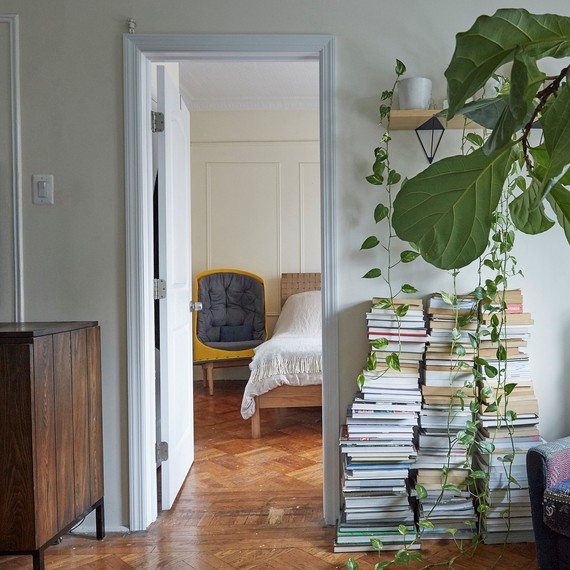 The bright-yellow chair in the bedroom was the final project while studying industrial design at Pratt Institute. The wingback chair, made from a reclaimed jungle gym slide found at a salvage yard, has been featured in a number of gallery showings, and published by multiple design outlets.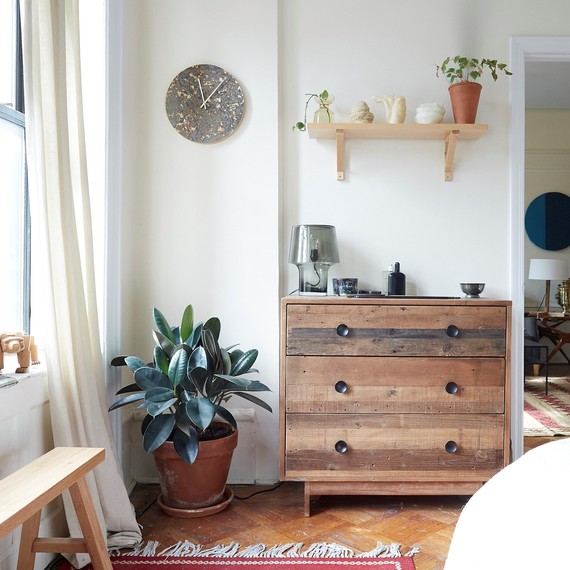 Throughout the apartment are pieces he's collected from his travels: rugs from Morocco and unique items and accessories from Scandinavia and India. Among the collection are pieces created by fellow designers and friends, including his wall clock from Studio Cofield, and prototypes by Pat Kim Designs and We Come in Peace.