When thinking about your Thanksgiving table, or any fall tablescape, there is no need to overcomplicate things. It is best to start with a very simple, narrow color palette and go from there. Colorwise, we have noticed that some of the most striking tables focus on two unique shades with some subtle accent colors thrown in. If you remember this simple trick you can have a Pinterest-worthy tablescape in no time.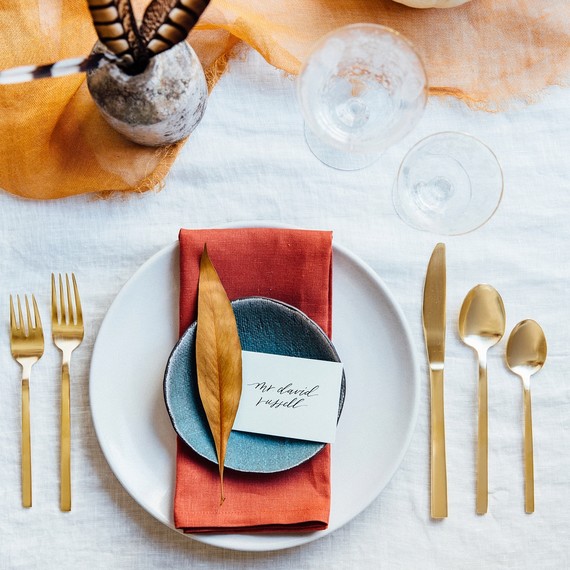 At Filigree Suppers we start planning every event by first building a mood board that helps us define the overall feel for the look we want to create. From there, we can focus on the key colors that we want to highlight and how to express them when picking out the items that go on the table. We love the unusual combination of rust and aqua and decided it would be the perfect palette for an elegant Thanksgiving meal. The autumn hues of rusty reds and warm browns are a no-brainer for this time of year, but when aqua and indigo blues are added, something unexpected happens and the table immediately feels refreshed. Then we accessorized with modern gold flatware alongside white plates and red cotton napkins to create the perfect setting for an inviting Thanksgiving feast.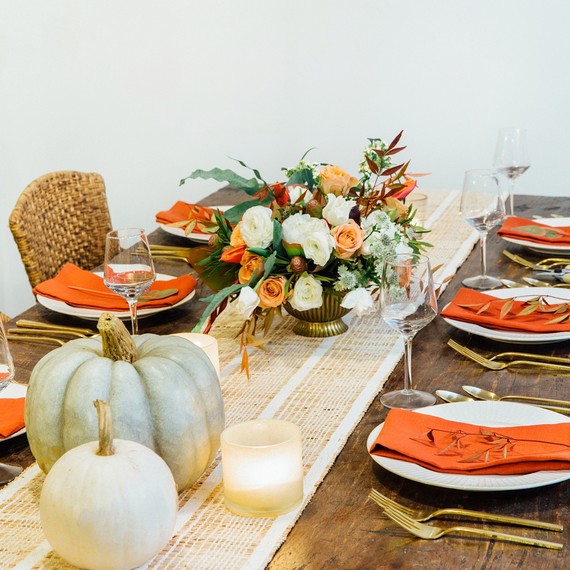 We love the homespun feel of setting a table with handmade ceramics and are always looking for talented artisans to incorporate into our table setting repertoire. The slightly imperfect nature of a wabi-sabi plate or the painterly look of a hand-applied glaze gives character to each supper that we do.
Topping a napkin with a sprig of rosemary or freshly fallen foliage is always a nice touch and is an easy and inexpensive way to add a special design element to your table. Even vintage china plays well into this theme when you select a delicate blue design that is within the parameters of the color palette.
Get inspired by this natural-themed Thanksgiving table.
If you are having trouble finding rust-colored flowers to go with this theme, try flipping a magnolia leaf and placing the green side down in favor of the beautiful brown shade on the reverse. White pumpkins and sage greenery would work well too and are abundant at farmers' markets and grocery stores this time of year. If you do not want the commitment of buying all new napkins for one event, try picking out some taper candles in lovely shades of blue and orange. Greentree Home Candle is a favorite of ours and makes all of their beeswax candles in the New York Catskills.
For hosts who are planning for a guest count that requires two turkeys, Susty Party makes compostable disposable plates in an array of colors -- allowing you to easily accommodate everyone without forgoing design.
This season, try picking two colors you wouldn't think would necessarily go together and have some fun with your Thanksgiving table setting!
Next step: Put together some easy centerpieces, customize your serving spoons, or craft a wishbone napkin charm -- they would all pair so well with this theme.