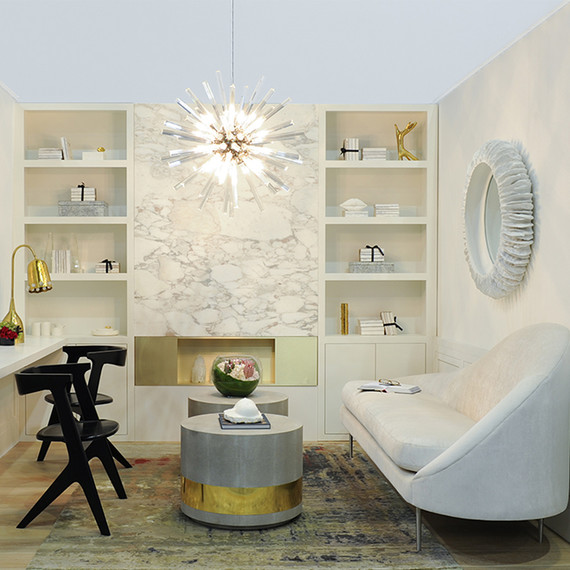 When thinking of a home office, the words "glamorous," or "cozy," generally aren't the first words that come to mind. In my experience, both personally and professionally, an office often gets overlooked (evoking adjectives more along the lines of depressing, lonely, or isolated). While this may not be a space you neccessarily entertain in, isn't where you work and search for inspiration just as important as any dining or living room?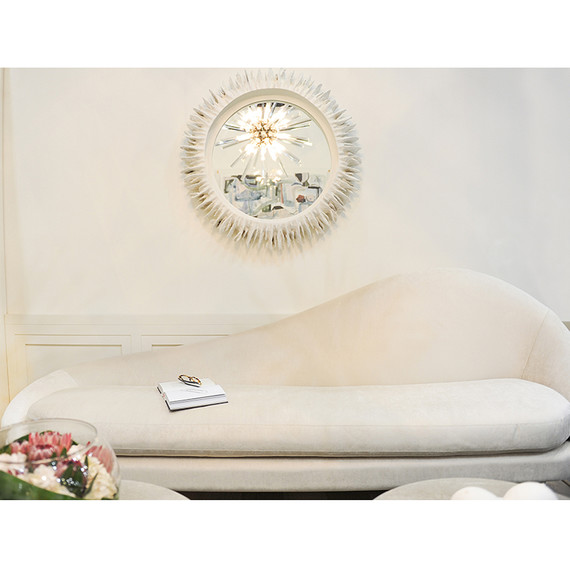 When I was recently asked to participate in a design showcase based on the theme "work space" at IDS West (Western North America's premier residential design fair), I was forced to reconsider what a residential workspace means today. In the case of my own home office, when sitting at my desk working away I usually hear my down-filled sofa in our TV room calling my name. In the age of the laptop, I usually find myself curled up on my couch in front of the fire typing away in comfort. Other times, when hosting an informal meeting, we end up seated around my dining table where my guest and myself can comfortably talk across from each other and enjoy an espresso or glass of wine. With space being at such a premium in most city dwellings now, who can really afford an entire room that goes unused! This was a challenge I was ready to tackle.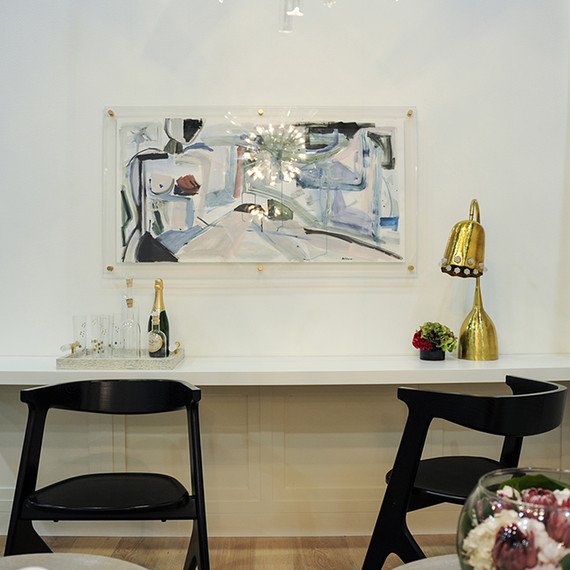 For the showcase, we were given a small 10' x 10' space, so my first plan of action was to create a floor plan that would accomplish all my goals. In 100 square feet, having a sofa, a desk (and chair), a comfortable living-room-like seating arrangement, a fireplace, and storage space was a tall order, so I knew I had my work cut out for me. Some of the rules I followed are great starting points for the design of any small space:
Choose a focal point. Mine was the brass fireplace with a honed Calcutta gold marble slab.
Built-ins. Custom millwork is always one of the most expensive items in any renovation, but is always money well spent as far as I'm concerned. There is no better way to make efficient use of your space (ours gave us closed and open storage, as well as a wrap-around desk space). On a tight budget? A little trade secret we employ if we're low on funds is buying Ikea bookshelves/storage units and then framing them with moldings to create a custom built-in look for less!
Reflection. The reflection a mirror can provide instantly opens up a space, making it appear larger and lighter.
Multipurpose pieces. When you're short on space, make sure you have at least one piece that does double duty (ours was our desk chairs which could allow two to work at once, or could add to our conversational seating arrangement). Other ideas would be a coffee table that has storage, a day bed (that can act as a sofa or guest bed) or side tables that could act as stools.
Color palette. Dark colors can often make a space feel smaller. We decided to keep our walls white (with a herringbone grasscloth wallpaper and wainscoting), however we added a sumptuous richer palette with our area rug, art, and other furnishings.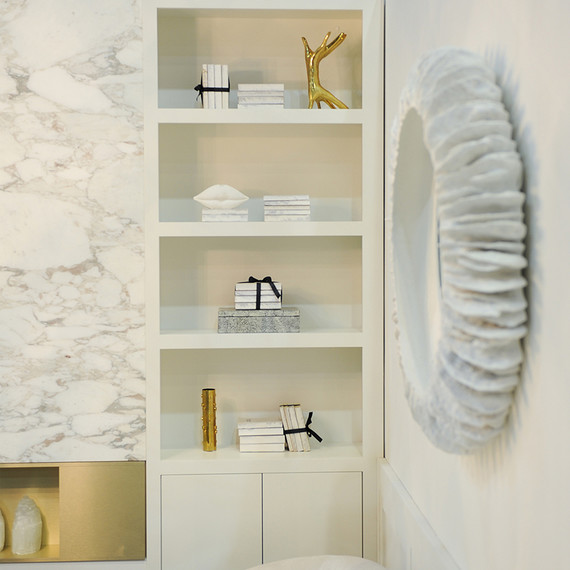 One of my favorite details (besides our custom sofa from Peridot and my NG Collective abstract nude) was our bookshelf styling. Bookshelves can get expensive to fill and because we were trying to keep costs down, we had to come up with something creative. While I'm generally not what you would call a "DIY-er," this is one do-it-yourself project I will definitely be doing again.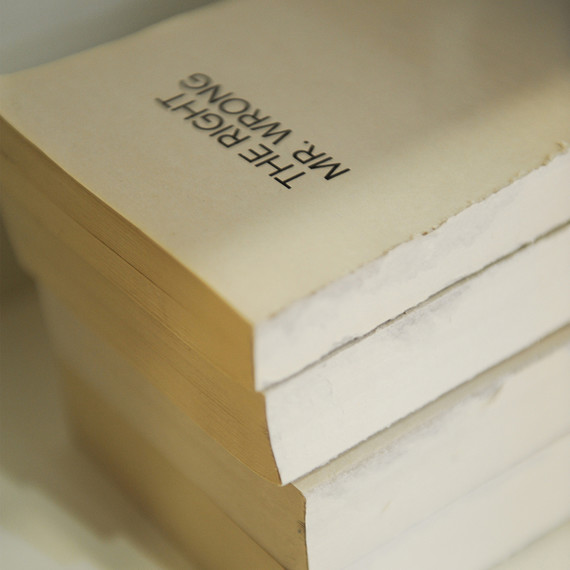 These beautiful and textural ribbon-wrapped piles of books didn't always look this chic. In an effort to fill space, we went to our local thrift store in search of affordable books. As it turned out, the cheapest books available were the used Harlequin romance novels with titles like "Cowboy Carress" and "Taking the Boss to Bed." We ripped off all of the covers and grouped books together (in piles and some bound with ribbon).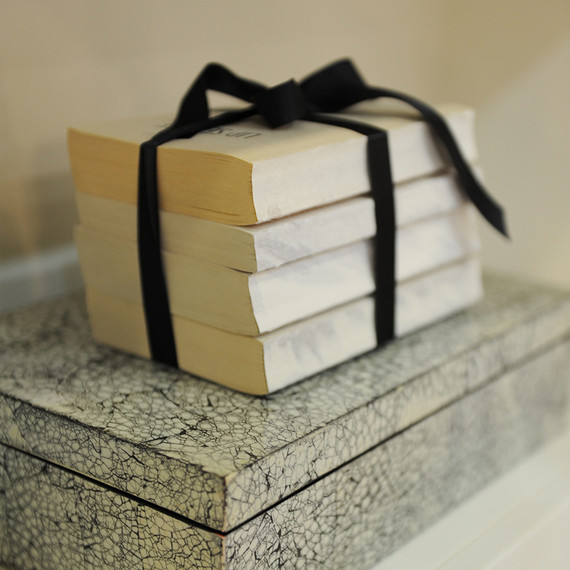 I was so heartbroken that we had to tear down this whole space that had been so beautifuly built by our contractor, Aveen Maharaj of Nuhaus Design & Build (it was only temporary for the show). However, the process has truly inspired me with what is possible for a small workspace. Whether you have a small home office, or a large one -- pay attention to the details and make every item count -- I promise it will make your work day more fun and inspiring!
All photos by Tracey Ayton Photography
Custom sofa, mirror, desk lamp,chandelier, coffee tables, accessories available through Peridot.
Area rug through East India Carpets
Art by the NG Collective
Construction & Build by Nuhaus Design & Build