I was recently tasked with a project that is essentially a decorator's dream. A young family asked me to decorate their entire living room from top to bottom. Even better, their house is gorgeous -- tons of natural sunlight and beautiful molding. And then, I learned their budget. Let's just say there wasn't a lot of wiggle room. Given the fact that I really had to stretch each dollar, the challenge here was to use affordable elements wherever possible in the living room design, but to keep the decor high-end looking in order to complement the beautiful quality of the house.
The solution: I mixed high and low! I made sure to use a few "high-end" elements that really stood out and set the tone, and then I used some "budget" elements in disguise.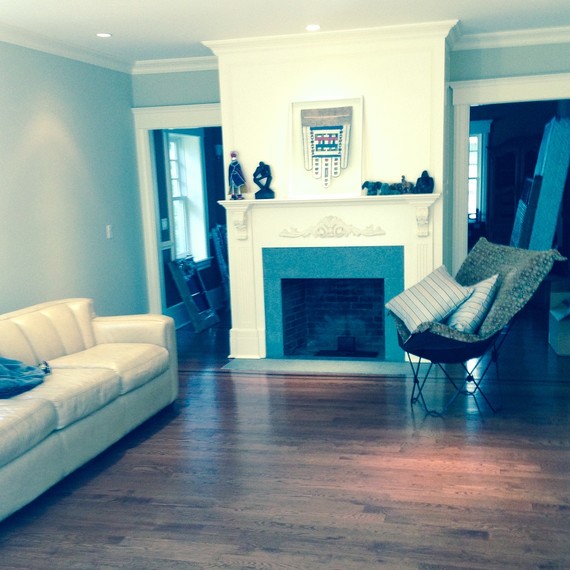 Before:
This is what we started with. We said a quick "good-bye" to that white leather sofa and the folding chair (which the husband had in his college dorm room) and "hello" to a lot of style. Check out the transformation below!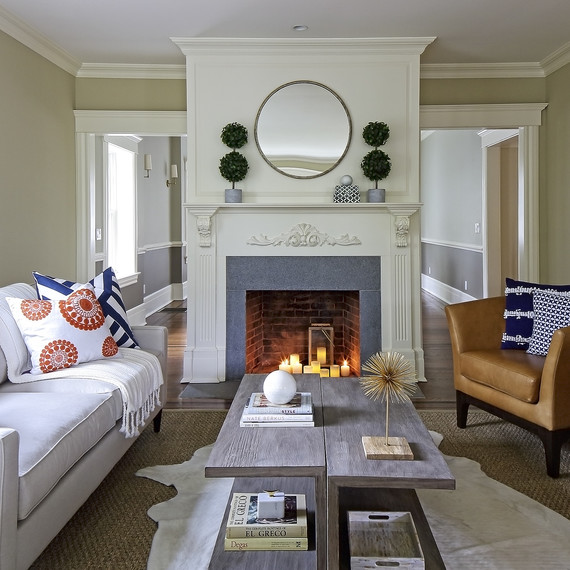 After: Going High-End
So which items were "higher-end"? I decided to opt for elements that were more visible and made a big impact.
Designer Pillows
In this case, designer pillows were key -- yes, the price tag was high, but I knew we shouldn't skimp. Why? Throw pillows are one of the first things you see when you walk in a room, and they really set the tone.
Coffee Table
I also decided that a unique, high-quality coffee table was going to be front and center and needed to have heft. The one we chose was pricey, but it elevated the whole room.
Art and a Conversation Piece
Finally, we opted for oversized photography by Gray Malin (which really grabs the eye as you walk in) and a handmade live-edge wood console that I found on Etsy (a great conversation starter).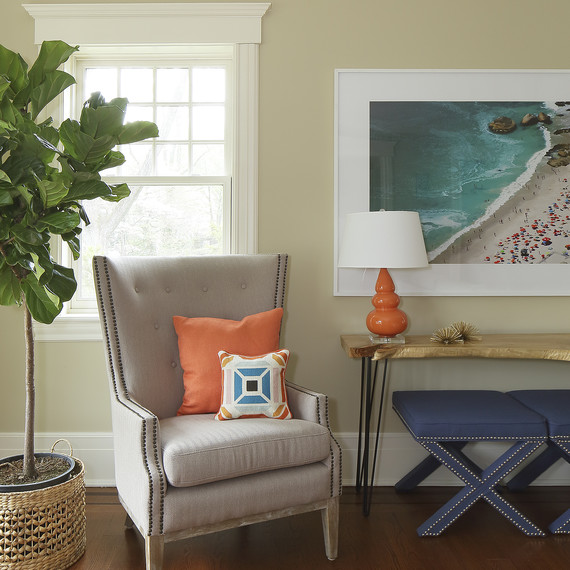 The Budget Stuff
And what in the room was more affordable?
The Sofa
When I am decorating on a budget, one of my go-to decorator secrets is to opt for a less expensive sofa. Truthfully, visitors won't notice the difference between a $900 sofa or a $4,000 sofa. I piled those designer pillows high on top of a discount sofa, and I'm telling you even the most discerning eye is fooled.
The Rugs
I love to use sea grass rugs in even the most decadent homes. The sea grass rug is the great decorating equalizer -- you see them in both lavish country estates and in more modest homes. And they can be very inexpensive (I find my best sea grass rugs on Wayfair.com and HomeDecorators.com). I also layered a discount cowhide rug over the sea grass to add some texture.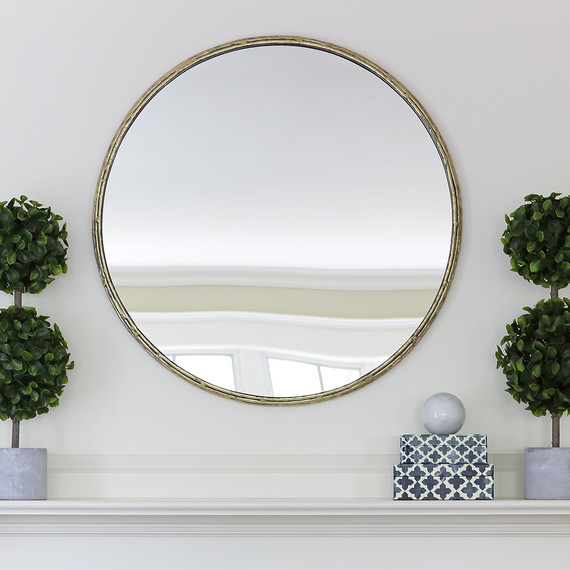 The Mirror
This inexpensive mirror over the mantel (from CB2) saved us a fortune.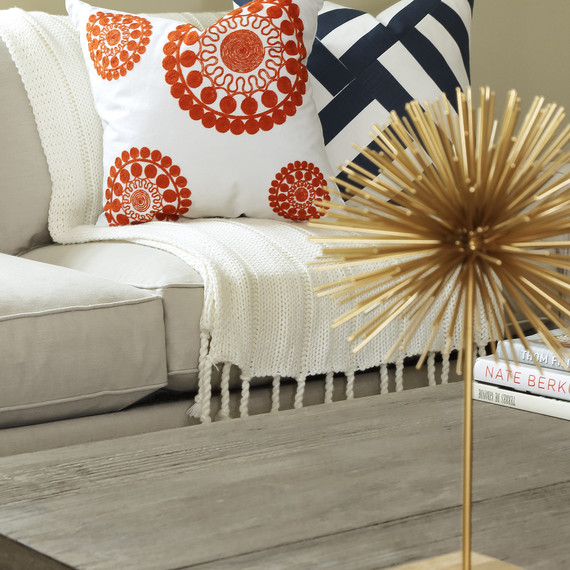 The Accessories
I scoured places like Home Goods and Target for more affordable decorative accessories. And I found this fabulous sea urchin from Target. I was annoyed that it was black but then realized if I just spray-painted it gold, it would be exactly what I wanted.
So now you know -- when you want to keep the look high-end but you're decorating on a budget, just remember to put more of your money toward items that are more visible and will pop (designer pillows and art, for instance), and save your dollars on things that can easily be mistaken for something expensive (like a discount sofa or a sea grass rug!).
All photos by Susan Fisher Photography