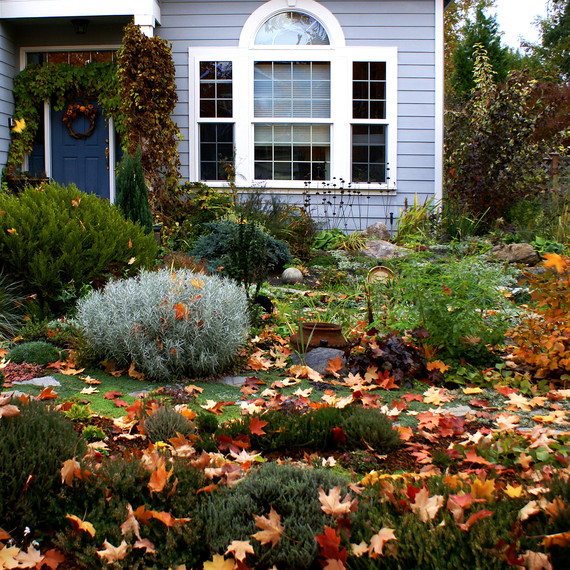 Fall Peak
My friend Miriam Goldberger, a wildflower gardener in Canada, points out the flowers that keep on giving include goldenrod, Queen Anne's lace, black-eyed Susans, the milkweed so important to butterflies, the blue asters, all wildflowers that are alive with native pollinators. Towering sunflowers provide sustenance for the birds and bees, and color, texture, and movement are gifts from nature, all at their peak in Fall.
Red Okra and Beyond
In my garden, I especially love red okra, having seen this stunning plant in a St. Louis community garden, towering over the other plants. The flower is delicate, from the mallow family, and the okra is delicious if you manage to harvest it when the fruit is small. Though I often neglect to pick it when the pods are most tender, come fall, I get as much pleasure from seeing the okra plants in the late season light. Visual pleasure and sustainability are why Miriam encourages me to leave the plants in my garden this fall and winter, a practice that supports my ecosystem.
Planting Wild Plants
November, and even later, is the time when many wild plants release their seeds, Miriam explains to me, creating the next generation. Plant wildflower seeds in your own fall garden or yard -- the forthcoming cold period is necessary for germination come spring. Now that the work of gardening is over, I am going to expand my wildflower repertoire by clearing a small plot of weeds, loosen the soil and scatter the seeds chosen because they will thrive (fingers crossed) in my environment. Scatter the seeds, don't bury them, and gently rake them into the soil, leaving the rest to the gardening Gods.
Flowers and Leafy Greens
Further south in Pennsylvania, gardener Pam Ruch grows a variety of plants that are season extenders, mixing wildflowers and natives with plants that are still showing off in her backyard patch. She includes perennial shrubs, in this case limelight hydrangea, a focal point that keeps her spirits up with its brightness. Though I don't love the tightly wound cultivated mums, Pam has introduced me to more casual ones, especially Sheffield pink, loose by design and a favorite of pollinators. Another lovely mum, Clara Curtis, is easily divided and when cut back in early spring, will soon show off lovely pink flowers. Pam has also inspired me to grow leafy greens among my flowers, the kale and parsley add a bright and pretty green in fading borders. And for three season color, nothing beats begonias, in pots or set into the soil, varieties such as dragon wings, bonfire or Santa Cruz are big and bold.