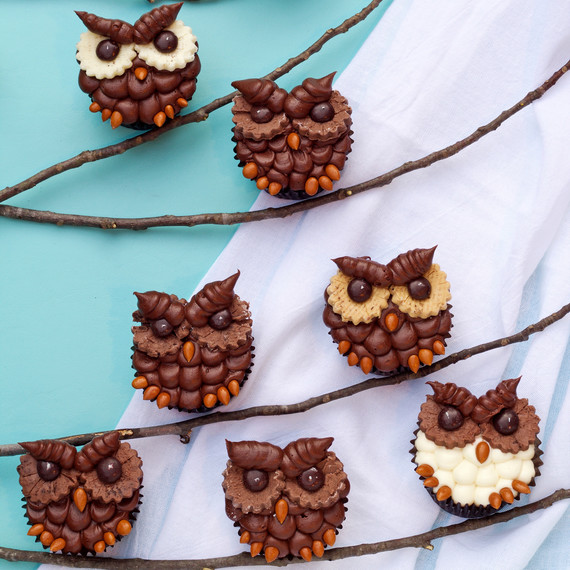 Don't let these scrumptious little owls fool you -- they may look hard to make, but I promise anyone can make these! It doesn't get much easier than this!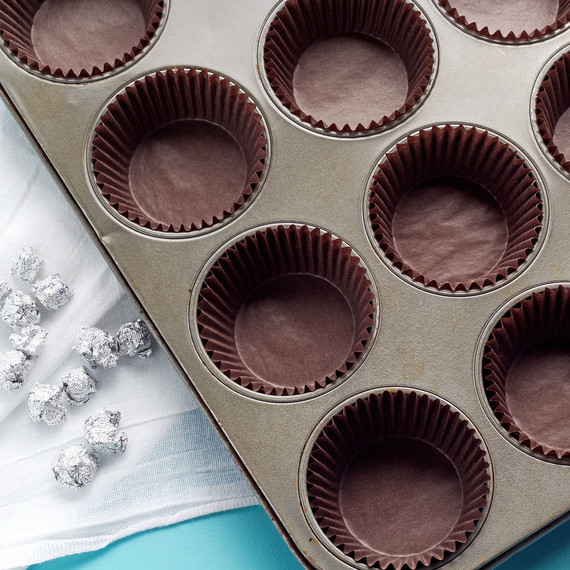 Materials:
Your favorite cupcakes
Muffin tin
Foil
Cupcake liners
Confectioners' sugar
Chocolate Creme Oreos (or you can use Peanut Butter Creme, Mint Creme or Double Stuf Oreos)
M&Ms
Chocolate-Covered Sunflower Seeds (I found mine at a local department store)
Sharp knife
Small, round cookie cutter with textured edges
Food tongs (optional)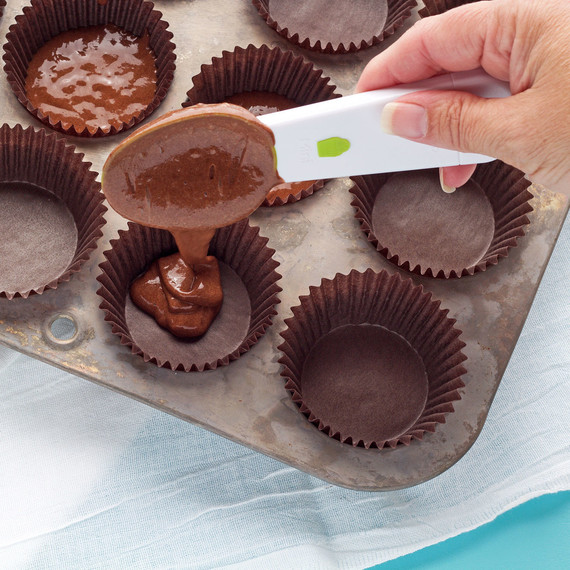 Directions
Note: The owl cupcakes look great when the cupcakes are shaped like hearts, but you can skip these steps if you like. You can use marbles or tin foil to help shape the cupcakes during baking.
1. Begin by making several tinfoil balls about the size of a marble. Line the cupcake tin with cupcake liners.
2. Make your favorite cupcake batter.
3. Fill cupcakes halfway with the cake batter. Be careful not to overfill or they won't be heart-shaped when they are baked!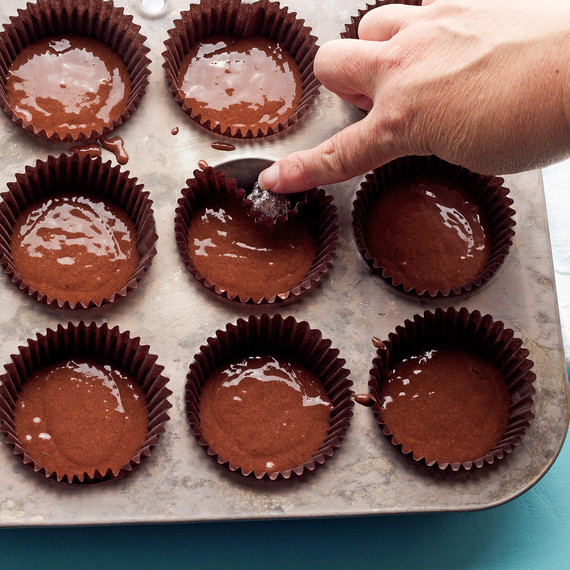 4. Once the cupcake liners are halfway full with the cake batter, place the ball of tinfoil in between the cupcake liner and the muffin tin and press them down all the way to the bottom. Bake them according to the recipe you've chosen.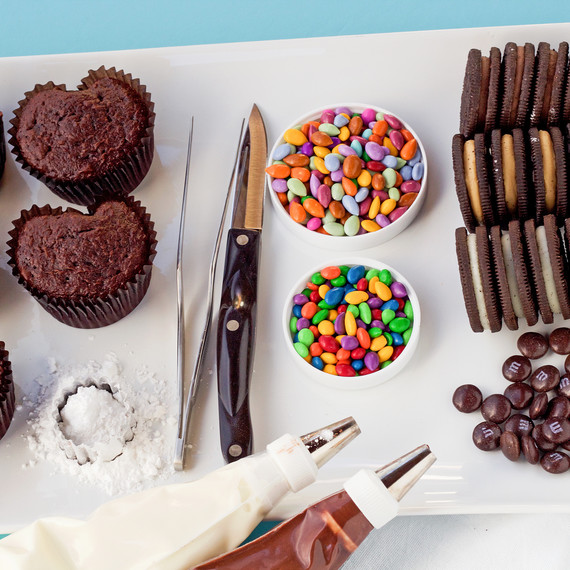 5. Now let the fun begin! Gather all the supplies to make the cupcakes. Each owl cupcake needs seven sunflower seeds, two M&Ms, and two Oreo Centers.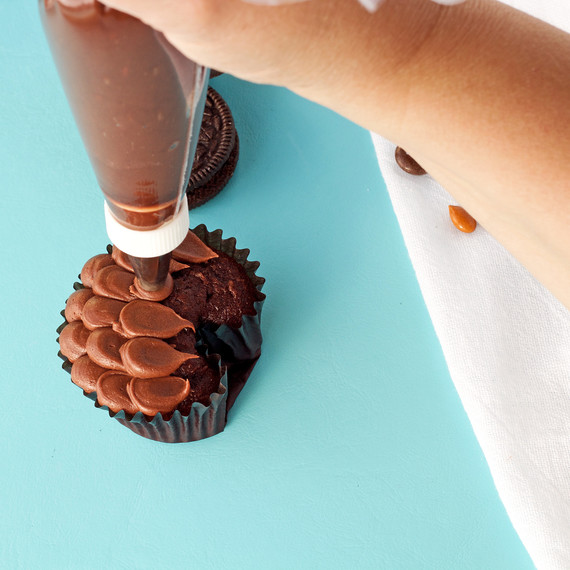 6. First, put your frosting into your piping bag and push out a little frosting.
7. To make your first feather, pipe a dot and release pressure as you pull the tip through the icing to make it look like a teardrop. Continue until the cupcake is covered in feathers.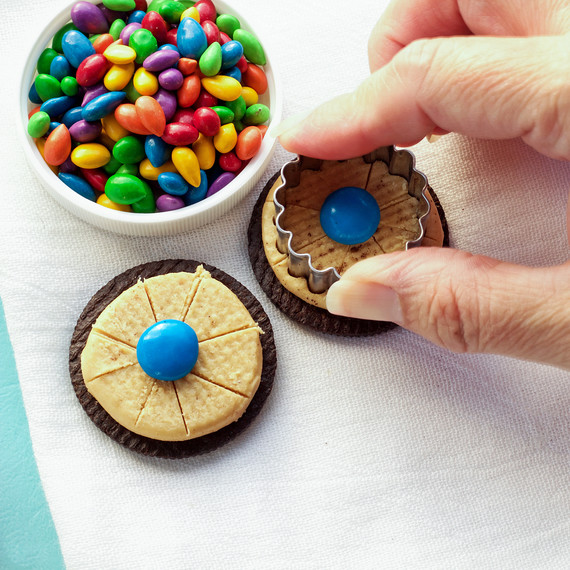 8. Now we are going to make the eyes. For this, we are going to use only the cream from the center of an Oreo. Gently slide your knife under the Oreo center to remove it from the cookie, then make some marks radiating out from the center to create texture. If the cream sticks to the knife, dip it into some confectioners sugar to help prevent sticking.
9. Add an upside-down M&M in the center of your cut Oreo center to complete the eye. Place two eyes onto each cupcake at the top of the curves of the heart shape.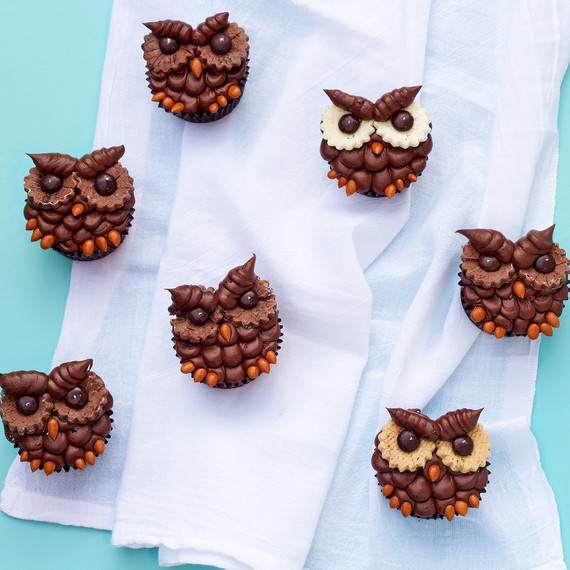 10. Add the sunflower nose and toes. Pipe the eyebrows and enjoy your owl cupcakes.
If you want to see this owl come to life right before your eyes, watch the video below!