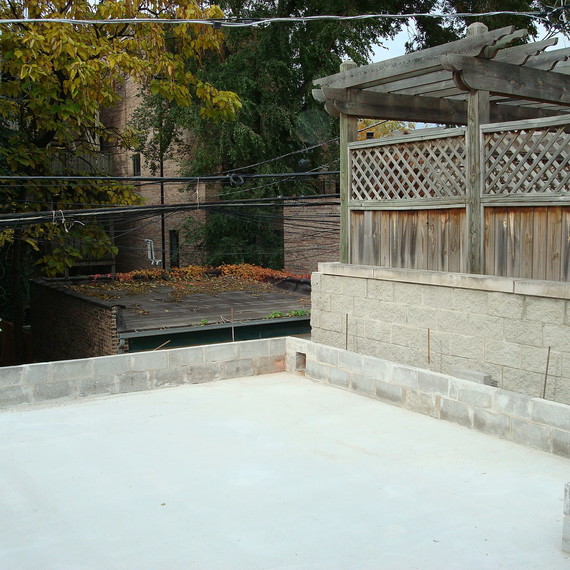 Before
Much like many city dwellers, this homeowner was not making use of her unattractive rooftop space. The blank canvas allowed us to design a space from scratch that was both functional and beautiful. To begin, the homeowner created a rooftop lounge wish list, which included the following:
Creating an actual greenspace where many different plants could grow
Privacy from the surrounding buildings
Comfortable seating for six adults
A unique and beautiful rooftop that truly was a garden space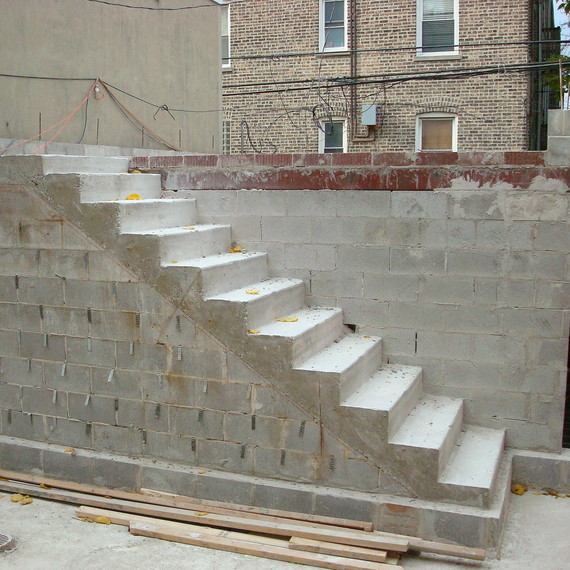 Here are the steps leading up to the rooftop garden area.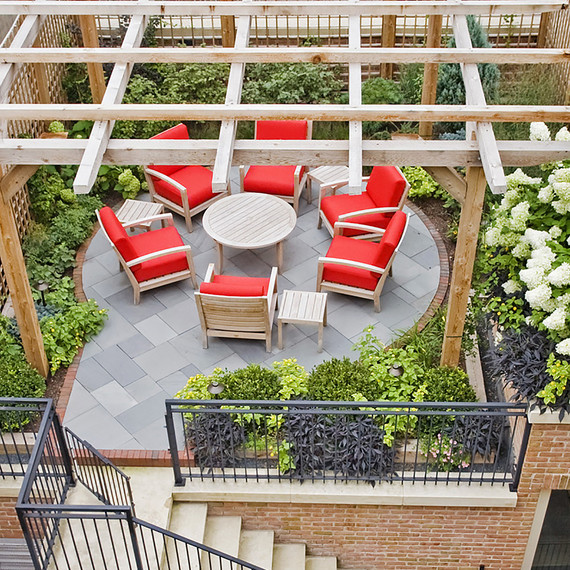 After
Now that is what you call a transformation! Check out what all went into creating this glorious green roof garden below.
Blooming Green Roof
Container gardening is usually an easy way to add a little bit of life to a nonfertile space like a rooftop. However, the homeowner really wanted the rooftop to be lush with greenery and act as a true garden, so container gardening just wouldn't do. The first step to creating this flourishing rooftop lounge was to install a green roof membrane that holds up to 12 inches of soil. The green roof membrane created a foundation for various types of plants to be planted. The diverse plants were selected to create varied texture, color, and height for privacy.
Patterned Patio
Using rigid foam once again, we built up the patio to be level with the top of the planting media. The bluestone was laid in a circular design in order to fit a large seating area while still conserving space for plantings. In order to add intricacy to the patio, we used varying sizes of bluestone to create this beautiful pattern. Last, we chose to outline the patio in clay paver edging, which tied in nicely with the brick of the house.
Cozy Seating
Picking up on the wood of the pergola, we chose outdoor furniture with a natural finish and added red cushions for a pop of color. Since plant and seating space was the number one priority, we opted out of a large patio table for a smaller one paired with three end tables. This design choice allows six people to sit comfortably while still having the ability to conveniently serve food and drinks to guests.
How to Care for Outdoor Furniture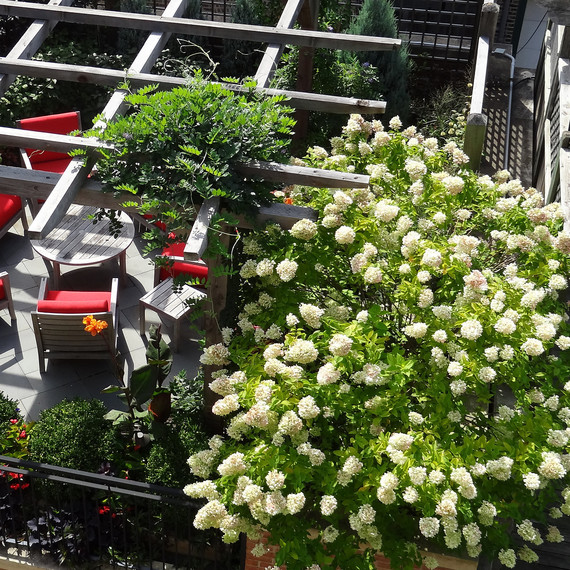 Taking center stage are the stunning limelight hydrangeas, the white flowers bloom in midsummer and age to pink/green. Wisteria vine grows gorgeously on the pergola and blossoms sweet lilac-purple flowers in April. Along the railing, we planted boxwood to provide a hearty green color all year long.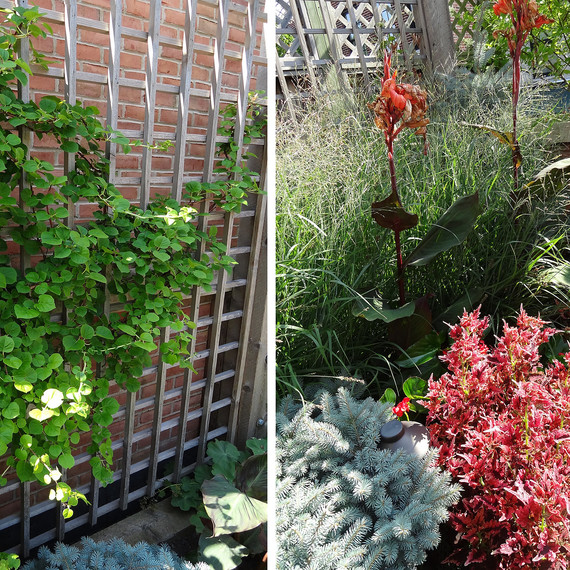 Taking after its name, climbing hydrangea climbs the lattice to create even more vertical beauty. While climbing hydrangea's roots take a couple of years to establish, you can expect bright white flowers from May through June. Now it wouldn't be a garden without a little grass. Heavy metal switch grass adds texture and an organic element, while globe blue spruce brings a unique blue color and variety to the green space.
Continuing with the theme of going vertical, the rustic pergola not only adds height but gives the space character and elegance. In order to provide shade, we designed a pergola structure that would allow plants to climb. First we designed metal boots that would distribute the load and support the pergola posts. In order to protect the green roof membrane, the boots sit on a layer of rigid foam and then posts are bolted to the boots. The key here is that there are no attachments made on the roof or the parapet walls, making the pergola free standing. To complete the pergola, we allowed the rough sawn cedar to gray naturally in order to create a bit of a rustic look.
All Photos by Topiarius Inc.