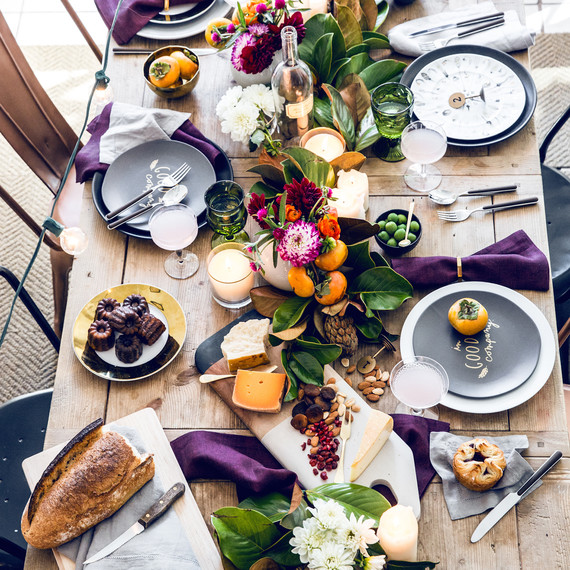 It's a bit sad to admit, but these days, stress seems to go with the holiday season just as much as joy and cheer. But when it comes to decorating your holiday tabletop, there's an easy way to keep the pressure to a minimum. The secret? Throw out all the rules! Forget how to set a formal place setting? Don't worry. Unsure about how to put together a fall centerpiece? Skip it. There's no need to complicate things by rushing out to buy a 12-piece dinner set. You don't even have to polish your fancy silver. Instead, simply grab what you have at hand, and with just a few festive touches, you can create a carefree yet beautiful mix-and-match dinner table that invites guests to loosen their collars, roll up their sleeves and dig in!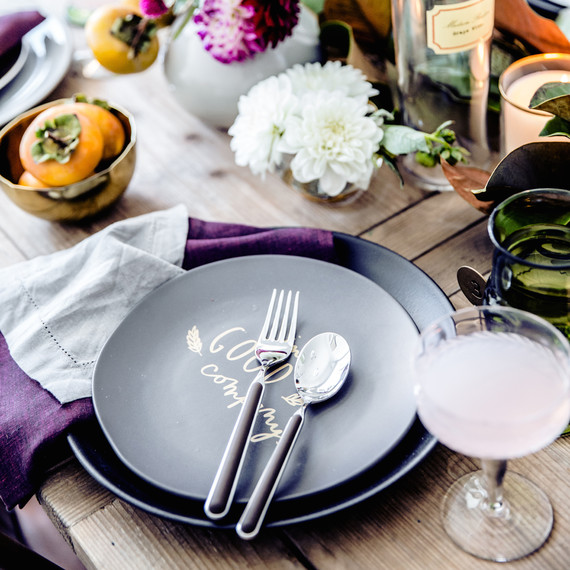 Now when I say mix and match, I mean mix it up! For this Thanksgiving-inspired table, not only did I use two different dinner plates (white and gray), I also used three different salad plates, two different sets of cloth napkins (gray and deep purple), two types of glassware (green goblets and vintage crystal coupes) and two different chair finishes (copper and black).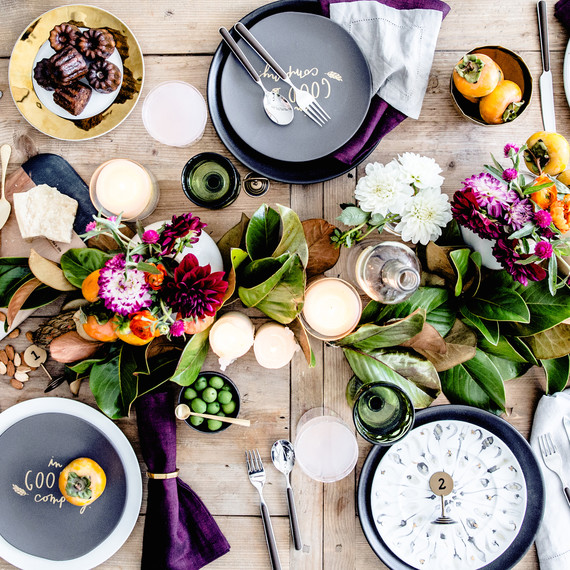 And since we've established that traditional table-setting rules should be thrown out the window, forget a fancy fall centerpiece. It just ends up blocking everyone's view anyway. Instead, try a fresh garland. I called on florist Natasha Kolenko to put together a garland made out of magnolia leaves, but really you can tie together whatever greenery your heart desires. Having a fresh garland feels festive (sure beats faux!) and it can last throughout the holiday season. Keep it on the table to make every dinner feel lively, then hang it on the mantel or on your buffet between parties.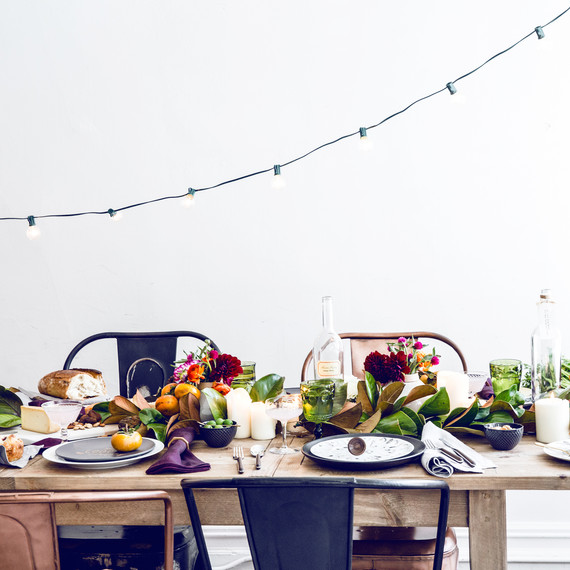 One of my go-to tips for adding color to your tablescape is to incorporate seasonal fruits or vegetables. This time of year, I love persimmons on a branch! Mini pumpkins, gourds, apples, and pears are also great options -- they're seasonal, gorgeous, and add that little bit of life and imagination to your tabletop. Not to mention they're an affordable way to decorate and so easy to get a hold of. So sprinkle them down your runner, place them in a bowl or put them on individual plates.
When it comes down to it, the holidays are a time to enjoy the people you love, spend time together and of course, eat good food. Don't overcomplicate things when it comes to decorating the table for friends and family. By creating a comfortable and carefree vibe, you'll be able to focus on making memories rather than minding manners. Have fun with it, be resourceful and imaginative, and most of all, enjoy it!
All photos by Aubrie Pick