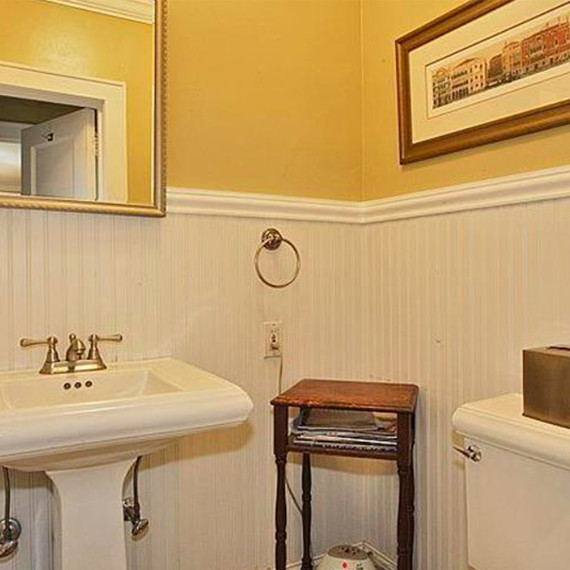 It really is true that you don't have to break the bank in order to have a nice bathroom remodel. This is living proof!
Clients of mine wanted to make their small powder room more fresh and inviting. But, like so many of us, they weren't up for a huge renovation so I had to be clever.
Just take a look at that before photo -- the bathroom wasn't terrible by any stretch of the imagination, but it definitely could have used some updating.
After:
Here are some of the affordable and easy things we did to take this bathroom up a notch: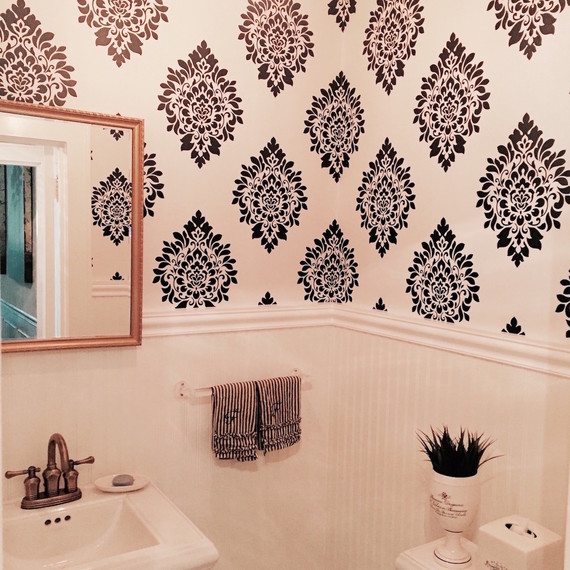 Wallpaper
Wallpaper is so on-trend right now and there are endless patterns to choose from. But it's a big commitment, right? Both from a design perspective (a pattern on your entire wall!) and from your wallet's perspective. A powder room is the perfect place to experiment with wallpaper. It's the one room in the house where you are entitled to really take risks and have a little fun. And because powder rooms tend to be small, the amount of money you're spending on wallpaper is minimal.
I have to say, this particular wallpaper pattern is just perfection. The big print makes such an impact (it's okay to go big). And the black-and-white has a super polished look. The loopy, organic damask print keeps the whole thing pretty traditional and "civilized" -- I don't know that it would have worked with some crazy graphic, zigzag print. You can find this wallpaper here.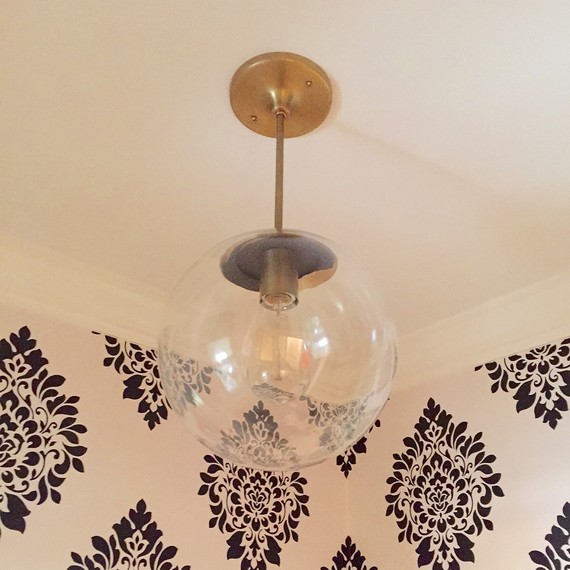 New Lighting
I've said it before and I'll say it again, lighting is the single best way to transform your bathroom (or kitchen). My client tends to lean more traditional in her decorating choices (which works well for her house), but I was able to convince her to go a bit more modern with the lighting.
That is the Luna Natural Brass Pendant from School House Electric. It just adds a clean, elegant touch to the whole room.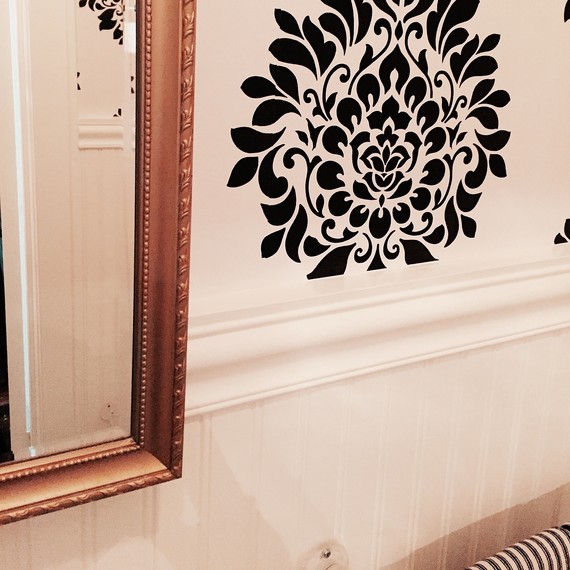 Work with What You Have
In this case, we had to work with the dated silver mirror and medicine cabinet. The original plan was to rip it out and put in something new and fabulous, but to do so would have cost a lot of time and money. So, we decided to update the mirror frame ourselves. Because we wanted an "antiqued brass" look, the obvious move would be to spray-paint the frame. But that was out of the question with a porcelain sink below and new wallpaper behind! So, we opted for Rub n' Buff.
You might be thinking, "Rub 'n WHAT?". It's basically gold magic in a tube, a waxy metallic paste that you can rub onto any surface that you can't spray-paint. All I did here was squeeze a bit of Rub 'n Buff onto my finger, and I carefully rubbed it onto the frame. Amazing, right? It dries quickly and adheres well.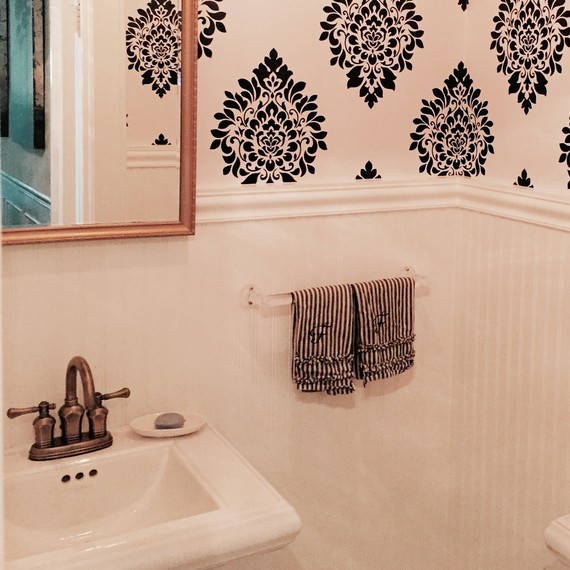 Add a New Faucet
We often think a new faucet equals "renovation project," but that's simply not the case. If your bathroom faucet is dated or cheap-looking, I encourage you to find other options. This alone can transform your whole bathroom!
In this case, my client found an inexpensive "weathered brass" faucet online (she had a shiny chrome one and we both agreed a brass or gold look would be better). She was amazed by how easy and quick the installation was.
There you have it -- four simple and affordable changes. Isn't it nice to know that with just a few easy decorating ideas (and a bit of elbow grease), you too can have a transformed bathroom? Happy decorating!