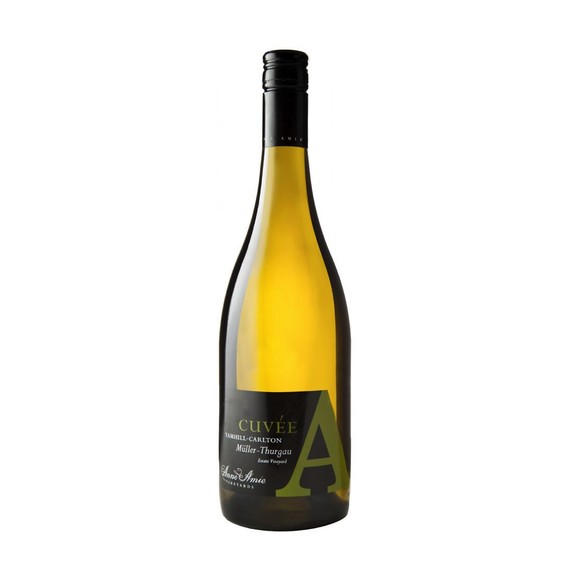 Wine Style: Aromatic, "Off-Dry" White
Anne Amie 'Cuvee A' Muller-Thurgau 2014, $15
In the wine world, "off-dry" means slightly sweet. If you enjoy a wine with a touch of sweetness, like a dry Riesling, the Muller-Thurgau grape is a great way to branch out and explore something new, yet familiar. Although the grape variety itself was born in Germany, it turns out the cool climate of the Willamette Valley in Oregon is a perfect breeding ground for this unique crop -- and the Anne Amie Winery has been growing these Certified Sustainable vines since 1979. The aromas of this wine are totally luscious: Honeysuckle, key lime, and starfruit sing out of the glass, and the citrus notes are echoed in the palate with flavors of ruby grapefruit, white peach, and yellow plum. Its juiciness and low alcohol content make it a perfect daytime choice.
Pair With: Blueberry Cornmeal Pancakes; Smoked Salmon Croque Madames
Wine Style: Light, Dry White
Our Pick: Villa Locatelli Friulano 2014, $15
Italy is very well-known for its iconic red wines like Chianti and Barolo -- but one of the best- kept secrets out there is that they also make some amazing white wines, and most are extremely affordable! My favorite white from the Friuli-Venezia Giulia region is called Friulano, and it's more distinctive and interesting than Pinot Grigio. Plus, this pretty bottle from Villa Locatelli will be an attractive addition to any tablescape. It's got lovely and delicate floral aromas -- like wildflower and geranium -- but the feel is smooth and well-balanced, with enough acidity to keep things fresh and lively on your tongue. There is a bit of nuttiness on the very finish, reminiscent of bitter almonds.
Pair With: Fried Eggs with Prosciutto and Asparagus; Caramelized Garlic Tart
Wine Style: Sparkling
Our Pick: Raventos i Blanc -- L'hereu De Raventos I Blanc Cava 2012, $15
Sparkling wine is the classic choice for brunch, but the luxe price point of Champagne can present a problem for a casual get-together. Enter Cava: Essentially the Champagne of Spain! Made in the same highly specialized method as Champagne, but from different grapes (the exotic-sounding Macabeo, Xarello, and Parellada varieties), Cava is the best way to get the flavor, dimension ,and quality of Champagne at a fraction of the price. This particular bottle from Biodynamic producer Manuel Raventos is affordable enough to use as a base for mimosas or Bellini cocktails -- but outstanding on its own, with lively and bright aromas of citrus, apples, and toasty brioche.
Pair With: Seeded-Bread Tartines with Herbed Goat Cheese and Smoked Salmon; Apple-Maple French Toast
Wine Style: Full-Bodied White
Nuevo Mundo Viognier 2011, $14
Viognier is a white wine grape that's known for its rich and creamy texture and full-bodied honeyed flavors and floral aromas. It is a wonderful Chardonnay alternative if you're looking for a white wine that this kind of luscious texture and fairly substantial weight on the palate. A perfect choice for pairing with richer foods -- Hollandaise, you have met your match!
This particular bottle comes from an unexpected place: The Maipo Valley in Chile. Definitely still an "underdog" of wine regions, Chile is turning out some delicious wines at amazing value. The Nuevo Mundo Winery is not only Certified Organic, but also Certified Carbon-Neutral -- so eco-fanatics, this is a wine you can feel great about serving and you can also impress your guests. Expect lots of aromas of fresh flowers, white peach, and apricot with a compelling honeyed edge, but a bone- dry finish.
Pair With: Corn and Tomato Quiche, Eggs Benedict
Wine Style: Rose
Tinhof Blaufrankisch Rose – 2014, $19
Rose wines are definitely a favorite when it comes to daytime sipping. They're delicate with a touch of fruit and they are fantastically refreshing food wines. This particular rose is from Austria and made from the Blaufrankisch grape (don't worry if you can't pronounce it, all you have to do is drink it!). Winemaker Erwin Tinhof learned his craft at one of the most legendary wineries of Southern France, Mas de Daumas Gassac -- and brought the art and science he picked up there back to his homeland of Austria. All of his vineyards are dry farmed and organic.
This wine leads primarily with red berry and light citrus flavors, but a touch of white pepper aroma is the surprise element that really sets this wine apart. A dry and exceptionally elegant expression of rose.

Pair With: Breakfast Blintzes with Caramelized Rhubarb and Sour Cream
Wine Style: Light and Earthy Red
Friedrich Becker Estate Pinot Noir Pfalz 2011, $17
If you choose a red wine for brunch, you will want to stick to the lighter end of the spectrum -- save your bold and intense Cabernet Sauvignon or Syrah for your next steak dinner. Pinot Noir is a delicate and thin-skinned grape that produces lovely ruby-colored red wines with beautiful red berry aromas. The Becker Estate Pinot Noir is from Pfalz in Germany -- you might also see it called 'Spatburgunder' (SHPAYT-burg-under), which is the German name for the grape. It has a hint of earthiness, which makes it a great pairing for mushrooms, herbs, and other autumnal flavors. Quality-wise, I've rarely encountered a better deal on a Pinot Noir -- definitely something to stock your cellar with!
Pair With: Herb Crepes with Wild Mushrooms, Spinach Salad with Poached Eggs