Vegan baking can be a challenge, to say the least, as it can sometimes prove difficult to replicate a classic without any milk, butter, or eggs. This vegan Christmas cookie recipe calls for coconut butter and flax seed meal, a popular egg substitute in vegan baking. Flax seed is high in omega-3 fats and fiber, which is better absorbed by the body when the seeds are ground into a powder. Use a small blender or spice grinder, or go old school with a mortar and pestle. Flax seed meal is also available pre-ground, and should be kept in your refrigerator to stay fresh.
There's something utterly addictive about these vegan Christmas cookies with pumpkin spices. The coconut butter lends a satisfying buttery flavor that makes you want another (or five), and it doesn't leave any coconut flavor in the final product. The result is pleasingly light, fluffy, and downright irresistible -- proving that you can indeed put a vegan twist on an old favorite -- and not sacrifice any flavor or texture in the process.
If the thought of prepackaged pumpkin spice has you less than enthused, you can always make your own with just a few ingredients you likely have in your pantry. Simply mix together ground clove, cinnamon, ginger, allspice, and nutmeg or mace -- et voila! You've got yourself some pumpkin pie spice mix.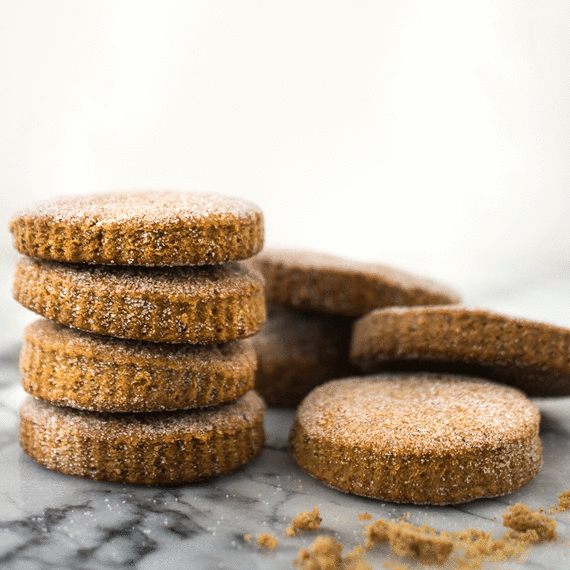 Vegan Pumpkin Spice Christmas Cookies
Makes 48 Cookies
Ingredients:
¾ cup coconut butter
¾ cup + 2 tbsp granulated sugar
4 tablespoons molasses
4 tablespoons flax seed meal
2 tablespoons water
2 cups all-purpose flour
¾ teaspoon salt
2 teaspoon baking soda
2-3 tablespoon pumpkin pie spice
2 tablespoon water
Bowl of granulated sugar for finishing
Directions:
Preheat your oven to 375 degrees.
Make coconut butter. In a food processor or high-power blender, add one cup of coconut flakes and blend on high speed until a paste/butter starts to form. This process should only take a couple of minutes; the heat from the blender will help the coconut flakes melt into a butter-like consistancy.
In a small bowl, mix together the flax meal and two tablespoons of water, and let it sit for 10 minutes to thicken.
Combine all dry ingredients in a small bowl. Cream the coconut butter with the sugar until combined. Add thickened flax meal and mix until incorporated.
Add your dry ingredients to the butter mixture and mix well. If the dough looks a little dry, just add a couple more tablespoons of water to help the dough come together.
Prep a tabletop with a dusting of flour to roll out your dough to a minimum of five millimeters thick. Use your favorite cookie cutter to cut out the specific shapes. We used the circular ribbed cutter for the traditional Christmas cookie look. Once all your cookies have been cut out, you can lightly press the cookies in the sugar bowl to give the decorative look as seen in the picture.
Bake cookies at for 14-16 minutes, or until golden brown around the edges.
Cool on a wire rack, and store in an airtight container for up to one week.