As a child, I was the epitome of a maritime munchkin. Living in a tropical archipelago, my family used to go sailing every weekend, exploring pristine atolls in the Pacific. We would sail all day and through the night, many times not seeing an inch of land until reaching the flawless shores of an untouched Philippine island. On those trips, I was so used to living in (very) small spaces because we were all cramped into one tiny boat! But really, being in tight quarters was part of the fun!
I remember baking loaves of bread in the small galley kitchen, taking showers in a bathroom where the showerhead was above the toilet AND the sink and storing my weekend beach clothes in an under-the-bed cabinet only accessible if I pulled up the mattress from the bunk. Needless to say, I got really used to living in confined spaces.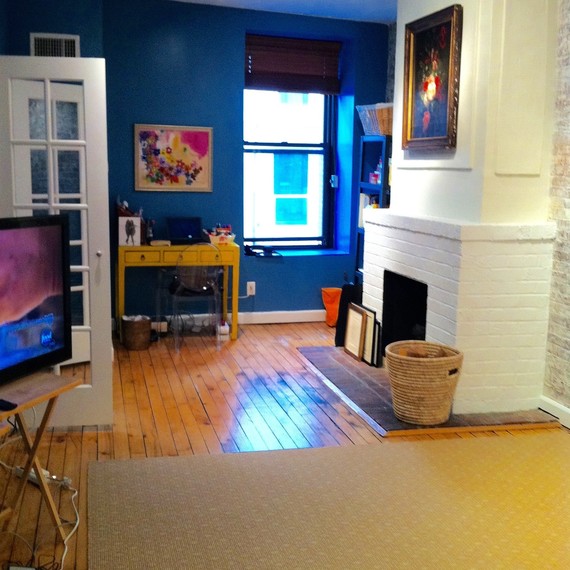 So, when I moved into an apartment in New York City -- also home to galley kitchens, under-the-bed storage and eensy-weensy bathrooms -- I was convinced I would be able to comfortably store my abundant shoe collection, my stockpile of cooking and baking supplies, and my overflowing library of novels.
Upon unpacking one suitcase and a box of books, I knew immediately I was mistaken! However, almost five years have passed, and since that distressful day, I have learned how to maximize every square inch of space.
I was fortunate to move into an apartment that (initially) needed only cosmetic work. I personally painted the walls, hung wallpaper and screwed in towel racks, and although I stuffed far too many hangers into a small closet, and piled my stock pots and woks ceiling-high in the kitchen, I wanted to wait to do any construction work until I thoroughly understood how I was living and what best solutions I could build to suit my lifestyle.
Now that construction is over and I'm comfortably living in my cabin-size apartment, I'm delighted to share some of the ways I was able to make the best use of my space.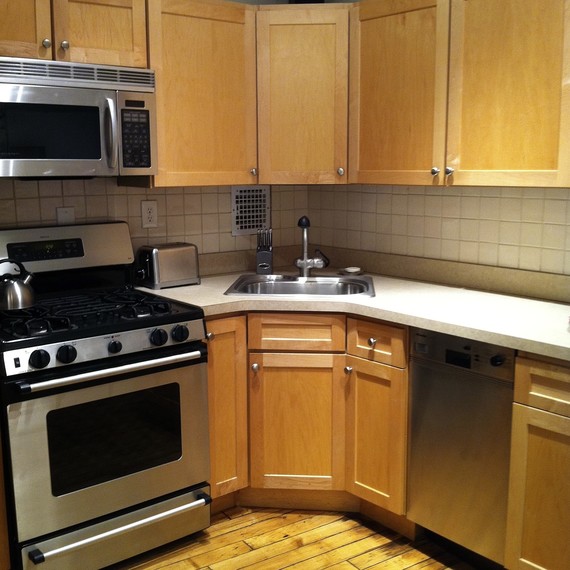 Before
My kitchen was not the quintessential windowless NYC galley kitchen, but it was in desperate need of a face-lift. The pine-colored cabinets needed to go, the peeling linoleum countertop needed replacement, and the stack of pots stored in the oven needed a permanent home.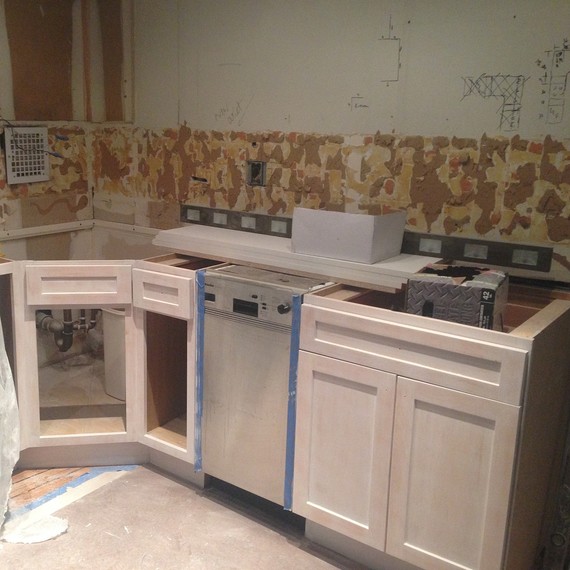 To start, I added more functional cabinetry, changed out the linoleum to a granite countertop, increased under-cabinet lighting, and painted. I tore down the original cabinet doors, but rather than replace them (which would cost a fortune), I simply painted the doors a bright glossy white (which is the easiest to clean), and they look as good as new! I also replaced the backsplash with modern white subway tiles and opted for a dark granite countertop.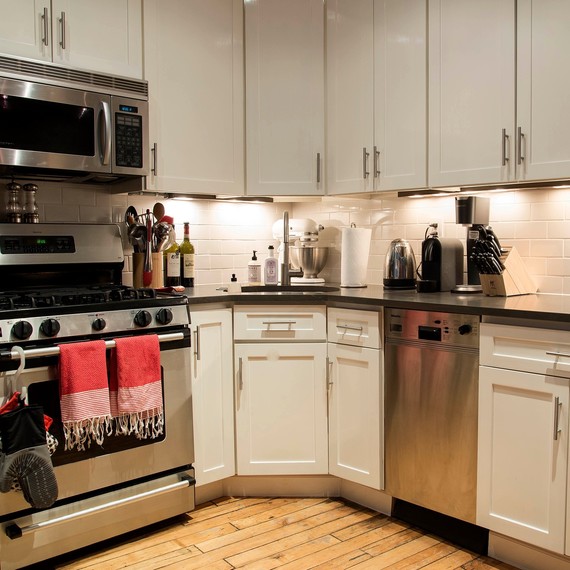 After
The combination of the glossy white cabinetry, modern brushed-steel hardware and granite countertop gives the kitchen an updated contemporary feeling that I absolutely love. I added a second row of cabinets that reach all the way to the ceiling, in which I store items that don't get a lot of use. Now I can bake a delicious apple crumble without having to unpack my oven!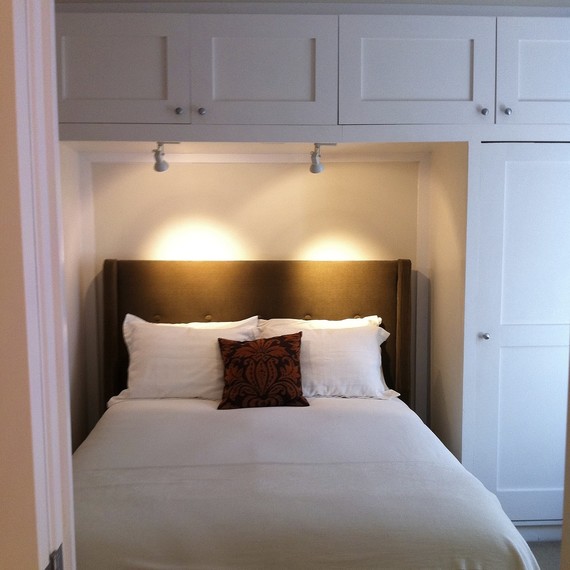 Before
Not dissimilar to the children's bunk onboard a sailboat, my bedroom was originally furnished with a Murphy-style bed, restricted (and inaccessible) closet space, and, one of my biggest interior design frustrations: no bedside table.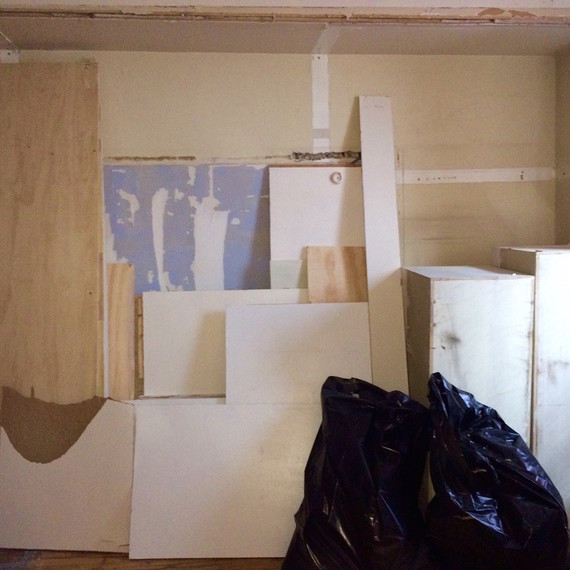 First thing I had to do was open the space back up.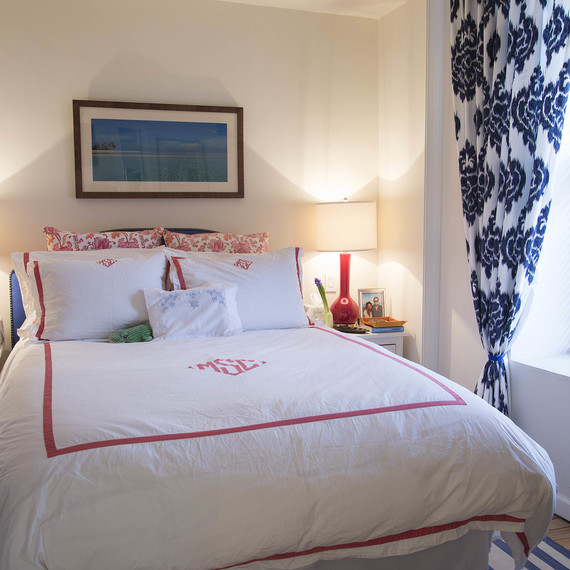 After
Once the cabinets were gone, I centered my bed and left enough room for bedside tables that are big enough for a beautiful lamp and some personal trinkets. My book and glass of water no longer live on the floor, and I don't have to clamor into bed in an unlit room!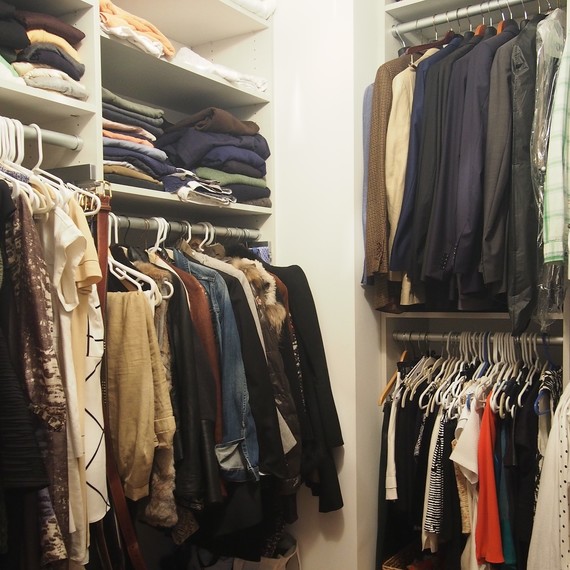 Getting rid of the existing Murphy-style closet and awkward wall indentation (where I stored only part of my library) meant I could build a small walk-in closet!
I cannot begin to describe how much I adore my bedroom now that the work is complete. The most influential change was, of course, the drastic increase of closet space. With functionality and affordability in mind, I designed the space to be modifiable -- permitting me to add or remove shelving and rods. Like the kitchen, storage space extends from floor to ceiling, and I still need to climb a step ladder to access extra some items, but I could not be any happier.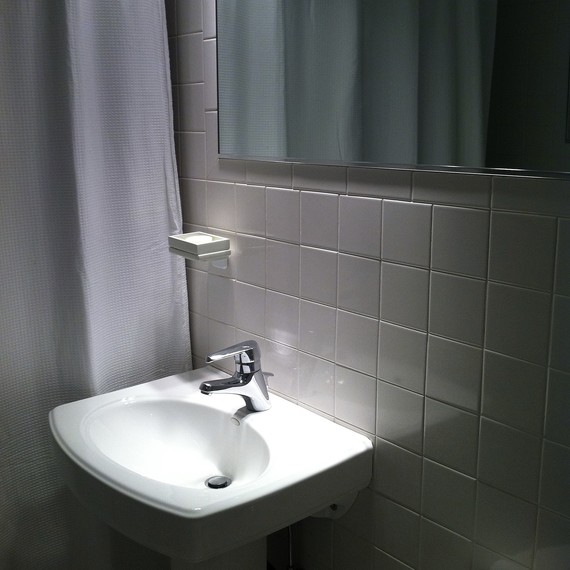 Before
Lacking adequate lighting, bathroom storage space, and a functional shower, my bathroom was in desperate need of repair. I've always found fluorescent overhead lighting to be dull and unflattering, so I decided it needed to go. The sink, although in good condition, did not have a vanity storage or medicine cabinet, so my slew of cosmetics, creams, and products were displayed almost like a set of Jenga -- if one moved, they all toppled down. And lastly, there was a very shallow bathtub that I never used.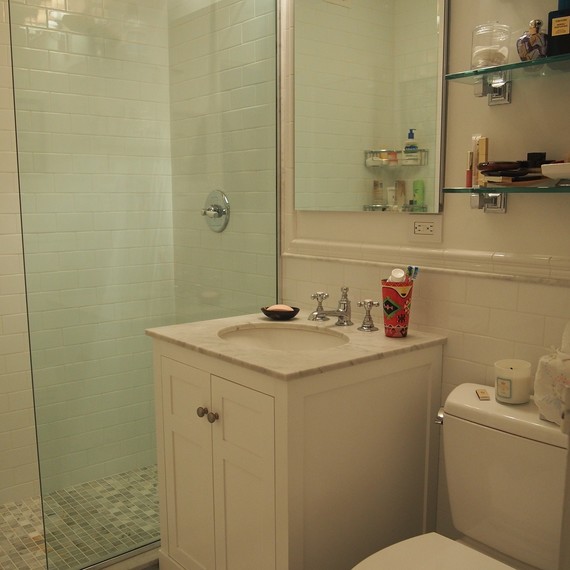 After
So many things needed to be changed, so I decided to gut the entire space and start from scratch. It's not the most economical solution, but it is easier to start with a blank canvas -- especially when you know exactly what you want.
The biggest game-changer was, of course, adding an under-the-sink vanity and a concealed medicine cabinet where I could store all my bathroom essentials. I believe the more storage space, the better, so I put my everyday products in the medicine cabinet for easy access and put my hair dryer, toiletry bags, hot water bottles, and boxes of flu medicine under the sink. The last thing you'll hear me complain about is not having a place to store my beauty essentials!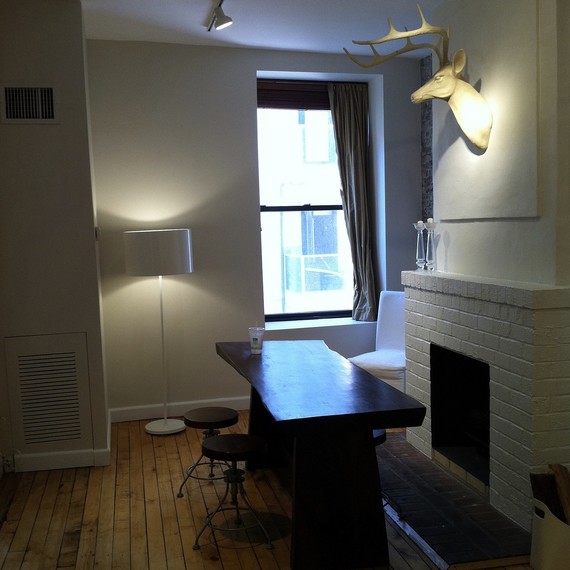 Before
I love walking into a home with lots of personality. Unfortunately, that's exactly what my space was lacking! Not to mention a total lack of storage space, which left my books piled up and overflowing from every corner!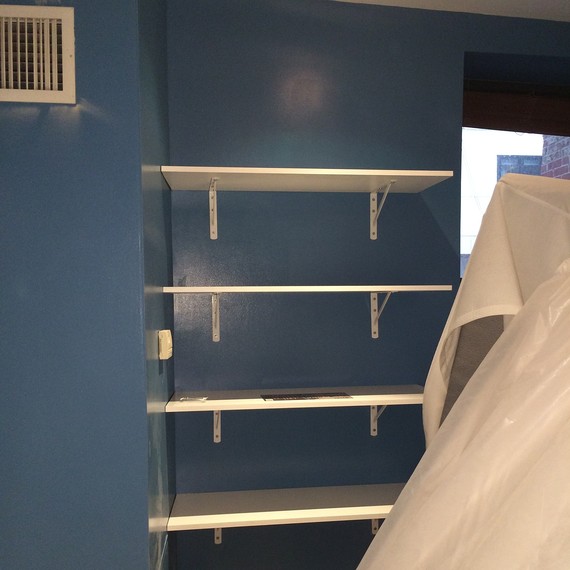 So, the first thing I did was install shelves on an empty wall to maximize storage space and to add character. The bookshelf is one of the first things you see when you walk into the apartment, and I absolutely love that it is a feature!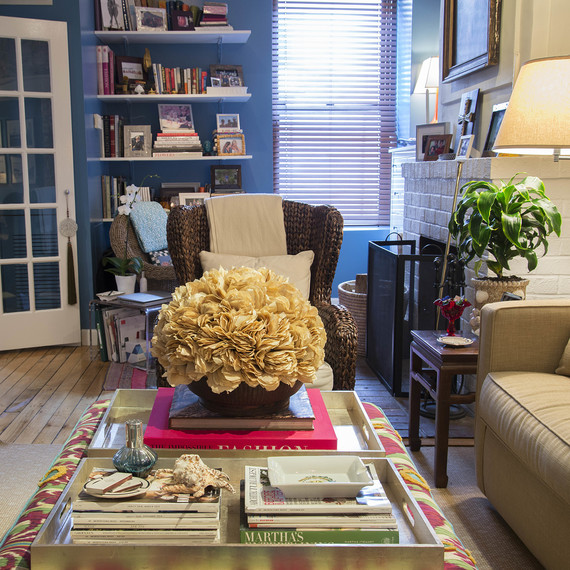 After
I moved the dining table out of the living room and cleared the space in front of the working fireplace. This left me just enough room to create a reading nook, which is now one of my favorite places to be in my apartment! The addition of a low-profile couch and a coffee table that doubles as storage space (the top lifts up!) gave me a place to entertain and a place to relax.
Living in small spaces can certainly be tricky -- especially when the inhabitant is not a minimalist like me! My best advice is to reflect on your lifestyle, how you personally utilize space, and what objects you make the most use of, and then design from there! Make storage solutions that are as modular as you can make them, so that you can modify as your lifestyle changes as well. But most importantly, have fun and love your space!