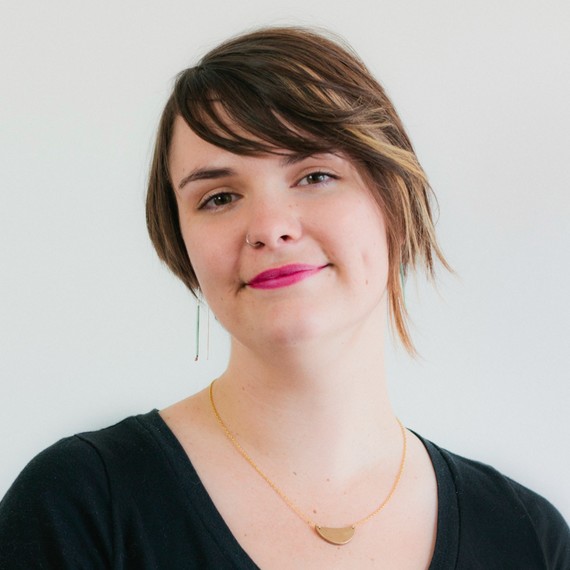 With the holiday season approaching, now is the perfect time to prep your home for both expected and unexpected guests. To get us all up to speed on the best ways to gracefully host a last-minute get-together, I spoke with designer Erin Dollar of the home decor line Cotton + Flax for her tips on what to have on hand this time of year.
Q: Tell me how Cotton + Flax got started?
A: I founded Cotton & Flax in 2012 as an offshoot of my fine-art printmaking practice. It was an opportunity for me to create more utilitarian designs that could be enjoyed daily, to help brighten time spent at home. I focus on small-batch production -- every textile piece in the Cotton & Flax collection is cut, silkscreen-printed, and sewn in my Pasadena studio. I love my work, not just because I get to spend lots of time in the studio creating my original designs, but also because I get to talk to people about how they enjoy spending time in their homes, and create pieces that will enhance their time spent with loved ones.
Q: What's your favorite part about entertaining this time of year?
There are so many occasions to entertain during the fall! Even though this season can feel hectic, it's a wonderful time to slow down and enjoy an impromptu get-together with friends and family. Plus, I find that autumn entertaining involves more baked treats than in the summer. Who can say no to a piece of pumpkin pie?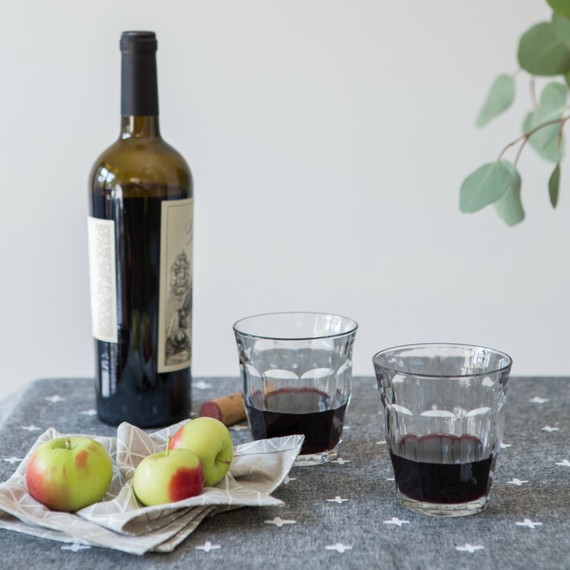 Name the three things you should always have on hand to throw a last-minute get-together?
A bottle of wine -- it's likely your guests will bring a bottle, but it's always good to have something on hand.
A playlist -- have a couple of albums or playlists marked for gatherings, whether upbeat or mellow, to make the atmosphere festive.
Cloth napkins -- simple cloth napkins feel more special than paper, and elevate even a casual coffee chat.
Q: What's your best tip for quickly sprucing up the house to look like you were expecting the party of the century?
A: For spur-of-the moment gatherings, clear out clutter in the rooms you plan to actually entertain in, and close the doors to rooms you won't be using. I do a quick pass through the living room to tidy up random clutter -- I use a grocery tote bag to quickly gather up clutter (books, mail, loose papers, etc.) and place that bag in a closet to sort through after my guests have gone home.
If you have a few minutes before guests arive, I'd recommend a quick sweep of the floors, clean the bathroom sink and toilet and put any dirty dishes in the dishwasher. If there's not time to prepare a bouquet for the table, try using a houseplant, like a pretty succulent in a ceramic pot as a centerpiece. And throw down a few coasters to make sure your guests have a spot to rest their drinks!
It may sound counterintuitive, but try not to apologize even if things aren't perfectly tidy -- it just draws the guests' focus to the mess. Save a few minutes before your guests arrive to catch your breath, have a glass of water, and relax. It's a great feeling to open your door and greet your loved ones with enthusiasm, rather than seeming frantic when they arrive. That is the true mark of a great hostess.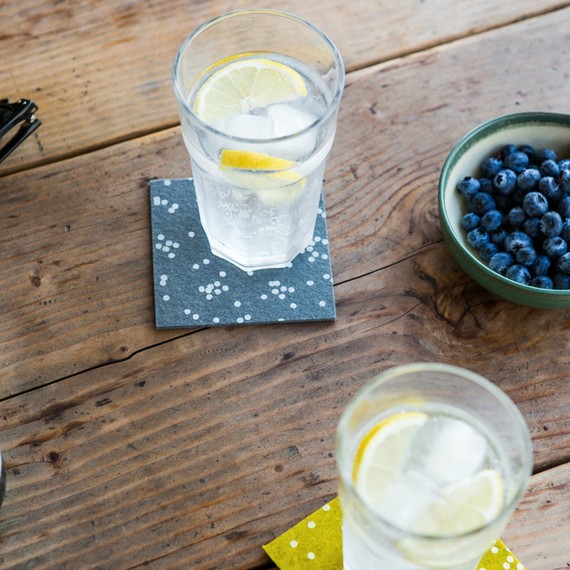 Q: How can we make all guests feel welcome and celebrated even if it's just a pop-in visit?
A: Offer them a snack and a drink! It doesn't need to be a cheese plate and a cocktail -- even sparkling water with lemon is appreciated. Serve store-bought snacks in a pretty bowl and use cloth napkins -- they go a long way to making a quick visit feel special.
Thanks so much to Erin for her expert tips! To learn more about Erin and shop Cotton + Flax, you can visit here and follow here.