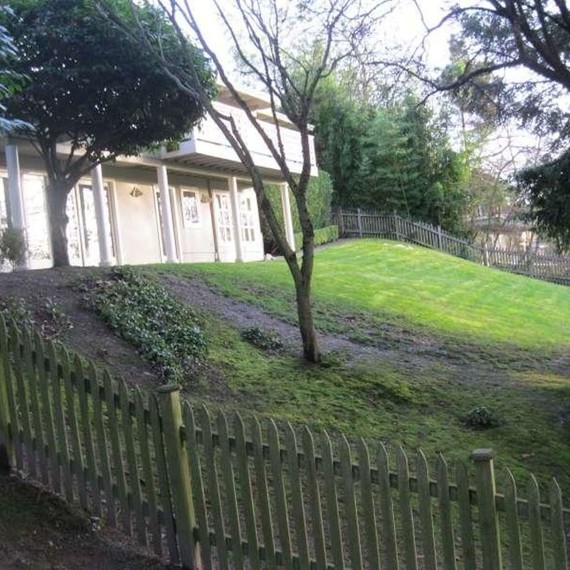 Before
We all love "before" photos because it often reminds us of the absolute potential our home and yard possess. Case in point: This steep backyard was fine as was, but it wasn't special. A long swath of grass, kept green by the Northwest climate, created a somewhat plain backdrop to an otherwise beautiful view out of the back portion of the home. It was in some serious need of new landscape ideas.
The two-story structure, located in the Seattle area, had plenty of picture windows and glass French doors in order to absorb needed sunlight and survey the expansive property. A handful of random trees provided some shading and a bit of dimension, but it lacked depth and didn't add any privacy from neighbors. Professional landscape architects Alderwood Landscaping were hired to help create an outdoor oasis, a place of retreat where this family could take advantage of warm summer nights and temperate winters. Their signature style is to use local plant life, adding fire or water features, and creating spectacular focal points that make the backyard feel like a resort. Although this home had square footage, it lacked character and a connection to the actual home. Alderwood explained that this home possessed an "unusable steep backyard with a lawn that offered no real connection or functional use of the outdoor space."
So what did Alderwood plan for this property? Personality, functionality, and several outdoor "rooms" for this family to enjoy all year long.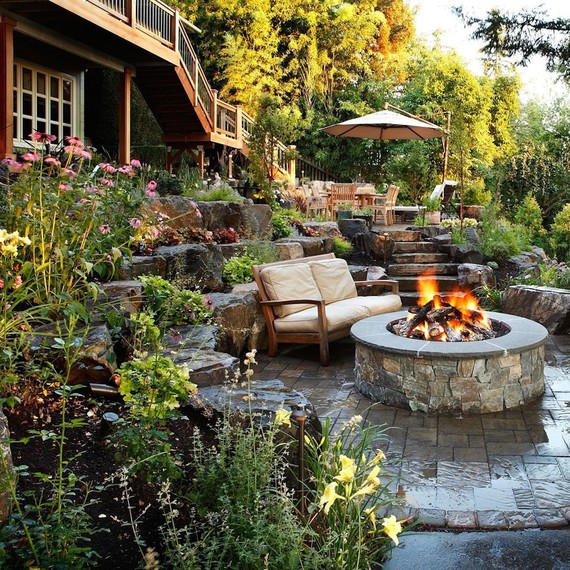 After
This hardly looks like the same property!
The exterior staircase leading from the top level of the home to the yard below, helps connect this new landscape to the home, and make this space more accessible. Literally joining the two spaces was integral to the success of the transformation. The steep slope was tamed by an extensive rockery design. Not only do the large boulders help create flat, usable areas, they added needed height and texture to the outdoor space. Several platforms were created, like the outdoor eating area and the firepit.
The fire pit, really an amphitheater, is surrounded by "Alderwood Style" bench rocks (a signature touch from this nearly 35-year-old landscape architecture firm). To add some softness and color, a massive collection of native plant species and flowers are tucked in and surround the hard, rocky surfaces. Well-planned LED exterior lights not only keep walkways safe and usable in dim light, they highlight the nooks and crannies of this natural-style landscape and add greater drama in the evenings.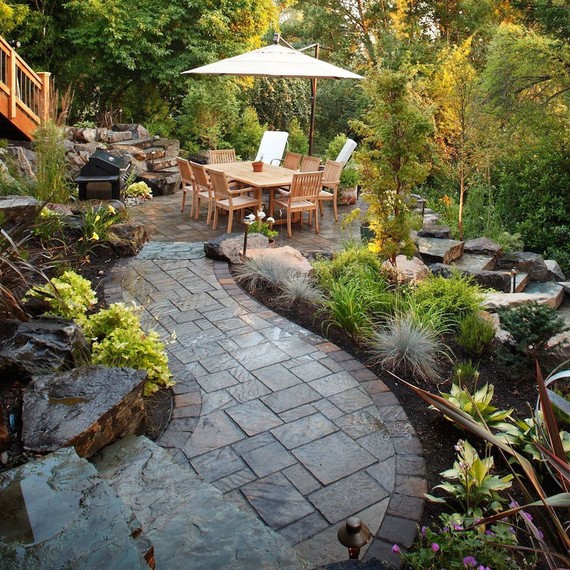 Adding several flat areas to the formerly steep plot created many more useful spaces for the whole family. A play structure was created for the children including a sandbox. In addition to the living room fire pit area, another space was created specifically for outdoor cooking and eating.
Situated at the bottom of the new staircase, this outdoor dining room is convenient and is surrounded by lush trees and plants. It was important to Alderwood Landscaping that the surrounding plant life was colorful and vibrant in the summer, but also lush and beautiful in the winter months.
Seattle is known for its yearlong greenery, and this yard now has both evergreen trees and plants, plus privacy from neighbors. (Trees add incredible value to a property, both for visual privacy and noise reduction. But they also add value in energy savings too. Read more about the true value of your trees here.)
When thinking about lighting your exterior spaces, be sure you consider both ornamental lighting (for lighting trees and shrubbery) as well as lighting for safe walkways and stairs. Many professional landscape companies can help plan out the best places for adding light and can make sure that the wiring is safely connected to your existing electrical system.
See more of this project here.
All images courtesy of Alderwood Landscaping.