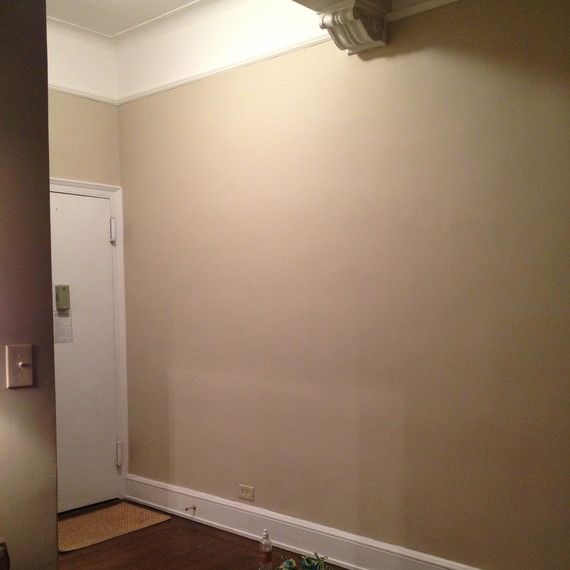 Stephanie Woodmansee's charming prewar apartment on the Upper East Side was lacking a true foyer. When you open the door to her apartment and walk in, you're immediately standing in her living room.
Stephanie is an incredible host. She loves to entertain and host dinner parties and game nights with her neighbors. She likes to have festive gatherings for the holidays. With people coming over often, she wanted to create a small and inviting foyer to define the space from the rest of the living room and give guests a chance to breathe and feel welcome when they walk in.
Her prewar apartment, with its beautiful original crown molding and 12-foot ceilings, had existing decorative corbels in a place that naturally separated the small entry from the rest of the space. After meeting with a favorite handyman (which everyone needs), and a quick trip to the lumberyard, a simple delineation was made with two 2-by-8 boards and several quarter round trim pieces. By adding several coats of paint to match the corbels and crown, the foyer was set and blended naturally.
Now it was time to figure out what to put on the walls! Being a wallpaper connoisseur, Stephanie knew instantly that she wanted to use her favorite wallpaper from Quadrille to bring impact and interest to the new space. The wallpaper brings both a floral and cheery freshness, which Stephanie always loves, and a historical reference that seemed appropriate to the surrounding architecture and age of her apartment.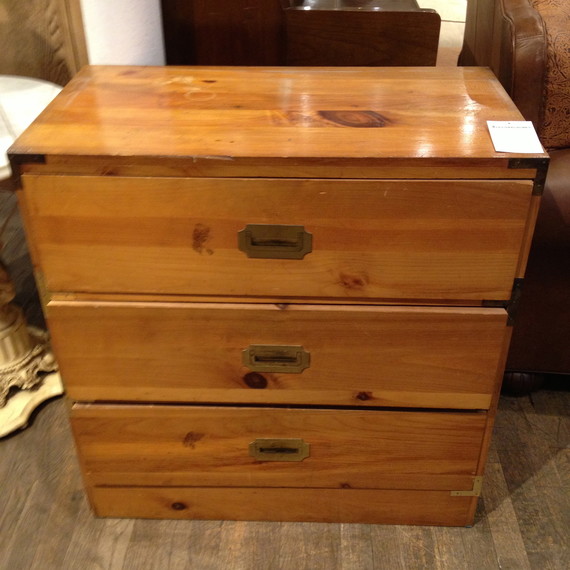 Stephanie found this campaign style chest of drawers at Housing Works, a neighborhood source for secondhand gems. Truly meant as a bedside table, the small piece worked in the tiny space, acting as the perfect catchall for mail, grocery totes, dog leashes, and keys. The original brass handles required only minor polishing, however the few corner trim pieces that were still intact were bent, tarnished, and pitting. Stephanie replaced them all with new ones from Paxton Hardware, a great website for all kinds of housing hardware. The dark-blue/green Benjamin Moore color came from the company's "Advanced" collection, a water-based alkyd paint with low VOCs that gives the appearance of an oil-based finish. After applying three coats with light sanding in between and one coat of poly to protect the piece from daily scratches, the chest looked as good as new.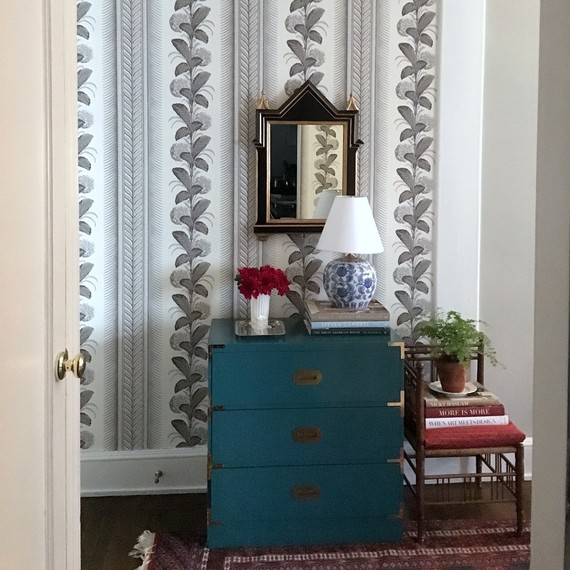 Stephanie tied the space together with a small neoclassical style mirror found on a buying trip to Connecticut, a vintage oriental rug in bright colors of reds, blues, and deep pinks, a couple stacks of decorating books, a petite blue-and-white porcelain lamp handed down from her mom, and a small silver tray. Fresh flowers and a fluffy maidenhair fern are the final touches that bring a little nature inside.