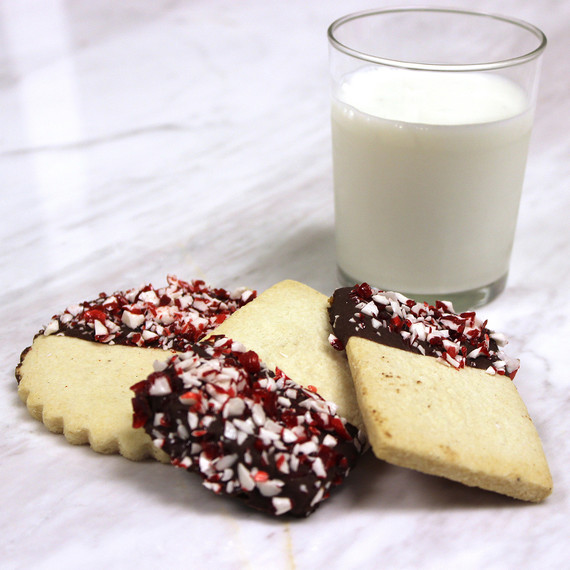 I've seen some beautiful cookie decorations that could be considered works of edible art. While I can appreciate all that hard work, by the time I'm done making the cookies, I don't have a lot of time for cookie decorating. I've also found that most of the time, decorative items like sprinkles and food coloring don't add to the overall flavor of the cookie.
My rule of thumb with decorating, or general food presentation, is to make sure whatever I'm choosing to use as decoration adds or complements flavors and textures. I prefer not to overthink things, so I like to keep things simple, even during the holiday cookie season.
Take a Dip
For sugar cookies, I like to dip them in melted dark chocolate that isn't too sweet to give the overall cookie a contrast of the buttery cookie and dark/bitter chocolate. You can also add toppings on top of the chocolate such as a touch of Maldon salt flakes, chopped-up toffee bits or any ingredient you think will add a unique flavor or texture to your cookies. During the holidays, I like to add a bit of crunch for textural contrast and sprinkle on crushed peppermint candy.
Use Shapes
Another way to decorate cookies is to get creative with the different shapes and themes. Cookie cutters in fun shapes and holiday favorites are always a fun idea. I like to recommend using shapes that don't have too many crimps or intricate edging for easy, clean cutouts. I often like to hand-shape raw cookie dough into different designs. When doing this, always make sure to scoop out even amounts of dough before shaping so that they bake evenly.
Add Texture
An easy way to add designs when cookie decorating is to emboss them with a shape or pattern before you bake them. You can grab any kitchen tool and come up with interesting shapes to press down on your cookies. Or find stamps at your local craft shop to press lightly onto your cookies before placing into the hot oven.
Stencil It
If you are baking off darker colored cookies like gingerbread or chocolate cookies, a simple yet elegant trick is to cut out a stencil shape from card stock using a sharp craft knife. Take a bit of powdered sugar to dust over the stencil to create a beautiful pattern over the cookie.
Package It Nicely
But if time is of the essence, and you don't have enough time to spend on decorating your cookies, you can always choose not to decorate your cookies at all, and instead focus on how you package them as gifts.
There's really no right or wrong way to decorate a cookie; you can get creative or stick to your family favorites. Whatever you decide, your family and friends will love the results.