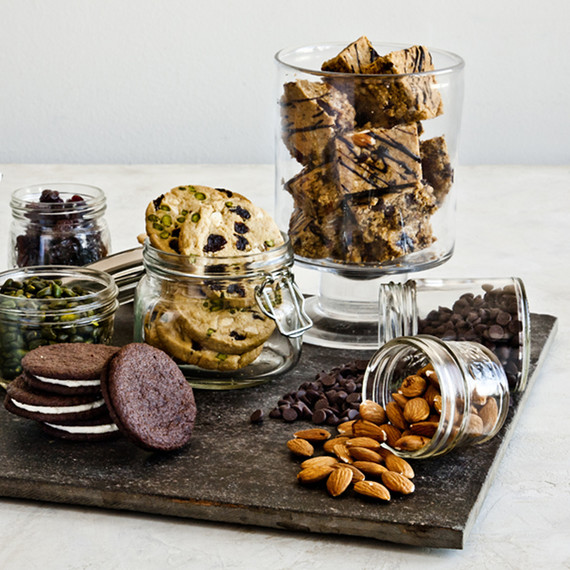 The holidays are a busy time of year and one of my favorite things to do is to bake up delicious treats for my family and friends. My gluten-free cookies are always a crowd-pleaser during the holiday season. They're also great for taking with you as a gift when visiting your loved ones. One of my favorite time-saving tips is to use one cookie dough base to make endless variations of cookies. All you need is a simple but foolproof cookie dough base. Here are my top three favorite cookie dough bases.
This is a fundamental recipe to have in your repertoire as you can mix in or decorate this cookie any way you like. In the recipe above you'll see we've added a mix of chocolate, nuts, and dried fruits. What's great about this recipe is that it walks you through how to make perfectly shaped slice-and-bake cookies.
I love the ginger smell that permeates the kitchen when I make these cookies. This recipe makes a wonderful soft ginger cookie that is nicely spiced with a mixture of ginger, clove, and cinnamon. I recommend hitting your local spice shop and getting creative with the spices you add to this cookie base. You can simply try out a different variety of cinnamon, like Saigon cinnamon, which I find to be spicier and sweeter than what you may commonly find at most grocery stores. I like to keep a small amount of unique spices in my cupboard and use them in adventurous ways in recipes like this.
It's always good to have a crowd-pleasing recipe on hand like this chocolate cookie recipe. It's a nice go-to for holiday parties because most people love chocolate. I like to mix things up by adding a pinch of cayenne to the dough for a spicy flavor. Or take peppermint ice cream and sandwich it between two chocolate cookies for an amazing holiday ice-cream-cookie sandwich.
What is great about theses cookie bases is that all of them can be made ahead and kept frozen for whenever you need them. All you have to do is scoop out even spoonfuls of raw cookie dough and place onto a sheet and freeze. Once the cookie dough scoops are frozen, collect and keep them in a Ziploc bag in your freezer. The next time you want to make cookies, simply pull them out of the freezer and bake. This is a great thing to have on hand when you have any surprised guests who may stop by your house for the holidays. Not only does just about everyone love freshly baked cookies, but there's also nothing better than entering a home with that heavenly scent of cookies baking in the oven.