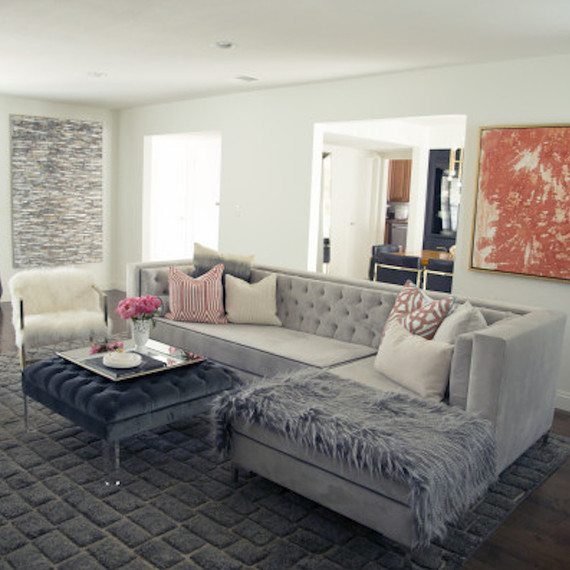 Glamorous Modern Living Room:
Chriselle's living room was a marriage of her light, whimsical tastes and the darker colors that her husband loved. The gorgeous textured Loloi rug adds dimension and ties all the colors in the room together nicely.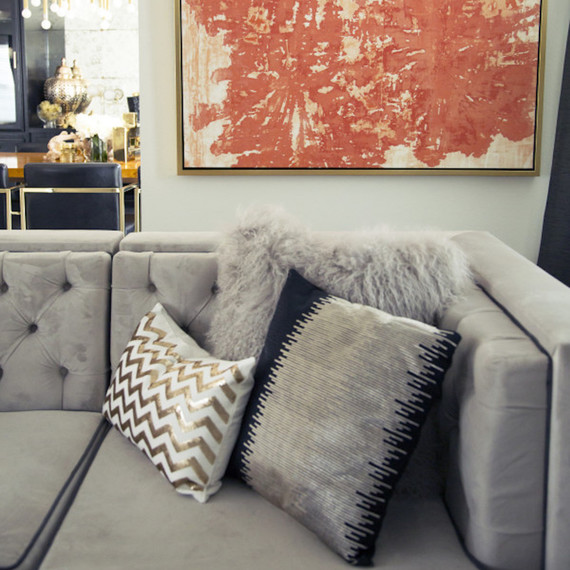 Lucinda used blue and orange accents to brighten up the gray color palette. Mirroring the orange art piece, she added geometrically patterned orange throw pillows to the lush, gray velour sofa.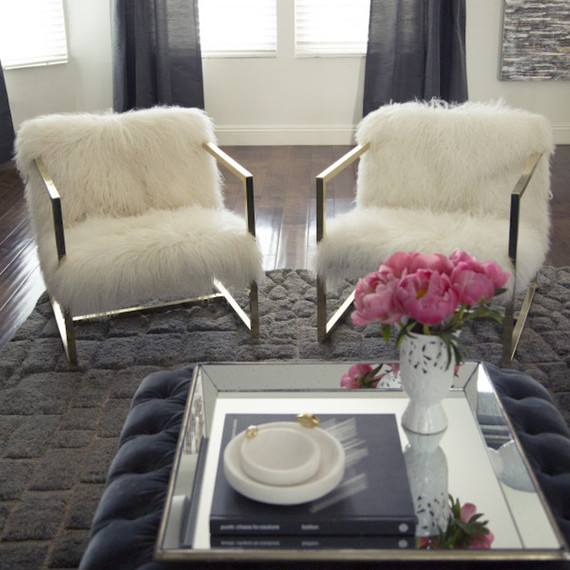 "I found these chairs, and I was so obsessed with them, I was convinced that I needed them for my house until I saw the price tag! I just couldn't do it. So I brought that inspiration over to Lucinda, and we created something similar with a bit more of my spin on it. It's my favorite part of the design!" says Chriselle.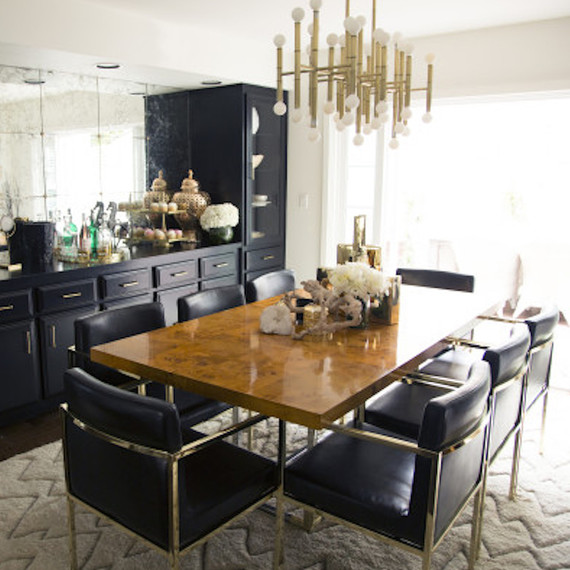 Modern Chic Dining Room:
Pace and Lim loved the idea of marrying darker pieces of furniture with chrome and gold accents. Lucinda's go-to source for all things glam? Z Gallerie. Paired with a soft, neutral rug, the gold accents keep the space from feeling heavy and add an extra light source.
An easy way to completely transform a room: Paint your furniture! The built-in shelving gave Lim and her husband an incredible amount of storage space, but to make it less utilitarian and more fashionable, Pace painted the cabinetry a glossy black and added gold hardware.
"If it weren't for Lucinda, I'd have a very basic, traditional home. She pushed my limits to go out of my comfort zone; she wanted me to paint the cabinets black,and I wasn't sure at first because black is such a stark color and you really have to commit to it! But then I saw everything come together, and I was so happy with how it turned out," says Lim.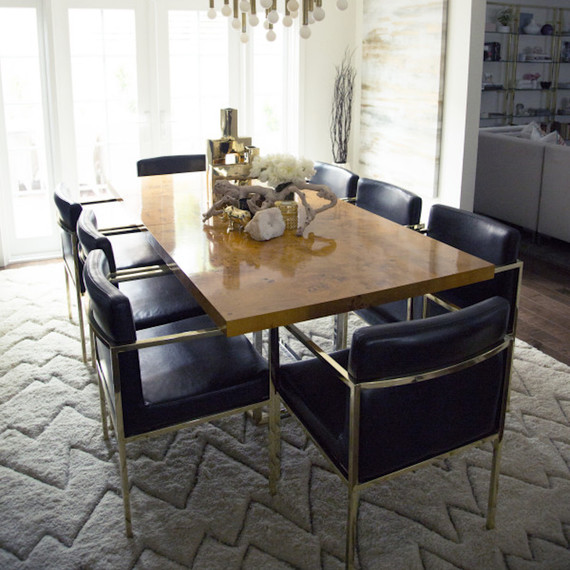 "I have very expensive tastes and like very expensive things," says Lim. "I loved working with Lucinda because she was able to substitute the super-expensive items for things that were in my price range! She found so many pieces that fit perfectly in the space from Z Gallerie, and I was so surprised with the incredible selection they had."
What did Lim like most about designing her space with Laurel & Wolf?
"My favorite part of designing online was the accessibility that I had with my designer. It's so easy to communicate with them via email instead of having to go meet them in person," says Chriselle. "I'm all about email and anything digital -- it just made it so much easier for me!"
Laurel & Wolf loved designing Chriselle's inspirational and mega-glam home! Want to check out a few of her favorite pieces? Create your dream home with Laurel & Wolf, and head over to ZGallerie.com to shop the Chriselle Lim look!
Design by Lucinda Pace. Photos by Nick O'Neill.